The Best Woocommerce Page Builder: Elementor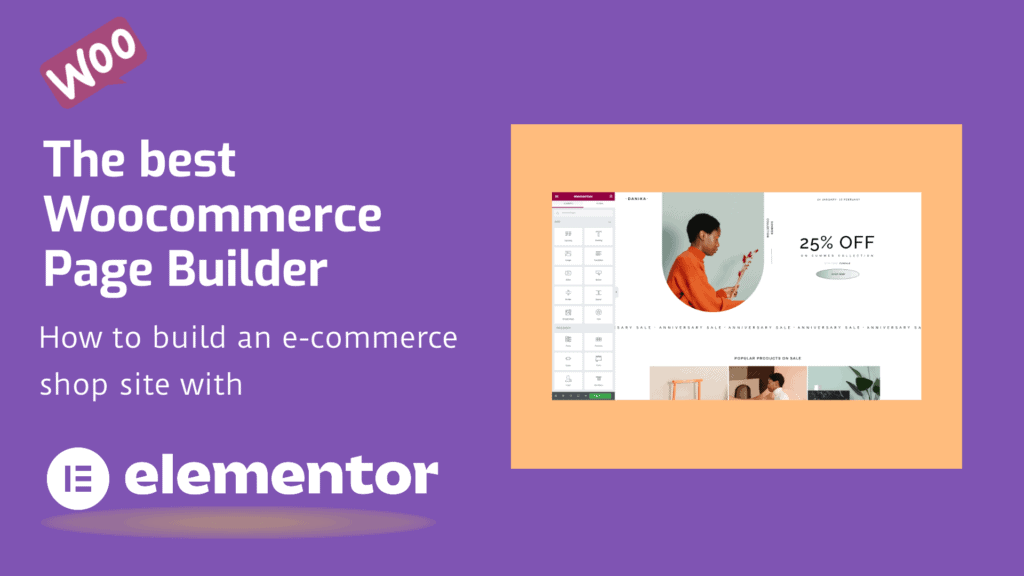 How to build an e-commerce shop site with Woocommerce
In order to create an e-commerce shop site for WordPress, you will need a plugin called Woocommerce. Woocommerce is the most popular e-commerce plugin for WordPress. The Woocommerce plugin is free and can be installed on your WordPress website. It adds the functionality of a shop system to your WordPress website. Once the plugin is installed, you will create pages and products for your shop and manage your orders and customers.

The Woocommerce storefront offers a lot of premium add-on plugins to extend the functionality of your online shop system. However, I think in most cases you don't need them. There are other third-party plugins for better prices that offer a better value.
The scope of this article is Elementor Pro, a WordPress page builder. Elementor has a free and paid (Pro) version. Elementor recently added some significant Woocommerce enhancements to the Pro version.
What's the Point of a WordPress Page Builder?
WordPress page builders are a great way to create a website without writing codes. They allow you to create beautiful, functional designs without knowing HTML and CSS. A page builder has a visual interface with drag and drop elements.
Add text. Images, videos, and other media, and insert shortcodes, all without writing codes. Page builders like Elementor or Divi integrate nicely with WordPress. They can help you to control the layout.
Page Builder also ships with all the necessary elements – called widgets – for woocommerce.

WordPress doesn't ship with a page builder. The editor is called Gutenberg and works with the block system. In WordPress 5.9, Gutenberg's editor received a significant overhaul with Full-Site-editing (FSE). FSE is not yet ready for Woocommerce. However, traditional page builders are still more robust and offer extensive functionality.
What to look for in a WooCommerce builder plugin
The best WooCommerce page builder plugins will help you build an engaging store.

A potent WooCommerce page builder will help you with two important aspects of eCommerce: visually design and build anything you want in your shop, and provide the best user experience possible to your store visitor.
In addition, WooCommerce builders allow you to create custom templates for the single product page, shop page, and product archive pages.

You want a WooCommerce page builder plugin that is easy to use so you can create any website you want. Elementor Pro meets this requirement and more. It helps you design beautiful pages, posts, and products quickly and easily. You can also create custom shop templates.
Understandably, people might be lured by the ease of use and seeming effectiveness of page builders for regular websites. However, because eCommerce sites have more elements and are more complex, it takes longer to develop them than standard websites.
In sum, an eCommerce site should include:
Good design options.
The ability to add products easily.
Built-in payment processing.
Good customer service.
Increase Conversions
Looking for a tool to help you create content that ranks?
Create Content that Drives More Traffic and Revenue to your Website
Conversion optimization is the process of increasing the percentage of visitors to a website who take the desired action, such as signing up for a mailing list, making a purchase, or downloading a file.
Many techniques help to increase conversions, including:
A/B testing
Reducing clutter on your web pages
Making your forms easy to fill out
Offering incentives for taking desired actions
Creating clear and concise call-to-action buttons
Optimizing your web pages for search engines
Full Control of Your Store
You can manage your products, categories, and pages from a single administration panel. Plus, a good Woocommerce page builder means you can customize any aspect of your store to make it look and feel exactly how you want.
Visual Composer
With Visual Composer, you can easily create complex layouts without touching a line of code. Plus, it's fully responsive, so your designs will look great on any device.
Visual Composer or visual editor is the key component for designing a good-looking online store.
Create Your Dream Online Store with Woocommerce
Elementor Pro page builder is the ideal plugin to easily layout your WooCommerce store and more.

Building an online store can be an exciting undertaking. Your storefront is a huge part of your branding and can contribute to the success of your business. However, you might struggle when it comes to designing an effective shop.

A WooCommerce page builder can help you create an eCommerce site with which you and your customers are happy.
How to Create a Customized WooCommerce site with Elementor Pro?
Elementor Pro is an excellent WordPress eCommerce plugin that helps you easily create custom websites. Elementor works with most WordPress themes. There are customized Themes available for Woocommerc stores. I recommend choosing a modern WordPress theme like Kadence, Blocksy, or Astra. All these themes work beautifully with Woocommerce and Elementor Pro. Elementor Pro is the add-on to enhance the Theme features with a visual drag-and-drop interface.

The elements of an online shop are
Single product page
Product archive page
Cart
Checkout
My account
Thank you page (optionally)
Elementor's theme builder is ideal for creating templates for a single product and archive product pages. I suggest using a premade template and customizing it the way you want.
To start with, go to Templates. Theme Builder, select Single Product or Product Archive on the left side and create the template. Elementor prompts you to choose premade templates or skip, and Elementor loads with a blank page. On the left side, you see the widgets, type in 'woo' in the search box, and you will see all Woocommerce widgets.
To customize the cart, checkout my account page; you cannot use the Theme Builder of Elementor Pro. It works differently. Create a standard page, edit it with Elementor, and use the Woo widgets. Elementor will ask you to replace the standard Woocommerce template depending on the widgets used.
The Thank you page is called Purchase Summary in Elementor.

In summary, with Elementor Pro, it is possible to customize every aspect of your Woocommerce Shop.
Elementor Pro has every WooCommerce Widget Your Store Needs.
Create a shop page
When designing an online store, you need to create the front page. This is the page your customers will see when they first visit your website. You can then choose to show only a specific category of products or filter the results by size, color, and other factors.
You can use Elementor Pro to create a shop page's product archive template. It will allow you to list your products in an attractive and organized way, making it easier for customers to find what they are looking for.
To create a product archive page, go to Templates > Theme Builder > Product Archive and click on Add New.
Use an Elementor Template or Build One from Scratch
Choose a layout to best suit your site
Add products widgets
Here is a list of Elementor widgets that you can use:
Archive Product
Archive Description
Products
WooCommerce Breadcrumbs
Custom add to cart
Archive product
Products
WooCommerce pages
Product Categories
Product Titles
Product Images
Product Price
Product Rating
Product Stock
Product Meta
Short Description
Product-Related
Upsells
The shop page is the most crucial part of any eCommerce website. It is where users go to buy products, and it must be easy to navigate the product. In addition, the look of the shop page can help bring in sales. Make sure that your shop page looks professional and enticing to customers!
Design a single product page
Design the single product page for a high conversion rate. A single product page should include text, images, video, and other media. It should also feature the best content on the page and offer ways to buy products.

Use one of these pre-designed product page templates or build one from scratch to get started.

With Elementor, you have total customization control over the layout and style of the product page. You can see unique widgets for the product in the editing panel.

You will use the following Elementor widgets:
Product Title
Woo Breadcrumbs
Product image
Product rating
Short description
Add to cart widget
Product meta

You can move any element around on your product page. You have complete freedom to play around with the layout and move elements.
Build a cart page
What is a cart page?

A cart page is a web page that allows users to add items and select shipping options.
Elementor Pro's Cart widget is a great way to customize your cart page and make it more user-friendly. With the ability to add images, text, and buttons, you can create a page that accurately reflects your brand and makes the checkout process seamless for your customers.

This control over your cart page will give you the power to ensure a cohesive design with the rest of your store and optimize your cart page to boost sales.

Elementor Pro offers a high degree of customization for your WooCommerce cart page. The cart page gives you granular control over how your cart page looks and functions. You can choose different layouts, colors, and even spacing between elements.

Elementor Pro also has many features to customize your cart on different devices. You'll get special options to style and design your cart, making it perfect for your store's needs.
Custom checkout page
A checkout page is a webpage that allows users to purchase products and services. The checkout process consists of three steps: payment, shipping, and billing.

Elementor Pro's Checkout widget is customizable and optimized for WooCommerce stores. You can use it to create a custom checkout page that meets your specific needs. It's easy to use and provides a great customer experience.
Build My account page
Customers can view their account information on their My Account Page, including past and present orders. This page also contains important contact information for the customer and reset their password.

Elementor Pro comes with a widget specifically for my account page. This widget allows you to completely customize the design of that page, giving your customers a great experience and a streamlined process when logged in.
You can easily create an account page that reflects your brand and design with the My account widgets. You have the freedom to choose the layout that best fits your needs, rename different items in the account menu, and give it a personal touch with color, typography, background, and border.
Purchase Summary (Thank you page)
When customers complete a purchase, they are usually taken to a thank you page. The thank you page is the last station for the customer, and it's essential to ensure that all the necessary information has been given, such as order confirmation, shipping information, and contact info.
The purchase summary widget allows users to create customizable order confirmation pages.

The purchase summary contains all the vital information related to a purchase, including a confirmation message, payment information, order number, and billing address. It helps to ensure no surprises after the purchase is complete.
You can style this page to match the look and feel of your eCommerce store by adjusting the style of sections, typography, payment details, and more.
Woocommerce Notice
WooCommerce Notices are a way for you to communicate with your customers. You can use them to provide feedback or display important information. There are three types of notices: Error, Message, and Info.

These notices range from telling customers they've successfully added an item to their cart to notifying them that they have missing details in the checkout form. You can also create custom WooCommerce widgets with Elementor Pro, so you have complete control over your store's design and user experience.

They typically appear in common locations such as the cart, checkout, account pages, and product archives. However, where you display notifications will depend on your website's design.
Elementor's WooCommerce Templates
Elementor Pro comes with a library of pre-made templates that you can use to create your pages. These templates are fully customizable and easy to use so that you can create beautiful pages for your store quickly and easily.

The WebKit library is a great place to start if you're looking for some good templates.
Advantages of Elementor Pro
Elementor is a popular Woocommerce page builder for building excellent eCommerce stores.
The page-building experience is not just more straightforward but also more user-friendly.
This product is beneficial for non-developers as well because of its easy-to-use interface.
It has over 10 million users in WordPress, and it's still growing!
Elementor empowers you with the ability to customize your website without touching a line of code. You can choose from 300+ templates.
It supports third-party add-ons.
Disadvantages of Elementor Pro
Performance is not that great.
Significant updates have caused glitches and headaches.
Too expensive for some people.
The learning curve for beginners
Elementor shop page alternative Divi Theme Builder
Divi is another great page builder for WordPress. Divi has also enhanced its support for woocommerce with new modules.

Elementor Pro is a great page builder but has a few drawbacks. It is more challenging to learn than Divi Theme Builder and is also more expensive. Divi has a lifetime deal for unlimited websites. Elementor plans have a yearly renewal term.
Click here to get a comparison between Elementor and Divi.
Woocommerce Page Builder FAQs
Is WooCommerce a page builder?
WooCommerce is not a site builder, per se. They do provide the ability to add e-commerce functionality to your WordPress website. If you're looking for something that will help you create and design your entire website, you'll want to look into hosted e-commerce platforms such as Shopify, which are more potent than WooCommerce.
How to customize WooCommerce pages in WordPress
The WooCommerce plugin doesn't ship with customization tools for pages. Many themes include some functionality in the customizer or offer add-ons.
Is Elementor a free Woocommerce page builder?
The required widgets and functionality are available in the Elementor Pro version only. You need the Pro Version to design an online store with Elementor.
Final thoughts: best Woocommerce page builders
There are many different page builders on the market, and both Elementor Pro and Divi Theme Builder are two of the best. They both have pros and cons, but they are both great options for creating an eCommerce store with WordPress. If you're looking for an easy-to-use Woocommerce page builder that doesn't require any coding knowledge, then Elementor is a great option. Divi Theme Builder is a good choice if you're looking for a cheaper alternative. Some WordPress theme builders like Kadence or Blocksy have added Pro features to build a Woocommerce store with Gutenberg Editor. Whichever page builder you choose, be sure to do your research and try out a few different options before deciding.
Thank you for reading! Please let me know in the comment section below your opinion.