Exactly what you need for a blazingly fast WordPress theme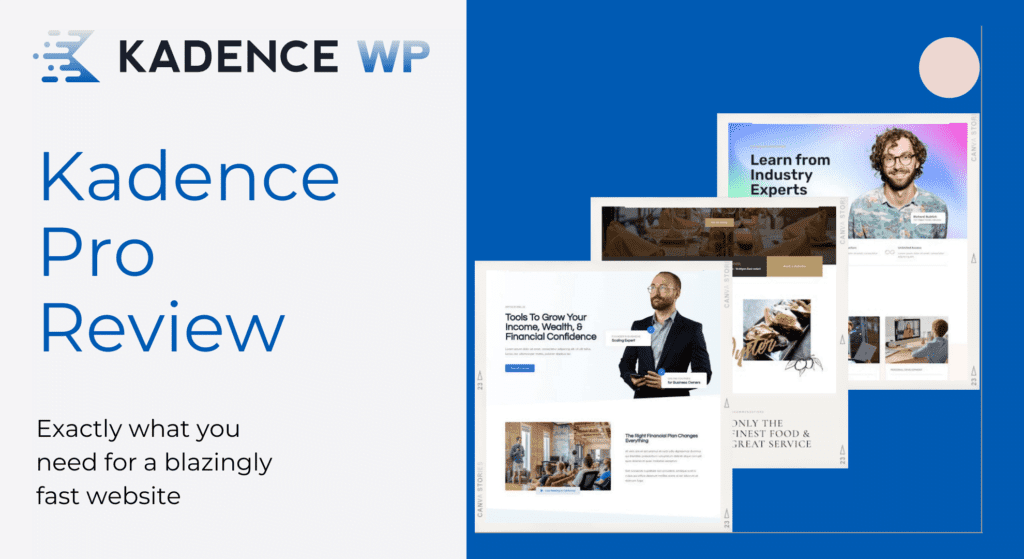 Introduction Kadence Theme Review
This article will talk about the Kadence theme and why it's an excellent option for WordPress users. We'll be talking about what makes it so great, some of the features that make it stand out from other themes, and my overall opinion on whether or not this is the right one for you.
The first thing you need to know is that this theme has an extensive list of features. You get plenty of customization options with over 600 Google fonts, unlimited color combinations, tons of layouts including full-width pages like blog posts and landing pages, as well as standard layout templates like portfolio sites or product listing websites.
There are also over 30+ pre-built starter templates available in addition to all these customizations, which means getting started will be a lot easier for you. Kadence theme is professionally coded with HTML5 and CSS3, making it a lot simpler to customize if you are used to editing code yourself or having someone who can do this for you.
A big plus is that it integrates with the plugin and page builder you love.
Beaver builder
Woocommerce
LearnDash
LifterLMS
Tutor LMS
Restrict ContentPro
bbPress
What Is Kadence Theme
Kadence Theme is a professional, modern, responsive theme suitable for just about any kind of website. Kadence is ideal for small business websites as well as large corporate sites. As Kadence has been coded in HTML5 and CSS3 and uses the latest WordPress features like metaboxes, it offers much more functionality than many other themes like Astra, Generatepress, Blocksy, and Kalium.
Kadence has been built using the Kadence framework, which allows you to add custom sidebars and widgets with Kadence components easily; these components can be used by the Kadence elements, which integrate into WordPress core.
Extra value with friendly Starter Templates
If you're looking for a WordPress theme that's easy to use and comes with a great selection of starter templates, Kadence is an excellent option to consider. With Kadence, you can quickly launch a custom site without having to code anything. There are over 30+ starter templates to choose from, covering many niches. Some are free and some templates are only available in the Pro (paid) theme. You can select which builder you want to work for each template. Choices are Gutenberg Editor or Elementor.
A unique feature is when you import a starter template Kadence retains your global colors and applies them to the theme. And if you want to customize your text or colors, Kadence makes it easy to do so.
In short, Kadence is an excellent choice if you're looking for a theme that's easy to use and comes with a great selection of starter templates.
Kadence Blog theme
Kadence is a beautiful, modern WordPress theme that lets you customize your blog layout just like any other page on your website. Kadence also saves time by updating easily and quickly.
To get started, install and activate the Kadence free Blocks plugin. With Kadence Blocks, you can easily add sections like featured posts, the latest posts in a particular category, or a call-to to action to your homepage. You can also change the layout of your blog posts to be different than your website. The table of contents block is perfect for longer posts.
Kadence Theme is a good fit for your blogging website. It offers many customization options and elements (hooks) and a Pro feature you can showcase your affiliate products.
Responsive design
Responsive design is a web design technique that allows a website to adapt to the user's environment. It means that if you are viewing a website on a mobile phone, the website will adjust to fit the screen size of the phone.
The responsive design prevents users from zooming in on content to see it and keeps content aligned perfectly for different screens. Responsive web design uses breakpoints, which are specific points at which a style change should occur based on the device's capabilities.
As we all know, the internet has changed dramatically in recent years. With the release of smartphones, tablets, and other devices that use different screen sizes, the way we view websites also needs to change.
Fixed positioning is no longer an option – it's become necessary to use responsive design so that we can view websites properly on any device. All elements on a page must be positioned relative to the screen size of the device being used to adjust its size and position.
The Kadence Theme is designed to meet all these requirements. From tiny screens to large monitors, you can control the style and customize it differently for desktop, tablet, and mobile.
Pro Features Free in Kadence Theme
Kadence allows more choices for design and customization than many free themes. There are many desirable features even in the free version.
Starter Templates
Kadence includes many starter templates for you to choose from so you can start your website right away. The 17+ Starter templates cover almost all niches. You will find templates for Blogs, Businesses, eCommerce, Learning, and Membership.
Typography
The Kadence Theme provides extensive typography settings that allow you to easily modify your website's fonts, headings, buttons, links, and much more. With the WordPress customizer, you can change the site-wide fonts, colors, and other typography settings. Kadence also allows you to change the fonts on specific pages and posts.
You can use the typography system to create a unique design for your website. If you want complete control over the typography on your website, then Kadence is an excellent theme for you.
Global Colors / set Colors
Kadence offers more color settings than almost any other free theme. You can customize the site background color, the content background color, the link color, and even an entire color scheme.
The color scheme settings allow you to set two accent colors, multiple text colors, and background colors. You can select from pre-defined color sets or customize any of the individual colors, giving you full control.
Having global color options is of utmost importance. You can set up all the website's colors in just a few minutes without creating custom CSS.
Additional Design features and extensive Customization Options
Kadence offers various unique customization options and design settings so content creators can create the site they want for their business. With Kadence, you have theming colors, typography, and layout changes at your fingertips. The free version allows you to change the look of your website with one click.
Advanced Header Builder / Menu design

The header layout settings panel is a unique feature of Kadence that differentiates it from other free themes using which you can quickly change the look and feel of your site header even if you are a non-coder. Transparent or sticky headers highlight two of the remarkable features.
Premium Features available in Kadence Theme Pro
Header Pro Addons
Build a premium header with 20 new header elements to choose from. Gain the flexibility to place your logo, search bar, social icons, and site title in any position on your header. Change the color for each element individually to fit your brand.
Conditional Headers
Conditional Headers are the ability to have separate headers for specific pages. I don't think many other WordPress themes have this feature.

Kadence Elements / Hooked Elements
Place blocks and page builder content anywhere, conditionally, and within a timeframe. Hooked elements are set to display on specific dates and times. For example, show a text block with your contact information only during business hours (9 am-5 pm).
Alternatively, instead of using hooked Elements, Kadence released Kadence Conversions with more options to increase the conversion rates. Read my separate article here.

Ultimate Menu
This feature provides additional menu options for mega sub-menus, highlight tags, and icons. Using this, you can choose to highlight menu links that have been viewed by visitors (great for blog posts).
Fixed Elements

Kadence has extendable hooks that allow for page-fixed content. Fixed footers, fixed banners, and show-by-device are some features that the pro version of Kadence offers.

Header/Footer Scripts
Kadence comes with inbuilt scripts that allow you to place your Javascript files and style sheets in the Kadence header and footer.
Regardless of the theme you install, Kadence scripts will be available to run without hiccups.
Woocommerce Addon (Kadence Full Bundle only)

If you are running woo-commerce, Kadence has an addon called Woo Extras. The plugin will ensure that Kadence can change and add features specific to Woocommerce. It's a fantastic add-on for Woocommerce.

To mention how Kadence can be tailored according to your needs. Customization, ease of use, and Kadence's features make it one of the best themes.
Kadence performance and loading speed
Kadence Theme comes with some awesome features, but what about its speed?
The theme is lightweight and is quite fast. Kadence does not slow down and provides a remarkable UX. Speed is an important factor these days, mainly if you use Kadence for an eCommerce or business site.
You can verify this using Gtmetrix or google page speed tester. Kadence performs well and scores points on both Kadence's speed and optimization. Kadence theme almost earns 100 or A+ for page load times.
SEO friendliness
With the Kadence theme, the chance to rank well on search engines is intact. The theme enables you to optimize your posts for SEO. The Kadence search engine optimized design provides Kadence will get top rank in SERPs, though I suppose it depends on how good you are at optimizing Kadence content (images and texts).
Additionally, Kadence supports schema markup, which is helpful for advanced SEO users and completes the SEO loop.
Kadence Theme Free vs Pro
A comparison between the Free version and the paid version
| Freature | Free | Pro |
| --- | --- | --- |
| Integrations with third-party plugin | ✅ | ✅ |
| Header Builder | ✅ | ✅ |
| Footer Builder | ✅ | ✅ |
| Custom Layouts | ✅ | ✅ |
| Custom Post Type Support | ✅ | ✅ |
| Global Color Palette | ✅ | ✅ |
| Color Options | ✅ | ✅ |
| Global Typography | ✅ | ✅ |
| Global Button Settings | ✅ | ✅ |
| Scroll To Top | ✅ | ✅ |
| Socal Links | ✅ | ✅ |
| CSS Pre-loading | ✅ | ✅ |
| Transparent Header | ✅ | ✅ |
| Sticky Header | ✅ | ✅ |
| Responsive Controls | ✅ | ✅ |
| Breadcrumbs | ✅ | ✅ |
| SEO Optimized | ✅ | ✅ |
| Hooked Elements | ❌ | ✅ |
| Header Addons | ❌ | ✅ |
| Ultimate Menu | ❌ | ✅ |
| Fixed Elements | ❌ | ✅ |
| Header/Footer Scripts | ❌ | ✅ |
| Woocommerce Addon | ❌ | ✅ |
Kadence Theme Pros
Kadence has a well-designed layout that supports easy navigation and loads quickly even on devices with lower screen resolutions. It integrates seamlessly with the WordPress Gutenberg editor and WooCommerce, and many page builders.
The theme customizer is easy to understand and well organized. Kadence makes use of the Kadence shortcodes, which make Kadence pages easy to put together.
Kadence is also available on WordPress.org and can be downloaded for free from your account dashboard. The Kadence theme is listed under the most popular themes. It stands out with five stars out of 5 from over 100,000 plus downloads (June 2022).
Kadence Theme Cons
The pricing is a bit confusing. The paid plan is called Kadence Pro and is available with an annual plan. Furthermore, the Essential Bundle is also available, containing Kadence Theme Pro, Kadence Blocks Pro, and Pro Starter Template. Full Bundle includes even more plugins from the Kadence team, like the Shop Kit for Woocommerce, Kadence Cloud, or Kadence Conversion.
The Full Bundle is, in my opinion, the better deal and has more value.
There are not many cons to mention. Perhaps a cons is that iThemes recently acquired Kadence, and it is unclear how the future looks. However, the Kadence core team is quite supportive. It's a small team.
Support
For support, the Kadence website has thorough documentation that you can use to solve your issues. You can also use the official WordPress forums to ask questions to the theme makers. Kadence also has a dedicated support forum.
I have bought the Full Bundle and when I have an issue I open a support ticket from the website. You will usually get a reply by email within 24 hours (not on weekends). The answers are top class with a solution provided even though the question was not written so clearly.
Kadence theme vs. Astra
Kadence Theme and Astra Theme are great options for WordPress users, but which is the best?
Astra's page-building tools make it easy to create beautiful websites with just a few clicks. Astra has more starter templates than Kadence. This can be a great advantage if you want to get started quickly without spending time configuring everything yourself.
Here is a short comparison of the two themes:
Price: Kadence Theme is more affordable than Astra Theme.
Design: Kadence Theme has a more modern look than Astra Theme.
Ease of use: Kadence Theme is easier to use than Astra Theme.
Functionality: Kadence Theme has more features than Astra Theme.
So, which theme is the best? Kadence Theme or Astra Theme? The answer depends on your needs and preferences. If you're looking for an affordable, modern-looking, and easy-to-use WordPress theme, then Kadence Theme is the best option. Astra Theme is the better choice if you're looking for a theme with more features. No matter which theme you choose, Kadence Theme and Astra Theme are both great options for WordPress users. So, don't hesitate to try either one! You can't go wrong with either Kadence Theme or Astra Theme.
What are some other alternative themes to Kadence?
There are a few other WordPress themes that you can use in place of Kadence. Some popular alternatives include:
Kadence Theme Pricing
Kadence provides access to its theme and plugins in several different ways.
Free Version, download from WordPress
Buy Kadence Pro
Alternatively, you can buy the Essential Bundle which includes
Kadence Theme Pro
Kadence Blocks Pro
Pro Starter Templates
and the third option is to purchase the Full Bundle
Kadence Blocks Pro
Kadence Theme Pro
Pro Starter Templates
Kadence Cloud
Kadence Conversion
Child Theme Builder
Kadence Shop Kit
Kadence AMP
will also include all future plugins when available.
I recommend buying the Kadence Full Bundle. It is a perfect bundle for you if you have several websites and a 'must have' if you have an eCommerce website. The Kadence Shop Kit plugin enriches Woocommerces, and Kadence Conversions (see my separate article) help you increase your conversion rate.
You can go with the Essential Bundle if you have only one website. Kadence Blocks Pro provides you with more Gutenberg Blocks for the designing process.

Conclusion
Kadence is a powerful and responsive WordPress theme that can help you create a site for any business type. With features like SEO, multi-language support, WooCommerce integration, drag & drop builder customization options, and more, it's hard to find another out there with as many capabilities at this price point. If you want your site to stand out from the crowd or if you need something simple yet effective, then Kadence could be the perfect option for your needs! To ensure we are on the same page about what's possible when using this theme, let us know in the comments below to answer any questions before they arise!