Blocksy Theme Review 2023: Best WordPress theme for Gutenberg Blocks and Woocommerce
If you're searching for a new WordPress theme, you may have encountered Blocksy Theme. In this review, we'll look in-depth at Blocksy to help you decide if it's the right theme for you.
Blocksy is a popular WordPress theme that has received rave reviews from users. It is known for its simplicity and flexibility.
One of the best things about Blocksy is that it is very user-friendly. Even if you are not tech-savvy, you can use Blocksy without problems.
Blocksy is a versatile WordPress theme that is ideal for creating Gutenberg-powered websites. It integrates seamlessly with popular Gutenberg Blocks like Stackable and Kadence Blocks, allowing you to create sophisticated layouts without code. Blocksy also includes various customization options, so you can easily create a website that reflects your unique brand.
Keep reading to learn more about the Blocksy theme and figure out if this is the WordPress theme you need.
Blocksy Theme Review
Blocksy is a lightweight WordPress theme built with a unique block-based design. It's user-friendly and customized; you can use it for any website and it has tons of attributes that will excite developers. If you're looking for a trendy, functional WordPress theme, Blocksy is a perfect choice.
Below we will look at different aspects of Blocksy, like design, setup, customization, functionality, features, and SEO practices.
Design
Blocksy's block-style design is perfect for anyone looking for a trendy, functional website. Its ease of use and customization functionality makes it a great choice for business or individual web pages.
Blocksy CSS style sheet is concise, making it easy to edit. This also makes the theme more secure (with fewer opportunities for hackers to slip malware into your site). The overall aesthetic of Blocksy is minimalistic and flat, with pleasant pastel colors and a simple layout.
Installation Process
Blocksy is a WordPress theme that's easy to install. The theme features a simple, streamlined design and functions in all major modern browsers. This makes the theme compatible with most devices, including smartphones and tablets. Blocksy also includes no compatibility issues with popular plugins, making it a good choice for developers who need a reliable base to add their own customizations.
Part of the Blocksy theme is the Blocksy Companion, which is available as a Free and a Pro version. You find the free Blocksy Companion in the WordPress repository.
Looking for a tool to help you create content that ranks?
Create Content that Drives More Traffic and Revenue to your Website
Customization
Blocksy's block editor layout makes creating a functional and stylish website easy. You can add, delete, and rearrange blocks to create your website the way you have pictured it. Blocksy provides immense customization for such a minimalistic and flat theme.
The WordPress dashboard lets you play around with different colors, fonts, and layout optimization. Blocksy also gives you a good amount of space to work with on the front end to showcase your content attractively.
Functionality & SEO
Blocksy is perfect for businesses or individual websites needing a functional and trendy design. The theme is easy to use and has plenty of characteristics that will help your web page attract visitors. In addition, Blocksy is SEO optimized, so you will soon see high rankings in search results the moment you launch your website.
Blocksy is also mobile-friendly, so you won't encounter compatibility issues with smartphones and tablets. This theme ensures that everyone can enjoy visiting your page, regardless of how or what they use to access it.
Features Overview
Blocksy is a clean-coded WordPress theme with loads of features. The overall aesthetic of this theme is minimalistic and flat, which makes it perfect for business or individual websites that need an attractive design.
Blocksy includes many features like unlimited colors and layouts, multiple headers, parallax scrolling effects, social media icons, sliders, and more!
With Blocksy's flexible layout engine, you can turn each feature block into its own unique page. This makes the new page-building experience easy without worrying about messy HTML files or custom coding.
Pro Feature: Local Google Fonts
Blocksy, being aware of the common issues with remotely loading Google Fonts – such as slower performance and privacy concerns – has cleverly incorporated a local caching system. This brilliant feature allows you to host Google Fonts on your own web server.
As a result, you no longer need to make an additional external request when your site loads, resulting in faster loading times and increased privacy for your visitors. This is especially valuable in the EU, where privacy concerns are particularly high.
So, why not use this amazing feature to enhance your website's performance and privacy? See my separate blog post on how to load Google Fonts locally.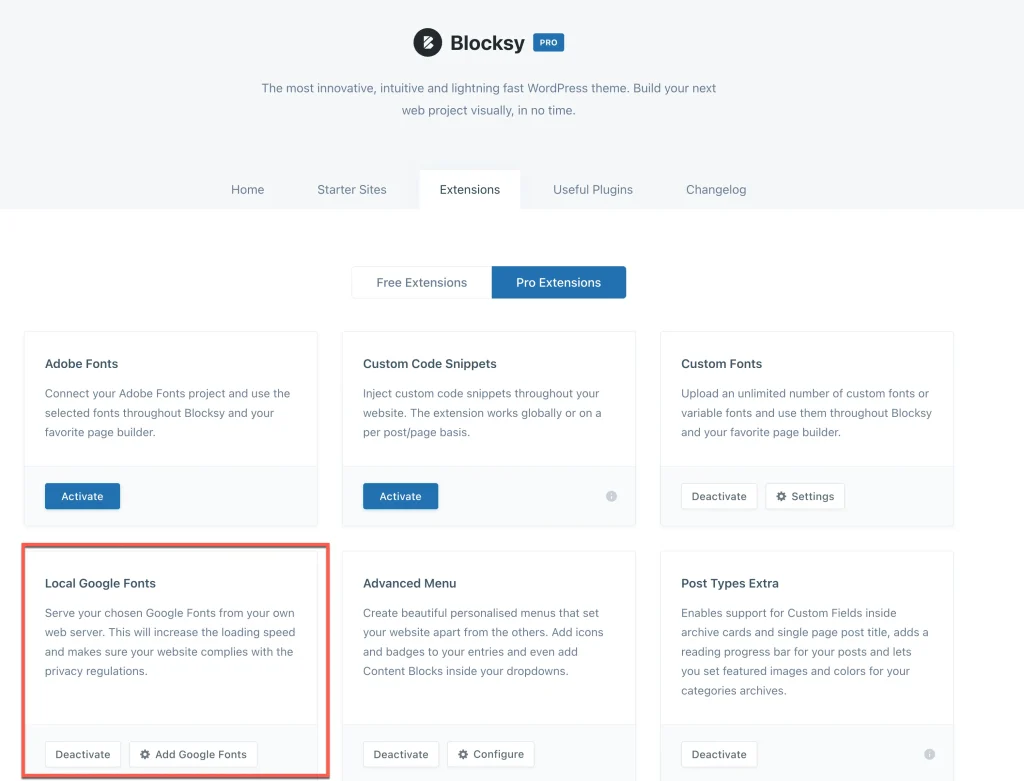 Blocksy Starter Sites / Starter Templates
The Blocksy theme is a great way to start building a website. The theme comes with a variety of pre-built templates that you can use to get started. These templates are designed to be easy to use and customize, so you can quickly create a website that looks great. Blocksy is also responsive, so your site will look great on all devices. And best of all, the Blocksy theme is free!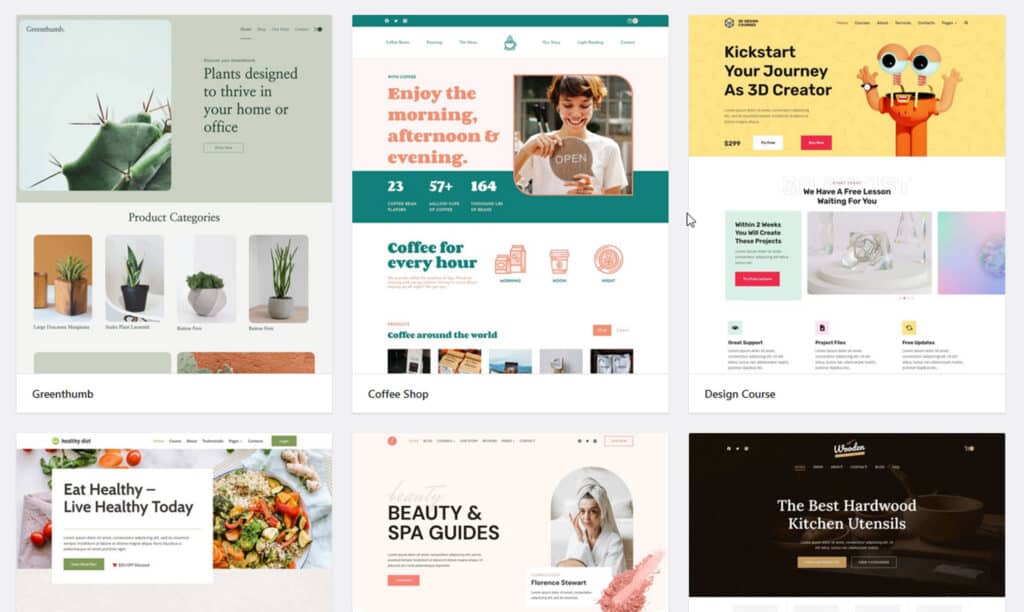 In addition, visit this website, 'Blocksy websites examples,' for inspiration on what is possible with a Blocksy theme for your WordPress website.
Header Footer Builder
Blocksy Theme ships with a powerful builder for the header and footer. Blocksy Theme allows you to go to your website's header or footer section and see all the additional header elements you can add. This way, you can easily customize your website without knowing how to code.
Blocksy PRO provides additional header elements that can be used to create more complex and unique headers. This includes adding text, images, videos, and different types of buttons.
SEO-Friendly
Blocksy is optimized for SEO, so you won't have to make any changes or additions before launching your website. The theme includes clean, semantic code that ranks well in search engines. Blocksy also comes with Schema markup and Google Analytics integration, making it simple to gather data on how people use your site! Overall, Blocksy has everything you need to launch an attractive and functional WordPress website quickly and easily!
Speed & Security
Blocksy is a lightweight and clean WordPress theme with plenty of features. The code is well-optimized, and the theme includes all significant browser compatibility, so you won't encounter any issues or errors once your website launches. Blocksy also uses security best practices and provides fast load speeds so that you can build and launch a secure site quickly.
Customer Service
There is a free support ticket page you can use to reach out to the customer service team; they usually respond within 24 hours.
Popular WordPress Page Builder plugin for Blocksy
There are a few popular page builders that work well with Blocksy. In particular, Elementor, Brizy, and Gutenberg.
Elementor is a WordPress page builder that allows you to easily create functional and aesthetic pages. Brizy is a newer page builder that's quickly gaining popularity due to its unique features and easy-to-use interface. And finally, Gutenberg is a popular WordPress page builder that's perfect for anyone looking to create custom layouts with blocks.
All three of these page builders work well with the Blocksy theme and allow you to easily create stunning pages and posts.
A lot of WordPress designers are using Blocksy with Stackable Blocks. The combination works smoothly together. However, Blocksy works with any Gutenberg Block plugin. I should also mention Kadence Blocks.
Blocksy Pricing and Performance
Blocksy theme has a free version that you can choose from the WordPress theme page. However, if you want to take your web page to the next level, you can download and install the Blocksy Pro plugin for just $49 per year for a single website.
It's a great value, given the number of features and functionality you get with the theme. Blocksy performance is also excellent due to its lightweight design and clean coding practices.
Aside from the single web page package, you can also choose the professional plan for $69 per year and the agency plan for $99 per year. All three plans offer a 14-day money-back guarantee.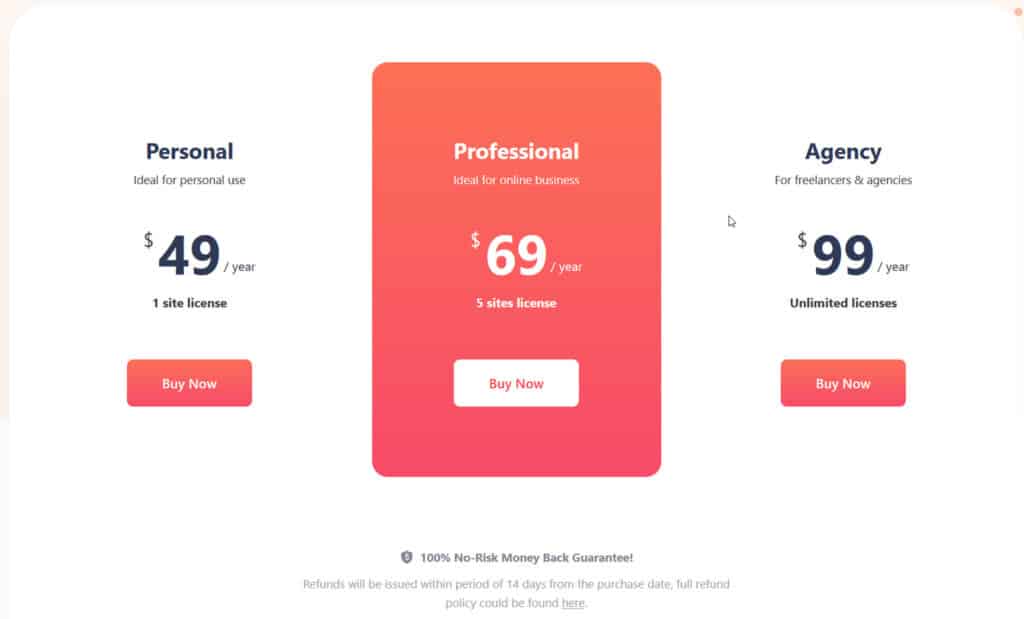 If you're planning to buy Blocksy Pro, please use my affiliate link to purchase it. Absolutely no additional cost for you (I would earn a commission from the seller), but definitely a huge help for me, as your gesture will contribute to covering the costs of maintaining this website and adding more great articles. Thanks in advance for your support!
As for its performance, Blocksy theme is lightweight and optimized for search engines. It also includes solid coding practices and clean HTML5 code to ensure that your website is fast and easy to load on mobile devices and PCs. Like most page builder plugins, the Blocksy Pro plugin includes some very attractive features as well, such as:
Conditional HTTP headers and footers
Various hooks for your content
Off-Canvas pane with filtering options for online shops
WooCommerce integration
Custom CSS and JavaScript options
Overall, Blocksy theme is a fully-featured WordPress theme that's perfect for anyone looking for a modern web design at an affordable price.
Now that we've looked at the overview and features of Blocksy, let's take a look at some of the pros and cons of using this theme.
Blocksy Review: Pros and Cons
Pros
Blocksy is fully optimized for search engines with clean HTML5 and solid coding practices.
Google Analytics is already installed on the theme, so you'll be able to track everything from visitors and pageviews to social media engagement.
The Blocksy theme includes many features that will excite developers, including custom code support, shortcodes, and more.
Blocksy is lightweight and fast due to its clean layout, solid coding practices, and lack of unnecessary features.
Cons
Starter sites library is not as diverse as it is in other popular themes.
Blocksy's free theme requires the Blocksy Pro plugin for additional features.
Pro plans do not allow for an unlimited number of website usage.
FAQs
What kind of sites is Blocksy best suited for?
Blocksy is perfect for business or individual websites that need a functional and trendy design. The theme is easy to use and comes with plenty of gimmicks to help your website stand out. In addition, Blocksy is SEO-friendly right out of the box, so you can start ranking high in search results the moment you launch your website.
What other WordPress themes are there?
Some of the best WordPress themes besides Blocksy are Divi, Astra, OceanWP, Tusant, Ultra, Authority Pro, and the Gutenberg theme. All these creative themes are excellent choices for your WordPress site because they are SEO-friendly, mobile-friendly, and come with a variety of features that will make your website look great and function well.
How do I install the Blocksy theme?
You can install the Blocksy theme like all other WordPress themes. Simply download the theme files, unzip them and then follow the instructions in the included documentation to install and activate the theme.
Can I use Blocksy for my business website?
Yes! Blocksy is perfect for business or individual websites that need an attractive design. The theme is easy to use and has plenty of gimmicks that will make your website unique and attract visitors. In addition, Blocksy will give a boost to your high-core web vitals because it is SEO-friendly. You can start ranking high in search results when you launch your website.
Is Blocksy mobile-friendly?
Blocksy is also mobile-friendly, so you won't encounter compatibility issues with smartphones and tablets. This theme ensures that everyone can enjoy your website, regardless of their device to access the internet.
Do you like Blocksy or another theme better?
Yes, I like it. It definitely belongs to one of my favorite WordPress themes. I also use Divi, Kadence, and Astra for WordPress websites.
Summing Up: WordPress theme Blocksy Pro and Free.
The Blocksy theme has a cool, trendy design with clean lines and uses the latest web technologies. This is an excellent choice for small businesses, startups, or blogs who want to showcase their work in the best light possible. It's easy to use and can be customized with your own colors and logo without any coding knowledge required on your end. It will help you with creating stunning websites.
If you add the Blocksy plugin from WordPress, then it will transform into a powerful marketing tool that can help grow your business even faster by taking advantage of all the benefits of the WordPress platform, such as SEO friendliness, customizability, speed loading times, etc… So go ahead and download this awesome theme today!