Best Yoast SEO Alternative for WordPress (Rank Math SEO Plugin)
Search engine optimization (SEO) is a critical aspect of any website, as it helps improve its visibility and ranking on search engines. One of the most popular SEO plugins used on WordPress is Yoast SEO.
However, a rising star in the WordPress SEO plugin market is giving Yoast SEO a run for its money: Rank Math.
Rank Math is the best Yoast SEO alternative, quickly becoming the go-to plugin for WordPress website owners and digital marketers who want a comprehensive SEO solution beyond the basics. The free version offers far more functionality than other SEO plugins like Yoast SEO or All in One SEO.
This article will discuss different aspects of the Rank Math WordPress plugin and why it's so popular for SEO.
What is Rank Math? (Best Yoast SEO Alternative)
Understanding the history of a plugin should enable us to evaluate whether it is safe. The Rank Math SEO plugin has over 1+ million active installations and is rapidly gaining popularity among WordPress users. The company, Rank Math, was founded in 2018, and its base of operations is located in India.
Rank Math is a feature-rich SEO suite-style plugin that ensures your website is optimized according to search best practices. If you've ever used another WordPress SEO plugin, you should know how Rank Math works.
Why is Rank Math the Best Yoast SEO Alternative?
As you now know, Rank Math and Yoast SEO are both WordPress SEO plugins. But why should you use Rank Math over Yoast? Let me tell you why Rank Math plugin is better than Yoast.
1. User-Friendly Interface
Rank Math offers a user-friendly interface that makes optimizing their website's SEO easy for website owners and marketers. The plugin has a step-by-step setup wizard that guides users through the process of setting up their website's SEO, making it accessible even for those who are new to SEO.
2. Schema Markup
One of the standout features of Rank Math is its built-in Schema Markup functionality, which enables website owners to add rich snippets to their websites. Rich snippets can include ratings, reviews, prices, and other information to help your website stand out in search engine results pages (SERPs) and increase click-through rates.
3. Content Analysis
Another significant advantage of Rank Math is its focus on user experience. The plugin gives users real-time suggestions for optimizing their content, including keyword density, internal linking, and readability analysis.
Looking for a tool to help you create content that ranks?
Create Content that Drives More Traffic and Revenue to your Website
The content analysis feature can help website owners create high-quality, user-friendly, and SEO-friendly content, which is crucial in today's competitive digital landscape.
4. Advanced SEO Features
Rank Math also offers advanced SEO features not available in Yoast, such as Google Search Console integration, 404 error monitoring, and redirection management. The plugin allows users to monitor their website's SEO performance and make data-driven decisions to improve their website's search engine ranking.
5. WooCommerce Integration
If you run an online store with WooCommerce, Rank Math is the better option. It provides WooCommerce SEO features such as product schema markup, product breadcrumbs, and OpenGraph for products. Yoast SEO plugin, on the other hand, only offers basic WooCommerce integration.
6. Freemium
The main distinction between the Rank Math SEO plugin and other SEO plugins (such as Yoast) is that it is a freemium plugin, implying that the free version includes more functions than other plugins.
Rank Math Integrates With Your Favorite WordPress
The Rank Math SEO plugin has become one of the top plugins for WordPress websites. Below are a few requirements you need to follow for seamless integration:
While Rank Math supports PHP versions as low as 7.2, the latest stable PHP version is recommended.
Rank Math is compatible with WordPress versions 5.6 + and firmly suggests that you update to the newest version.
Rank Math requires the installation of various PHP modules on your server to extend the capabilities of the PHP programming language.
If your website uses additional SEO plugins, you can safely disable them and integrate their data into Rank Math.
Rank Math Features (Best WordPress SEO Plugin)
Most of you might be using Yoast SEO plugin for WordPress but I can confidently say that after reading the features of this plugin, you will surely install Rank Math on your website. So let's discuss why Rank Math is the best SEO plugin:
On-Site SEO Analysis
One of the most useful features of Rank Math is its On-Site SEO Analysis. This feature allows you to quickly and easily assess the SEO-friendliness of your website and individual pages. The analysis checks for various factors, including page titles, meta descriptions, headings, content length, images, and internal linking.
The analysis provides a detailed report of your website's SEO performance and improvement suggestions. It also assigns a score out of 100 for each page, making it easy to identify pages that need attention.
By making the recommended changes, you can ensure that your website is optimized for search engines, which can lead to higher rankings, increased traffic, and better engagement.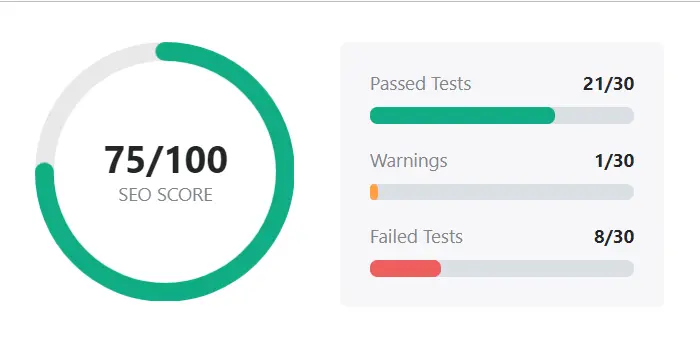 Data Integration comes with Standard
Rank Math SEO plugin transforms all this information from your search panel, Google Analytics profile, and WordPress website into relevant graphs and insights.

With Rank Math's Analytics tool, you'll be able to:
Determine the accurate optimization level of your content.
Evaluate your search performance from a bird's eye view.
Monitor your ranks and keywords, including indicators such as your average search position, click-through rate, and more.
Determine which articles are performing well.
Keep an eye out for stuff that isn't performing as planned.

Google Analytics and Google Search Console are built into Rank Math's free version; if you opt for the paid version, you can track weekly rankings and access much more information.
Track Google Index Status
Rank Math's Google Index Status feature allows you to track the status of your website's pages and posts in the Google search index. This feature provides real-time data on which Google has indexed pages and posts and which are still pending.
By tracking your website's Google Index status, you can ensure that all of your content is indexed properly and that your website is visible in the search results. It can lead to more traffic to your website and better SEO results overall.
Optimize Up to 5 Keywords
Rank Math lets you optimize up to 5 keywords for each page or post on your website. This feature is helpful because it ensures that your content is targeted toward specific keywords your target audience is searching for.
To use this feature, enter your chosen keywords into the Rank Math plugin, which will recommend on optimizing your content for those keywords. It may include suggestions for adding keywords to your page title, meta description, headings, and content.
Optimizing your content for specific keywords can increase your chances of ranking higher in search engine results pages (SERPs) for those keywords, resulting in more traffic to your website.
Schema or Rich Snippets are Included
Rich snippets are rich search results that differ from standard search results. They include additional information, visuals, title, meta description, or text snippets.
You'll need to install some plugins to integrate schemas across your site. However, free version of Rank Math contains a rich snippet module to enhance your content for rich snippets and local SEO, allowing search engines to comprehend your content more effectively.
It means you can access 14 distinct varieties of schema immediately usable. That is critical if you want your material to appear in Google's SERP features, which always appear on the first results page.
Redirection Manager
The Redirection Manager in Rank Math allows you to easily manage your website's redirects. With this feature, you can redirect pages, posts, and domains to new URLs. It can be useful if you have changed your website's URL structure or deleted pages or posts.
The Redirection Manager also tracks 404 errors on your website and allows you to redirect those URLs to new pages or posts. By managing your website's redirects properly, you can ensure that your visitors always find the content they're looking for, which can lead to better engagement and higher rankings.
Social Media Integration
Rank Math integrates with social media platforms like Facebook and Twitter, allowing you to optimize your content for sharing on social media. With this feature, you can customize how your content appears when shared on social media, including the title, description, and image.
Optimizing your content for social media can increase the chances of it being shared and seen by more people, which can lead to more traffic to your website.
LSI Keywords Suggestions
LSI (Latent Semantic Indexing) Keywords are related keywords that search engines use to better understand your website's content. Rank Math gives you with a list of related keywords that you can use to optimize your content.
By using LSI Keywords in your content, you can improve your website's relevance and authority in the eyes of search engines, which can lead to higher rankings and more traffic.
Modular-Based User Interface
In a modular-based user interface, you can use some of the features offered by Rank Math as you need them.
Several modules in the Rank Math SEO plugin are not active at installation (e.g., the schema module, the image optimization module, and the redirects module), but they can be enabled when required.
Bulk Edit Titles and Descriptions
Rank Math's Bulk Edit feature allows you to edit the titles and descriptions of multiple pages or posts at once. It can be useful to update your website's metadata for SEO purposes or rebrand your website.
By making bulk edits to your website's metadata, you can save time and ensure your website is optimized for search engines.
Blog Post Preview on Google
Rank Math's Blog Post Preview feature lets you preview how your blog post will appear in the Google search results. It can be useful to ensure that your metadata is optimized for search engines or to see how your content will appear to your audience.
By previewing your blog post on Google, you can adjust your metadata or content to improve your click-through rate and increase traffic to your website.
Choose Pillar Posts and Pages
Rank Math's Pillar Post feature allows you to identify the most important pages or posts on your website and assign them as "pillar content." Pillar content is the foundation of your website and represents the core topics you want to rank for.
You can create an optimized, more focused, and organized website by choosing pillar content.
Content AI
Rank Math's Content AI feature is a personal AI assistant providing content optimization suggestions. This feature uses machine learning to analyze your content and provide you with suggestions on how to improve it for better SEO results.
The Content AI assistant can suggest changes to your content's structure, tone, and more. It can also provide you with suggestions on how to optimize your content for specific keywords or phrases. Using the content AI feature, you can create high-quality, SEO-friendly content optimized for your audience and search engines.
Watch the Rank Math SEO Plugin Mega Tutorial
Everything you need to know, this vidoe covers both the FREE and PRO version. The length of the video is over 2 hours.
Built-in SEO Audit
SEO is a sophisticated process with numerous moving elements; otherwise, it would not be an $80 billion market. While some of the tests in an SEO audit can be performed manually, having a power tool gives you an edge and saves time significantly.
Rank Math enables you to automate time-consuming procedures and do an in-depth SEO assessment of your website with a single click.
Automated SEO for Keywords Analysis
We rely on tools and features to implement SEO basics as SEO evolves and content creation and link building become more complicated. One such automation feature is Rank Math's image optimizer module, which allows you to set the plugin to add ALT text and title information to images automatically.
RankMath Free vs RankMath Pro
The free edition includes the following features:
Meta descriptions and titles – You may utilize templates or manually edit each post's/SEO page's title and description.
Analyze focus keywords — Optimize content for a variety of focus keywords.
XML sitemap – Rank Math enables you to construct a personalized XML sitemap. You are not required to utilize the default WordPress sitemap if it does not meet your requirements.
Perfect integration with the visual builder of Elementor Pro and Divi. I don't know any other SEO plugin with a better Divi integration than Rank Math.

The premium edition includes the following features in addition:
Tracking keyword rankings – You can view your keywords' search engine ranks for the last twelve months to better understand.
Integration of Google Trends
You can optimize multiple locations for local search engines.
It is possible to generate a Google News SEO sitemap.
You can establish a sitemap for Google Video SEO.
Click here for a full feature comparison between the Free and Pro version.
If you plan to buy Rank Math Pro please use my affiliate link to purchase it. Absolutely no additional cost for you (I would earn a commission from the seller), but a huge help for me, as your gesture will contribute to covering the costs of maintaining this website and adding more great articles. Thanks in advance for your support!
How can I do Google SEO for my website?
Some valuable data from Google Search Console can be accessed directly within your WordPress admin dashboard using the Rank Math SEO plugin. You can see several things here, including rank keywords, sitemap status, and indexing issues. The information you can find here is invaluable in helping you maintain a high-performance website from an SEO point of view.
How to set up Rank Math SEO plugin settings
To experience the full potential of Rank Math, we need to familiarise ourselves with some of the crucial settings.
Download RankMath and Install the plugin
Access your WordPress admin panel.
Click the "Add New" link under the "Plugins" link in the left column navigation.
"Rank Math" should be entered under "Search plugins…".
Click "Install Now" to install the plugin when you find it.
Once the plugin has been installed, you must activate it before being used.
Click the "Activate" button.
Get Kadence Pro
Built your website the way you want
Connect to your Free SEO Login Account
The Rank Math SEO plugin's registration window will automatically open once the plugin has been installed and activated. Here, you must create a free Rank Math account (to receive some of the RankMath articles via email).
We recommend creating an account because Rank Math's newsletter can provide great insights to help you advance your understanding of SEO. You can skip this step and move on – you don't need an account to complete the setup
Follow the Setup Wizard.
The easy-to-follow setup wizard will appear once connected to your free SEO login account. You can check either of the following settings, depending on the level of your SEO skills.
Easy
Advanced
Custom Mode (Pro)
Import SEO Data from your SEO Plugin
You can import the current settings for an SEO plugin if you already have one. First, select the SEO plugin you want to import settings and click the importer. The importing process will start once the "run importer" button is clicked, as shown in the screenshot below.
Connect to Analytics
Connecting to Google Search Console is recommended by Rank Math. It is not required, but it will significantly enhance what the plugin can do. Check out how to do this below:
Click on the "Get Authorization Code" button.
You will be prompted to log in to your Google account in a pop-up window.
Upon connecting, a pop-up window will display a code. You can paste this into Rank Math's "Search Console" field.
Select the site you're setting up from the drop-down if you have more than one website connected to Search Console.
Select "Save and Continue."
Set up Sitemaps
The sitemap informs search engines how your site is structured, what content they should crawl, and the priority of each page.
As part of this step, you will decide whether you want Rank Math to generate your sitemaps automatically. We recommend allowing Rank Math to do this.
Final SEO Tweaks
The last step of the wizard deals with minor aspects of SEO. Here are the settings we recommend:
Turn on the Noindex Empty Category and Tag Archives.
Turn on the Open External Links in the New Tab/Window options.
Turn off the Nofollow External Links feature.
What Happens if You Uninstall the Rank Math Plugin
If the plugin is uninstalled:
You will undo all "on-the-fly" adjustments made by the plugin while producing your pages.
Your sitemap will be deactivated.
The plugin tools previously available while making or modifying a post will be disabled.

Your search engine ranking could suffer as a result.

The plugin produces database tables that are not deleted when uninstalling the plugin. To delete them, seek tables that begin with the prefix "rank math_."
Pricing plan: Editions
Simple Pricing Plans
Rank Math Pricing
All prices in US$ 
Prices per year
30 Day money-back guarantee
| Edition | Price | Supports Websites | AI credits |
| --- | --- | --- | --- |
| Free | 0,00 | | |
| Pro | 59,00 | unlimited personal websites | 15 |
| Bussiness | 199,00 | 100 client websites | 125 |
| Agency | 499,00 | 500 client websites | 600 |
I love Divi Theme Builder. It's so easy to get started. Check it out today! Use my link and get a 10% discount.
Rank Math vs. Yoast SEO reviews
In general, Rank Math's free version offers far more functionality. For instance, you'll get multi-keyword analysis, 404 detection, a redirect manager, local SEO capabilities, and internal link ideas, among other things. These are features that Yoast SEO either charges for or does not include.

Additionally, Rank Math is modular, which means you may disable any functionality you don't wish to use to prevent bloat (the same is true of Yoast SEO).
I switched from Yoast to Rank Math a while ago. Read here why I switched.
Conclusion on Rank Math: Best SEO for WordPress
The SEO world is constantly evolving, and SEO solutions must keep up. We've only begun to explore what Rank Math is capable of and how it can benefit you daily.
Rank Math SEO is a powerful plugin that offers a wide range of features for free. If you're looking for an SEO plugin with all the bells and whistles, Rank Math is your best bet. It's easy to use and comes with a user-friendly setup wizard. Even if you're not tech-savvy, you'll be able to get your website ranking high in no time.
Rank Math Pro is even better and offers more schema and insightful analytics results. I think the Pro Version is priced appropriately and well worth it. If you're serious about SEO, get Rank Math Pro.
Please let me know your thoughts on Rank Math in the comment section below. Do you have the Pro version?