Elementor 3.9: Awesome new features in the Free and Pro Versions
Take your website to the next level with the exciting new features of Elementor 3.9 Free and Pro.
New in Loop Builder – Support WooCommerce / Elementor Pro only
Elementor 3.8 Pro introduced the first phase of the Loop Builder, which enables you to design your templates for repeating content on a page, such as listings, blogs, and more.
With Elementor 3.9 Pro, your WooCommerce website can use the Loop Builder. With the Loop Builder's support of WooCommerce, you can use any WooCommerce-specific widget or Elementor widget and assign dynamic WooCommerce tags to it to populate it dynamically. That way, you can design your Product page any way you like.
From the WordPress template table view, you can choose posts or products to use as the query when creating a new Loop Item template. If you create the Loop Item template directly from Elementor, you can select which post type to use.
Elementor 3.9 Pro allows you to display WooCommerce Products by specific tags, categories, or attributes. You can also control the order in which the products display and the number of products per page.
Elementor 3.9 Pro is an excellent addition for any Elementor user who wants to create a professional-looking WooCommerce website.
Save as Default – Create your Default Settings for Elements
Elementor Free is the most popular WordPress page builder. Elementor is free and open source. Over 5 million websites are built with Elementor.
The default settings for each Elementor element include placeholders for text, images, or icons, as well as default colors, styles, and additional settings.
With this update, you will be able to adjust and save all the default styling and settings for all elements, and the new default settings will also carry over to any kit or template you import/export. Every time you drag an element to the Editor from the widget panel, it will appear with your customized settings.
Elementor provides advanced features and options so that you can build any website with ease.
Try Elementor today and see how easy it is to use!
Looking for a tool to help you create content that ranks?
Create Content that Drives More Traffic and Revenue to your Website
If you're planning to buy Elementor Pro please do use my affiliate link to purchase it. Absolutely no additional cost for you (I would earn a commission from the seller), but definitely a huge help for me, as your gesture will contribute to covering the costs of maintaining this website and adding more great articles. Thanks in advance for your support!
Enhanced Popup Advanced Rule: Show Popup X Times per Session / Day / Week / Month – Elementor Pro only
Popup building just got more advanced with Elementor Pro. With the Popup Builder, it is now easier than ever to create popups that target your website visitors effectively. With the Popup Advanced Rule tool, you can determine exactly when and where you want a popup to appear for up to X amount of times within a predetermined duration, such as a session, day, week, or month – depending on your preference.
This new feature is available with Elementor Pro and will help you create more targeted and effective popups for your website.
Performance Improvements
Elementor is always looking for ways to improve the performance of your website. Elementor 3.9 introduces one performance improvement that can significantly impact your website's performance.
Elementor utilized Google tools, including the Chrome User Experience Report and Core Web Vitals Technology Report, while receiving technical consultation from a Chrome expert. It resulted in the identification of several areas where Elementor could make improvements.
One such improvement is the introduction of lazy loading for images. Lazy loading is a technique that delays the loading of images until they are needed. Pictures will only be loaded when they are visible on the screen, which can significantly reduce the time it takes for a page to load.
Elementor knows they need to improve their performance; this is just one element to reach the goal.
Background Images Lazy Load Experiment
Elementor is a great way to create beautiful websites quickly and easily. One of the main benefits of Elementor is that it allows you to add background images to your website without compromising on performance or LCP.
By adding Lazy Load to background images, you can improve your website's performance and LCP score without sacrificing your site's appearance. In addition, Elementor's lazy load feature is also SEO friendly, which can help you improve your website's discoverability in search engine results. So if you're looking for a way to improve your website's performance and LCP score, Elementor is a great option.
Elementor is now Compatible with the Performance Lab for "WebP Uploads."
Elementor's Performance Lab plugin is designed to improve your website's performance by automatically converting JPEG images to the more efficient WebP format.
The Performance Lab plugin ensures that your website loads as quickly and smoothly as possible. When the plugin cannot successfully convert a JPEG to WebP, the website will default to showing the JPEG image.
Additionally, only images uploaded after activating the Performance Lab plugin will be converted to WebP format. All uploaded images before activating the plugin will remain in their original JPEG format.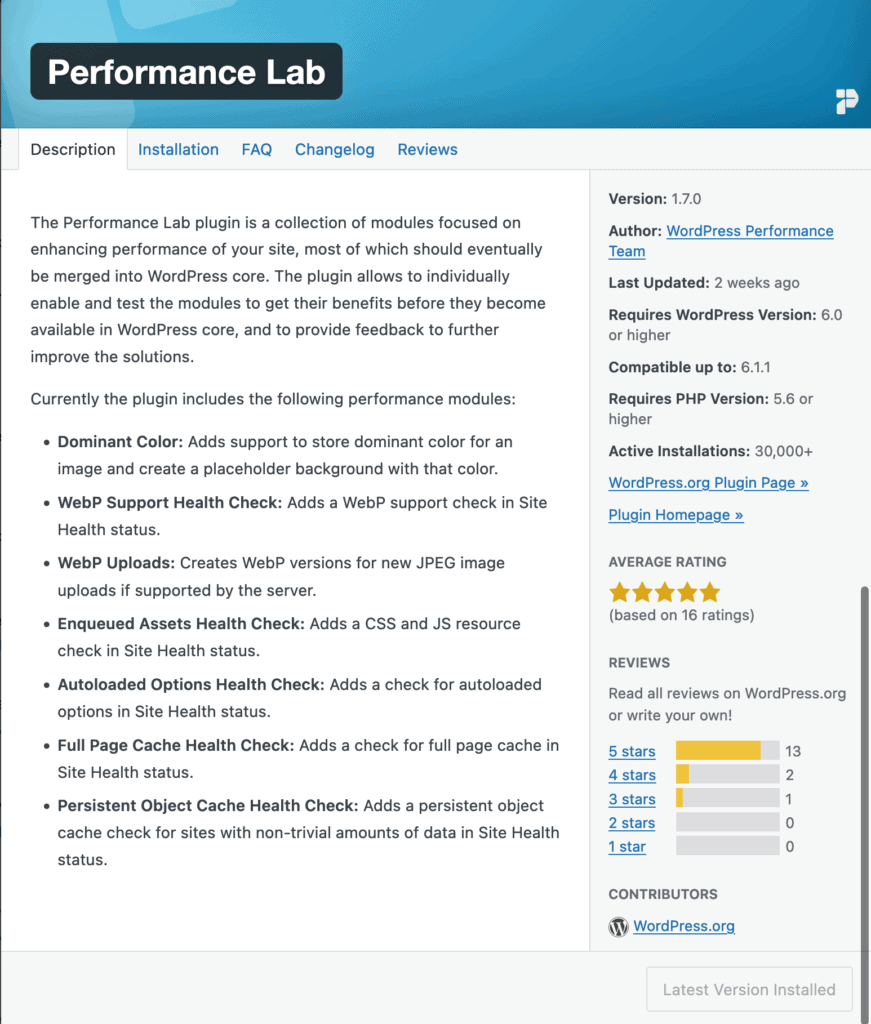 Smaller CSS Assets – Elementor Pro only
Elementor upgraded how it generates its minified CSS, which has resulted in considerable efficiency gains. After deploying the tweaks, the total size of all the CSS assets has been reduced by 13%, bringing them down from 5.3MB to 4.6MB – an impressive achievement!
Elementor Pro's assets have also undergone a 10% reduction, making them lighter and faster than ever, with a total size of 6.6 MB compared to 7.3 MB.
Clearly, this change is having a significant positive impact on Elementor Pro users, who are reaping the rewards of the improved production process.
I hope this was a helpful summary of the new features in Elementor 3.9. For any questions, please leave a comment below or contact me by email at info@edywerder.ch.