Elementor current version – A list of the newest features
As a frequent user of Elementor, I'm sure you are always excited to learn about new features and functions in the latest updates. Discover all the new features that have been unleashed in both the free and Pro editions of Elementor. This blog post will continue to be updated after each new release.
Get ready to stay up-to-date with all the newest changelog information regarding Elementor – your favorite page-building tool!
Elementor release schedule explained
Elementor is committed to continually offering users the newest and best editing features in its Free and Pro versions. Releases arrive almost every two months, pushing Elementor to be one of the most advanced page builders. Elementor Free has plenty of great options that make designing pages easier than ever. At the same time, Elementor Pro takes it to the next level with extra goodies such as Theme Builder, Popup Builder, Loop Builder, Mega menu and more. Keeping tabs on Elementor's release schedule can make sure you are always up-to-date with their cutting-edge features.
Elementor recently announced that from now on, release schedules for their Free and Pro Versions will be simultaneous. This means that going forward, version 3.8 for the Free and Pro Versions will release at the same time. And in exciting news for Elementor Cloud users, they will receive new releases a few weeks earlier than users of the no-Cloud version.
By opting in to be a beta tester, you can access the release weeks earlier than others just by going to Elementor's Tools, Version Control tab on the WordPress backend. Having said this, you should only install beta versions of Elementor on a test or staging site. Never install it on a production website.
Elementor current version: What's new in 3.15?
Taxonomy Filter Widget – Pro Feature
The new Taxonomy Filter widget is now available, enabling visitors to filter through listings in Loop Grids on your website easily. To use it, add the widget to your site and link it to a Loop Grid. The widget automatically presents the relevant taxonomies based on the Loop Grid's contents. You can customize the filter's layout, colors, and other elements.
Notably, the filter generates a deep link to share a direct link to a chosen category or tag.
For advanced filtering, two filters can be linked to the same Loop Grid, allowing visitors to filter listings by category and tag.
To use the widget, activate the Taxonomy Filter Bar and the Loop Grid features by going to WordPress Dashboard → Elementor → Features.
New Accordion Widget for Complete Design Flexibility
The new Accordion widget, part of the nested elements series, offers unprecedented flexibility in content design. Unlike Menu, Tabs, and Carousel widgets, Accordion converts each item into a container, accommodating any widget or content type.
This updated widget merges the best features of earlier Accordion and Toggle widgets, allowing users to determine its default state and limit the number of items that can be opened simultaneously. Customization extends to layout and design, with control over item spacing, icon positioning, animation duration, and assigning HTML tags to titles for improved SEO.
To activate the Accordion widget, enable the Container and Nested Elements features via the WordPress Dashboard → Elementor → Features.
Looking for a tool to help you create content that ranks?
Create Content that Drives More Traffic and Revenue to your Website
Enhanced Styling Capabilities in the Carousel & Loop Carousel – Pro Feature
Elementor's latest enhancements for Carousel and Loop Carousel widgets offer improved styling capabilities that empower users to create perfect-fit Carousels for their websites.
Among the updates is the Offset Slides feature that provides a sneak peek of upcoming slides, sparking visitor interest and indicating more content to explore.
This feature can be applied via Content → Settings, allowing for adjustable offset width per viewport.
Additionally, users now have the capacity to custom-tailor their carousels with enhanced navigation and pagination elements. These include adjusting their position and orientation, colors, border, background color, and box-shadow. Essentially, these enhancements provide more opportunities for unique Carousel customization.
To utilize these new features, activate the Container, Nested Elements, and Loop capabilities in WordPress Dashboard → Elementor → Features.
Elementor AI – Extending Elementor AI for Images
Elementor AI is taking its capabilities significantly by introducing image generation and editing tools.
The Remove Background tool is a standout feature, allowing users to automatically detect an object in an image and replace the existing background with a transparent one. This is particularly useful for integrating product images and portraits into the parent container's background color.
Moreover, with the Replace Background feature, you can transform the background of an image based on a text description. This means you can swiftly change your model's background from a beach to a rainforest or outer space.
To use this innovative feature, select an image, use Elementor AI to remove the background, describe your preferred background, and click the Generate button.
Elementor current version: What's new in 3.14?
Elementor AI now with images
You can easily create breathtaking and original images tailored directly to their website using the Create with AI button in the image area. With Elementor AI's robust text-to-image generator, those visions once trapped in the mind's eye can be fully realized.
It doesn't stop there, though. You can take full creative control and customize the images by refining or adding elements to make them more striking and impactful than ever before. They can extend their image beyond its original dimensions to better fit their vision, resulting in the perfect aspect ratio.
New Nested Carousel – Pro Feature
The Nested Carousel widget is undoubtedly an exciting feature in Elementor that offers unparalleled control and artistic flexibility for displaying content. The feature allows users to nest any Elementor widget within each carousel slide, giving rise to an infinite canvas that can populate with numerous widgets.
Moreover, it boasts unprecedented design freedom, offering the liberty to create a dynamic carousel with images, text, and any other Elementor widgets that seamlessly blend into the website's design language.
The Nested Carousel widget significantly improves Elementor's user experience, allowing designers and developers to execute their creative vision easily.
Static Item Position in the Loop Grid
Elementor introduces the Static Item Position feature, which allows users to spotlight specific content within their regular content loop. Users can control the position of the static item in the grid, decide whether it appears just once or at regular intervals, and adjust the layout of the alternate template.
To access the feature, the Loop Feature must be enabled in WordPress Dashboard → Elementor → Features.
Global Styles Preview
Elementor, an innovative website builder, has introduced a new game-changing feature called Global Styles Preview. This cutting-edge feature offers a real-time visual representation of the user's global colors and fonts. It has been optimized to give users an accurate perspective of how their website color schemes and fonts are rendered. It works seamlessly with Elementor Hosted websites and can be manually enabled for Plugin websites.
With the previous design features, there had always been a little difficulty when it came to transitioning from the preview and the color/font picker. However, this new feature has addressed those concerns and allows for smooth movement between the two, making the design process much easier. It's no surprise this feature has been welcomed with great enthusiasm from users, given how much it has changed the game.
UI & UX Improvements
One-Click Addition of Elements
Elementor has added a new feature that allows users to add widgets or elements to their page with a single click rather than dragging them into specific containers or columns. This new feature increases the efficiency of designing a page, as it reduces the amount of time spent manually dragging elements around as long as the correct container or widget is selected.
Visual Indication of Page or Site Parts
Elementor 3.14 has introduced a new feature to enhance the transition between page sections: a visual indicator for page parts such as headers, footers, and loop items. This indicator is a semi-transparent overlay that appears when hovering over any part of the page, allowing users to edit the specific part without clicking on the handle precisely.
Top Bar Enhancements
Elementor 3.14 has improved its Top Bar, introduced in version 3.12. This includes adding a new page directly from the Top Bar and a button to easily switch back to the WordPress Dashboard. These updates are designed to improve user experience and promote best practices.
Additional WooCommerce and WordPress Functions
Elementor has integrated additional WooCommerce and WordPress functions for convenience and ease of use. Site Settings allows users to set up a shop page, and a toggle to allow comments on a page or post is now accessible directly from Elementor Page Settings.
Elementor current version: What's new in 3.13?
Elementor AI
Elementor AI is a remarkable product that works seamlessly with Elementor to enhance website design and content creation without the requirement for coding skills. Its impressive features include 'Write with AI' for content creation, an AI Code Assistant for Custom HTML, CSS, and code generation, and contextual prompt suggestions for consistent messaging and multi-language translation. The AI technology is accessible in content areas, Custom HTML, Custom CSS, and Custom Code for PRO subscriptions. Elementor AI streamlines website owners' workflow and increases productivity, efficiency, and conversion rates by enabling them to produce professional-looking landing pages within minutes.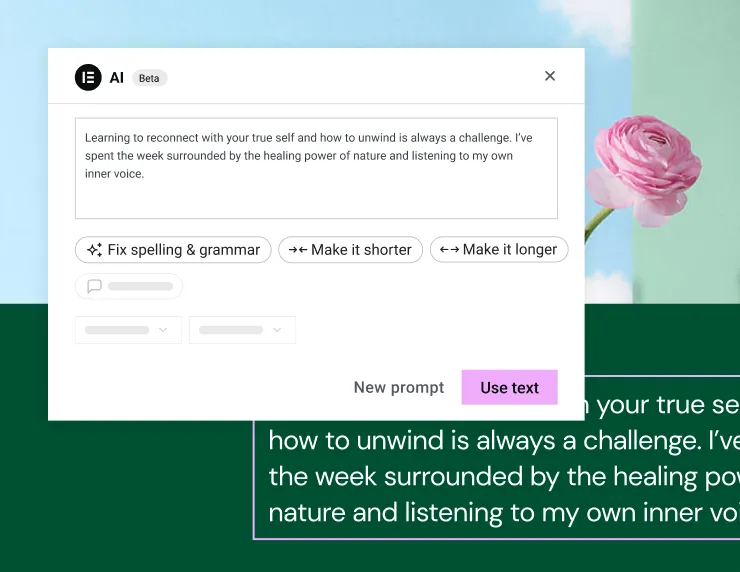 CSS Grid in Container – New Layout Options
How to use Container in Elementor: Grid Containers are a great way to create grid-like layouts for your website. With Grid Containers, you can define the number of rows and columns, determine the distance between them using Gaps control, and choose whether you want Auto-Flow to be based on column or row. You can also justify and align content and items within the Container. Additionally, you can place a Flexbox Container inside each cell of the Grid to achieve more sophisticated designs with multiple elements. This makes it easy to create infinite design possibilities that accommodate any device while improving your website's performance.
New Styling Capabilities in the Menu Widget – Pro Feature
Elementor 3.12 added the new Menu widget, letting users create simple or complex menus.
Elementor 3.13 extended its styling capabilities with Icons and Active state with anchors.
These additions give users more ways to enhance their menu design and indicate active states for visitors.
Elementor Interface revamp – continue.
Elementor 3.12 rolled out changes to the interface written in React, improving performance and promoting Elementor's best practices.
In Elementor 3.13, the Top Bar was expanded with Save Options in Publish Button and Page Navigation features.
The changes enable a better and more streamlined user experience.
Populate The Post Excerpt from Your Post's Content – Pro feature.
The update introduces the ability to choose whether you want your Post Excerpt's content automatically generated from a Custom Excerpt or manually insert it into WordPress. The Loop Builder and adding posts anywhere within loop items have been two of the main requests that users had sought, making this upgrade vital for bloggers looking to create engaging and informative blog posts.
Performance improvement
Summary:
Elementor 3.13 has shifted its focus from performance improvements to widgets, mainly on inner pages. Lazy Load has been applied to images such as those used in the Author Box, Post Info, and Price List widgets, which should improve the initial page load of inner pages. The Header has had its lazy load removed to improve the visitor experience.
Elementor current version: What's new in 3.12
Mega Menu – Pro feature
The new Menu widget has been released to give users a higher level of design, customization, and creativity than the WordPress Menu (renamed from Nave Menu) widget. It also allows users to create a Mega Menu, an expandable menu that can use any widget and content. It gives users more flexibility when structuring the website's navigation and styling the main menu. Additionally, users can choose the breakpoint at which the menu becomes a menu toggle and customize the icons used for the menu toggle.
Mega Menus are an optimal choice to enhance a website visitor's experience with complex navigation architecture while beautifully displaying standout menus.
Loop improvement / Alternate Template – Pro feature
A new feature to its Loop Grid widget allows users to apply an alternate template to specific items in their grid. After toggling this feature on, users can choose a loop template or create a new one from the Theme Builder, which can apply a different design to the item in a specific location.
If desired, the alternate template will override the item's design and can be repeated across the grid. Users can also have the alternate template span across multiple columns.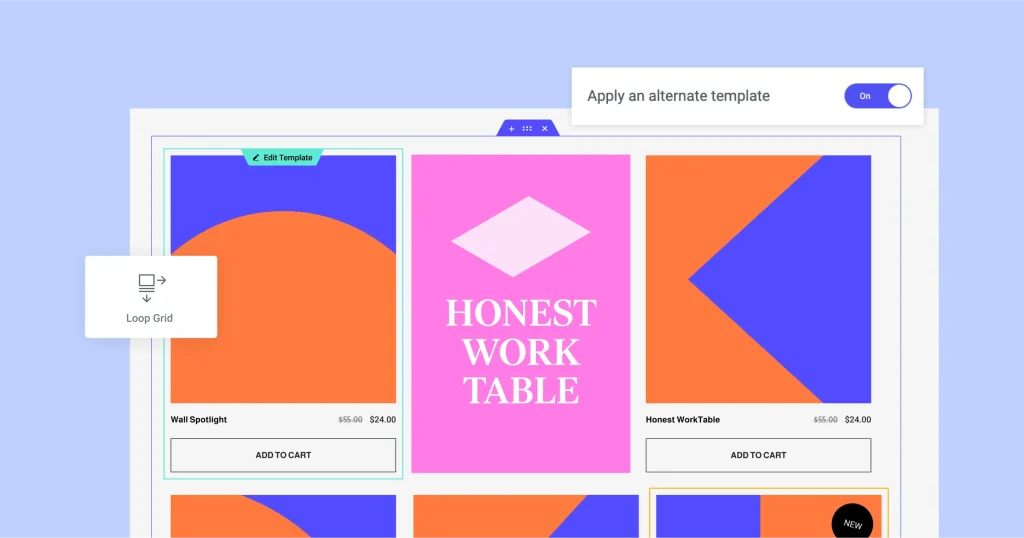 Predesigned Loop Templates – Pro feature
New templates to help you quickly and easily create outstanding websites. The new Loop Templates library includes 10 templates – 6 for posts and 4 for WooCommerce products – designed by Elementor's team of experts, keeping up with industry trends and standards.
These Loop Templates are fully customizable and can be used in the Loop Grid widget and Loop Carousel widget to match your needs. However, remember that these Loop Templates are container-based, so they will only be visible on websites with Containers enabled.
Elementor interface revamp
Elementor celebrates six and a half years of existence and is introducing a new design system with improved color semantics for better accessibility. The update includes a new color scheme and an experiment for a new Top Bar, optimized for performance and featuring industry best practices.
These changes will not impact product functionalities but are intended to promote best practices for website creation and provide enhanced capabilities in the future.
Choose a preferred custom icon in the Menu Cart – Pro feature
The Menu Cart widget has been updated to offer more customization options. It now includes three icons, the cart itself, a dismiss button, and an "x" button to remove an item. The user may now choose or upload any SVG icon for these three menu elements. This gives the user complete control over their menu design. To add
Elementor current version: What's new in 3.11
New Loop Carousel – Pro feature
Elementor Pro 3.11 introduces the new Elementor Loop Carousel widget, making creating personalized and dynamic carousels of loop items for your website easier. With this feature, you can use Elementor's in-place editing canvas to design the Main Item Template, then assign dynamic tags to content, images, or colors. Additionally, you can add any other widget using Elementor Theme Builder to personalize further and enhance your template design. Once you've achieved the desired look of your Elementor loop carousel, you can experiment with different types of transitions between slides and other settings without limiting yourself due to lack of customization options.
Copy & Paste Between Websites – Free feature
Elementor 3.11 has made it incredibly easy to copy and paste elements from one website to another. This can be done directly in Elementor Editor – right-click the element you wish to copy, select 'Copy' from the action menu, and then right-click again to choose 'Paste from Another Site'.
At that point, you use CMD+V or CTRL+V, depending on your platform of choice, to copy and paste Elementor elements between websites instantly! Gone are the days of manually exporting a JSON file to transfer layouts between websites – Elementor makes it quicker and easier than ever.
Performance – Responsive Background Image Size – Free feature
Elementor makes choosing the right image size for your website easier than ever. From the Image widget, you can set different sizes per device to improve Elementor performance. When you use a background image, Elementor will set it to Full by default – however, on larger devices setting the image size to a smaller resolution might sacrifice quality for performance. Thankfully, this is an easy workaround that Elementor allows us to take advantage of.
Popup Builder – New Advanced Rule for Date and Time Range – Pro feature
Popup builders just got even better with this update! You can now use the new 'date and time range' feature in the Advanced Rules of a popup to automatically schedule when you'd like to display it. This means you no longer have to manually activate it or deactivate it once you're done, taking the hassle out of running campaigns like Valentine's Day – all you need to do is select your start and end date and determine which visitors should see it.
In addition, this makes managing multiple campaigns simpler as all you have to do set up rules for each one, meaning you don't have to keep track of various dates and times for different campaigns. All in all, this time-saving new update gives even more control over customizing and automating popup campaigns.
UI update: renamed experiment page – Free feature
The experiment page within the Elementor 3.11 settings has been renamed to "Features", to provide more clarity regarding the status of each feature. This new and improved page can help users decide when features should be activated or deactivated since some are in an early development stage while others are relatively stable and ready for use.
The location of this page remains unchanged, as it is still accessible from the main Elementor Settings – providing convenience and an intuitive way to control which elements of the website they want to experiment with.
If you're planning to buy Elementor Pro please do use my affiliate link to purchase it. Absolutely no additional cost for you (I would earn a commission from the seller), but definitely a huge help for me, as your gesture will contribute to covering the costs of maintaining this website and adding more great articles. Thanks in advance for your support!
Elementor release update 3.10: What's new
Nested Elements -free feature
The Elementor 3.10 update includes the all-new Tabs widget as an alpha experiment to take the design of your website to a higher level. It will replace the existing version, and its container-based elements enable you to expand your design with unlimited possibilities.
With the new Tabs widget, you have control over the layout and positioning of tabs and titles and can also insert icons or titles for even more exciting design effects. Additionally, nested elements within each tab are enabled through Flexbox containers inside a main content container. So all types of sophisticated designs can now be easily implemented on your website!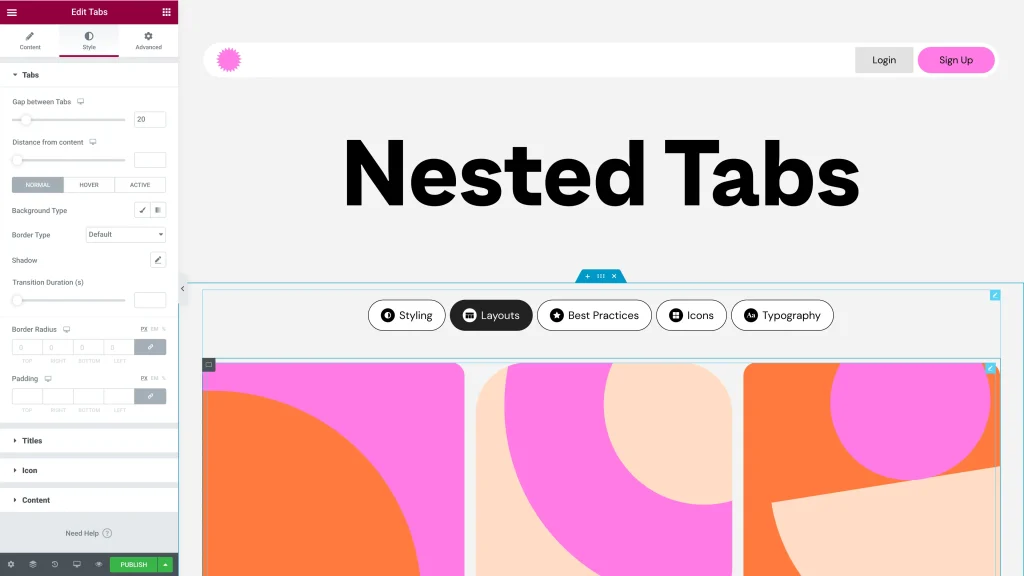 Custom Units; styling enables you to choose any unit you desire, including CSS Math Functions – free feature
Designers will be thrilled with the font custom unit feature recently released by the Editor. Now, you can customize font size for any element more precisely than ever. Rather than having to choose from one of the standard measurement units such as PX, EM, REM, %, VW, or VH, you can now select the Custom option from a drop-down menu and utilize your choice of multiple measurement units as well as run calculations directly within the value input field.
This allows for greater accuracy and smarter design decisions to help your work look professional and supported on any device.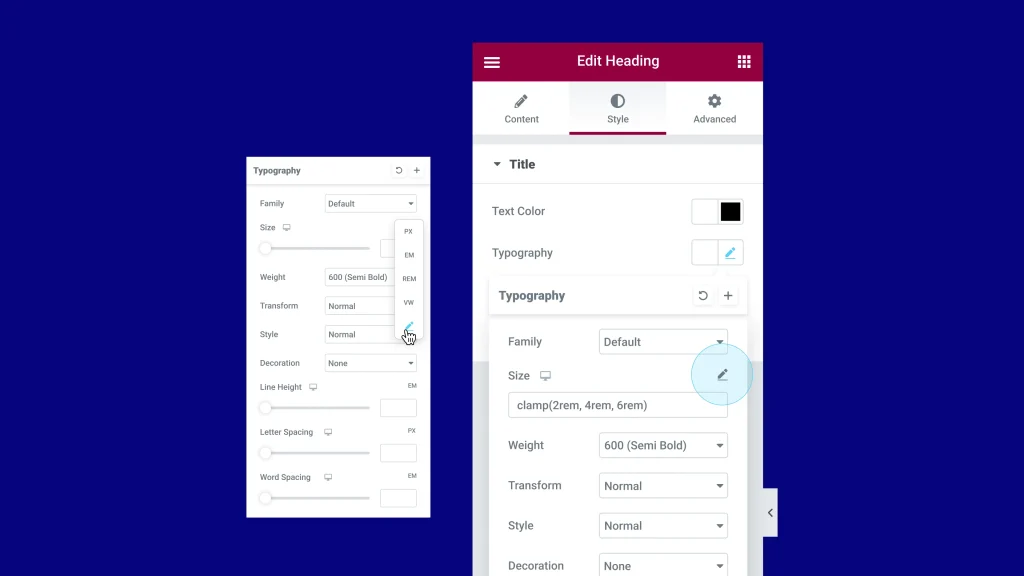 Full Website Kits, Templates, and Blocks based on containers – free feature
The Library team at Elementor has released an updated library full of Flexbox Container-based assets in response to the official marking of the Flexbox Container as a beta experiment.
Full website kits, page templates, and brand-new mini-shops (one-page ecommerce website kits) can be found within this library, giving you various options when working with the experiment. You can rest assured that your experience with these Full website kits and other resources will be productive and successful.
Furthermore, you will likely notice two major changes that have been made: they're based on the container layout rather than the section-column layout.
Dynamic Due Date in Countdown Widget – Pro feature
The Countdown Widget provides a powerful tool, enabling you to boost conversion rates and encourage FOMO with its countdown feature. Leveraging the new dynamic tag control for the due date increases your ability to optimize this feature significantly.
Now, WordPress custom fields and those from other platforms such as ACF and PODS can be used to dynamically populate the countdown's due date, meaning that you can instantly update your countdown across multiple pages in one simple action. This allows for powerful customization of countdowns and is a great way to draw attention from users and drive up conversions.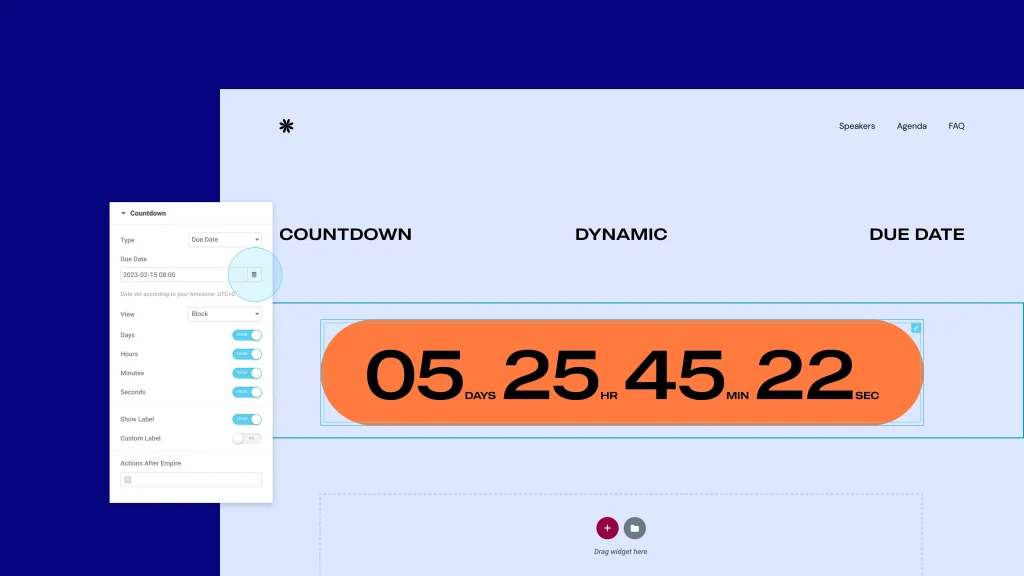 Disable Google Fonts
Google fonts are a popular library for online fonts, but it could put you at risk of violating GDPR and privacy regulations. Elementor makes it easy to avoid this risk by allowing you to disable Google fonts from your website in one click.
After disabling the fonts, only seven fonts are available in the Editor. If you've used google fonts on your website before, they will all be reset to the remaining local font choices. Elementor Pro users have an additional layer of protection; they can continue using locally hosted fonts with the Custom Fonts feature. With such convenience and security, more people take advantage of Elementor's google fonts options daily.
A list of past Elementor updates
Conclusion: Elementor current version
Elementor has come a long way since its launch, and the current version is packed with powerful features that can help any website owner create an amazing user experience. From Flexbox containers to Custom Units, Designers now have access to innovative tools which allow them to style elements more precisely than ever before. You also have control over the layout of tabs and titles and dynamic tags for countdowns, helping boost conversions and keep your site compliant with GDPR.
Finally, Elementor's Google Fonts feature makes it easy to use fonts without worrying about violating privacy laws – all in one click! With these latest updates from Elementor, creating beautiful websites just got easier than ever.