Elementor Pro Price Plan: Is it Worth the cost? Let's find out the ideal plan to purchase
Elementor Pro is a popular WordPress Page Builder. You can use Elementor to create any website you want without hiring a developer. Elementor comes with many features, and the price starts from $49/year for Personal Use. In this article, we will find out if Elementor Pro is worth the cost or if we should stick with the free version?
What is Elementor Pro version?
Elementor is a drag-and-drop website builder, which means you don't need to know anything about HTML or CSS to create your site. It is straightforward and comes with all the tools you need to create a beautiful website.

Elementor Pro is the paid version of Elementor. It has many features and gives you access to more than 50 widgets, 300+ templates, a theme builder, pop-ups, and other advanced features.

Elementor Free version is good enough to create a simple website. If you want to create a complex website or an online store, you will probably need the Elementor Pro version.
Elementor Pro Price: How much is it?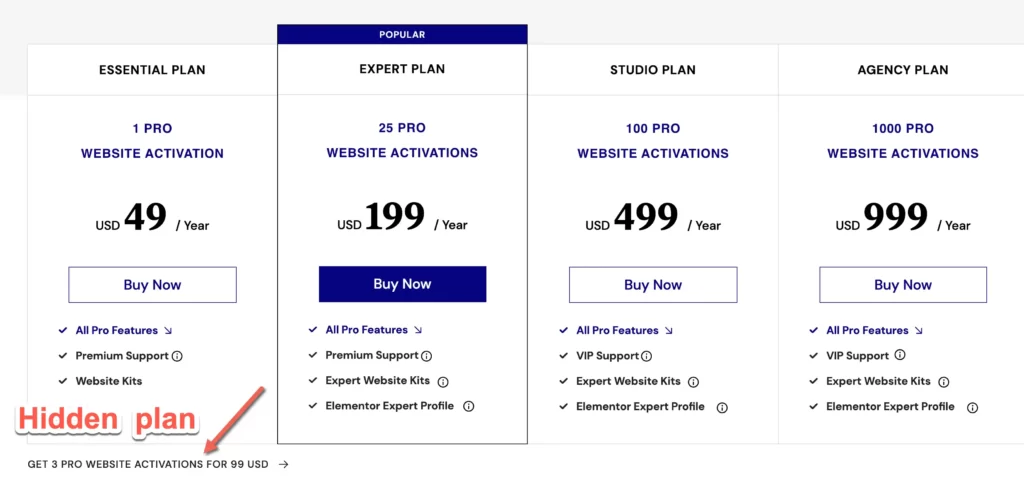 Essential Plan
The Essential Plan is the best fit for beginners. It has all the essential design features to make your website look great. The Plan is valid for a single Pro site.
All-Pro Features
One website
Premium Support
Web Kits
Expert Plan
This Plan gives you access to exclusive features, including Elementor Expert Profile. With this profile, you can showcase your work on the Elementor website.
All-Pro Features
25 websites
Premium Support
Web Kits
Elementor Expert Profile
Studio Plan
Looking for a tool to help you create content that ranks?
Create Content that Drives More Traffic and Revenue to your Website
The studio plan is perfect for designers who need to manage many clients or personal websites. This Plan gives you priority support from the Elementor team of experts to get the help you need when you need it.
All-Pro Features
100 website
VIP Support
Web Kits
Elementor Expert Profile
Agency
All-Pro Features
1000 websites
VIP Support
Web Kits
Elementor Expert Profile
*Hidden* Plan Advanced
On the Elementor Pro Pricing page, there is no mention of the Advanced Plan for three websites. A small text just says, "Get 3 Pro Website Activation for $99". When you click on it, you get straight to the checkout page, and the Plan is called Advanced.
What does Premium Support mean?
When upgrading to a paid plan on Elementor Pro, you get access to the Premium Support team. It means that you'll have fast access to help when needed, with a response time of 1 day or less. Chat support is also available.
Furthermore, support staff can also offer to access paid users' WordPress dashboards and the hosting control panels, such as cPanel, to debug and solve issues. This service is not available to free users.
What does VIP Support mean?
If you are in a hurry, VIP Support offers faster chat support. Live chat with the Elementor VIP Support team and receive priority responses on your tickets in under 30 minutes.
Which Plan should I choose?
Well, as most would say, it depends :). If you only want to create your personal website with Elementor Pro, the Essential Plan for one website activation is for you. However, you could also consider Elementor Cloud, which is $99/year and includes everything you need to host your website.
I recommend the expert plan if you want to develop more than one website. Twenty-five websites are plenty. In most cases, I guess VIP Support is not needed. Many other resources are available to get fast answers to your questions.
Does Elementor offer a demo version?
Yes, it is called Elementor Free. Download it from your WordPress under Plugins. Elementor Free allows you to try out some of the plugin's features before purchasing it. You can decide whether you need Elementor Pro or not. You can also find helpful tutorials on Youtube that will show you how to use Elementor.
Do the Elementor website plan last for a lifetime?
At this time, Elementor does not offer a lifetime subscription. They are still determining their long-term revenue model so that they may add one in the future. However, for now, you can only purchase annual plans. It means that you will have to renew your subscription every year in order to keep using Elementor Pro.
If you're planning to buy Elementor Pro please do use my affiliate link to purchase it. Absolutely no additional cost for you (I would earn a commission from the seller), but definitely a huge help for me, as your gesture will contribute to covering the costs of maintaining this website and adding more great articles. Thanks in advance for your support!
How Can I Cancel My Elementor Pro Pricing Plan?
If you have decided that Elementor Pro is not for you, or if you need to cancel your subscription for another reason, the process is easy.
You can cancel your Elementor Pro subscription anytime. You will not get a refund if you decide not to renew or cancel your subscription.
But Elementor offers for every Plan a no question asked 30 day-money-back-guarantee.
Do Subdomains require a separate license?
Yes, it does, a subdomain requires a separate license, or in other words, it counts toward a website activation. It's mainly when a subdomain is used for testing or staging.
There are a few subdomains that do not need a license.
dev.* (dev.example.com)
local.* (local.example.com)
test.* (test.example.com)
staging.* (staging.example.com)
When it comes to other WordPress plugins, how well does Elementor corporate?
Elementor is a great plugin, but how does it compare to other WordPress plugins? In general, Elementor has good compatibility with other plugins. However, there may be some cases where it doesn't work as well with other plugins.
Elementor has a knowledge base article and list some plugin with know incompatibility. Most plugins are not well known, so it's not a big deal.
Here is the link to the knowledge base article.
Should I purchase Elementor Pro?
When it comes to purchasing Elementor Pro, there are a few things you should consider. How often do you plan on using the plugin? Do you need support or access to updates and templates? Is your website generating income?
Each subscription to Elementor Pro includes a full refund guarantee and lifetime updates. It should make the decision easier to give Elementor Pro a try.
Elementor Pro celebrates its sixth birthday in May 2022. It is a well-known product with tons of resources to get help. There are also a lot of add-ons available for Elementor, which enhances the page builder even more. However, I think most add-ons are not needed.
Please read my article on my parent website for a full comparison review of Elementor Free and Elementor Pro.
Why do I recommend Elementor?
There are many reasons why I recommend Elementor Pro. First, it is a professional, time-saving tool.
With Elementor Pro, you can easily create complex web pages without worrying about coding or hiring a developer.
Second, the extra widgets make website construction easier–especially if you are using WooCommerce and need more freedom.
Finally, Elementor makes it easy for you to add styles to any widget or section on a page. You don't have to be a designer or coder to make your website look great!
Elementor also offers some exclusive features to the Pro version, such as:
50+ Widgets
300+ Templates
Theme Builder
Pop-ups
And much more
FAQ
Does Elementor pro cost a yearly or one-time fee?
Elementor Pro is affordable, with a one-year plan costing $49. Elementor Pro gets updates and other improvements over time, which makes it a good investment. The transition fee for using Elementor is only $50, and no lifetime license is needed to use the service. Lifetime licenses are not sustainable. Elementor offers yearly subscriptions instead of lifetime licenses as a way to increase product quality for its customers over time.
Do professionals use Elementor?
Yes, professionals use Elementor. It is a great tool for building a website visually. Elementor is a WordPress template that offers more flexibility in design than the default options. Additionally, it has 5 Million+ Active Installs and 5500 Five Star Reviews on WordPress.org, which indicates its popularity and usability. Finally, Elementor is a well-designed and intuitive WordPress Theme Builder with a range of features, including paid plans. If you are looking for an all-in-one solution for web design and development, then Elementor Pro is worth purchasing in 2022 because of these features
What is the best addon for Elementor?
There are so many addons available for Elementor that it is hard to say which one is the best. But it is worth mentioning that you could use Elementor Free with an addon. In fact, some addons like Crocoblock has so many features that Elementor Pro is not needed. So a combination of feature-rich addon for Elementor with Elementor Free is a valid option to consider.
What is the best way to learn Elementor Pro?
The best way to learn Elementor Pro is through Youtube videos. There are tons of very good tutorials available on Youtube. Elementor Academy, which is free, is also a good resource. A Youtube channel worth mentioning is Imran Siddiq, the Web Squadron.
How can I get an Elementor Pro website plan at a cheap price?
There is no such thing as free lunch. On the Internet, you can find some coupons or even some nulled versions. Furthermore, some users share an Elementor license. The only way to get Elementor Pro cheap is from Elementor itself when they are running some sales. It happens a few times a year, but it is hard to predict when. Black Friday could be a good opportunity.
When it comes to nulled versions, I warn you because they likely might contain some sort of spyware.
Final thoughts about Elementor Pro Price
Elementor is an incredibly powerful theme framework. It allows you to build beautiful, responsive websites in just minutes.
The great thing about Elementor is that it is a single-page WordPress theme. You don't need to worry about installing any plugins; it is super simple.
If you're looking to create a website that's going to be responsive and look great on any device, Elementor is a perfect choice.
You can install Elementor for Free, but If you're serious about making money online, I recommend purchasing the Pro version. Alternatively, look at Elementor Cloud, a complete package with hosting and Elementor Pro.
Elementor Pro Price starts from $49 and includes a ton of additional features that you won't find in the free version.