Kadence Blocks Review– Make your WordPress website look better with Gutenberg Blocks by Kadence
Introduction Gutenberg Block Editor
The Gutenberg Blocks editor in WordPress has been in place since release 5.0. This article will also refer to it as either the WordPress Block editor or simply as the WordPress Block.
The WordPress Block editor has fundamentally changed how we create content in WordPress. It's the new default editor. However, you can still install the previous classic editor as a plugin.
Many people have mixed feelings about WordPress Block because they want something that feels like writing instead of feeling more like coding. The WordPress Block editor will feel different than what you're used to, and it's important to remember the new editor is a work in progress. Since the initial release, the WordPress editor has improved greatly, so now is the time to switch.
What is the WordPress Editor?
WordPress Blocks are designed to replace many features that previously required shortcodes or plugins, making content creation more complicated than it needed to be because you had different tools interacting awkwardly on your page.
When you use WordPress Block editor, everything is in blocks – paragraphs, headlines, lists, Icon lists, and price lists. These can be manipulated with familiar keyboard shortcuts or quick touch-screen gestures. For example, type 'p' to create a new paragraph block and then press enter twice to add two blank paragraph blocks below it so that you have space to write your content without running off the page!
Gutenberg Block allows content creators to create beautiful layouts with nothing but text! With Gutenberg, list items come as powerful blocks rather than just being an option under Paragraphs (or Headings), so you can style them differently from lists inside other block types such as Advanced Heading. The background can also easily change based on your current design theme or color scheme through simple options menus within Gutenberg Blocks.
Why Use the WordPress Block Builder Gutenberg?
Gutenberg Blocks are ideal because they allow authors to arrange the layout more flexibly than with the classic editor. The WordPress Block editor includes all the advanced Blocks one needs to design blog design beautifully.
Gutenberg Blocks are still a work in progress but has significantly improved since it was introduced with WordPress 5.0
How does the WordPress Block editor differ from other editors?
Although with WordPress 6.1, new design blocks were introduced and full site editing, there are still some ways to go until it can replace traditional page builders like Elementor or Divi. The visual editors in Elementor and Divi are still easier to handle than the WordPress editor. WordPress Blocks are more challenging to learn, but it's a joy to work on once you get the hang of them. I recommend combining a traditional page editor like Elementor or Divi with a Gutenberg editor. I create my pages and templates with the page builder and use the WordPress Block editor for posts.
No Coding Required
Blocks are easier than coding HTML. The new editor makes this process even faster by allowing users without any design or code experience to customize their layouts with reusable content while maintaining control over how the layout looks on different devices. Gutenberg is an excellent solution if you're looking for something that lets you quickly create beautiful designs without advanced web development skills.

Gutenberg Blocks allow users without coding experience to customize layouts by moving and aligning blocks where needed. The Gutenberg Blocks library includes powerful blocks for any project!
Looking for a tool to help you create content that ranks?
Create Content that Drives More Traffic and Revenue to your Website
Reusable Block
Reusable blocks in Gutenberg Editor allow content creators to use the content as blocks. This content can then be styled, rearranged, and configured as needed for various pages. Reusable Block is handy if you want to save and reuse complex blocks on other web pages. For example, a call to action with a button with the text "Sign Up" and an associated link.
Although reusable blocks may seem like a good idea at first glance, there are some limitations when making changes to these blocks when they've already been used on your pages. For example, if you want to change the color of a button's text from red to green for one instance but not all instances on your page. You would need to convert the reusable Block first to a regular block. If you don't convert it first, the change will apply globally. You can easily miss this and ruin your website.

WordPress 5.8 tries to fix it with a untick box not applying the change to the reusable Block.
Classic Editor vs. Gutenberg Block: Pros and Cons
WordPress released the Gutenberg project in December 2018. The change has divided the WordPress community.
Each version has its pros and cons.
The WordPress classic editor is a simple WYSIWYG (What You See Is What You Get) editor that has been around since WordPress was first created. The classic editor is easy to use and familiar to most WordPress users. However, it can be challenging to add more advanced features or customize the layout of your site using the classic editor.
The classic editor makes it easy to upload media files by clicking the "Add Media" button. The content shows in the order they are created with media files together. It can be inconvenient for users who are used to being able to insert media into their content quickly. With the WordPress block editor, you must create a "Media" block and then upload your files.
The Gutenberg Block editor allows users to add individual content blocks to their pages, making it easy to create complex layouts. The block editor is an excellent choice for users who want more control over the design of their site. However, it can be overwhelming for WordPress beginners.
Both the WordPress classic editor and Gutenberg Blocks have their pros and cons. It ultimately depends on your needs as a user as to which version you choose.
However, it is essential to note that the classic editor will eventually be phased out and will no longer be available as a download from the WordPress repository. I recommend switching to the Gutenberg Block Editor and getting familiar with the new functionality.
Best Gutenberg Blocks plugins for Your WordPress Site
There is now a market for third-party block plugins. Some are free plugins with a Pro (paid) version.
Here is a list of some powerful blocks plugin
Genesis Blocks
Spectra (formerly Ultimate Addons for Gutenberg)
Ultimate Blocks
Stackable
Kadence Blocks is my favorite Gutenberg Blocks Editor
Gutenberg Blocks by Kadence is the best addon because they're easy to use, and I love how you can create your reusable content. With the blocks plugin by Kadence Blocks, I quickly built my website's home page without any hassle or limitations using their custom blocks like sections, row layouts, and columns. Websites designed with Blocks load faster and have less bloat.
Kadence Blocks is available in two editions Free and Pro (paid)
Let me introduce to your first some individual blocks in the free version.
Layout – Kadence Row Layout Blocks
The Row / Layout generates an advanced editing experience in the Gutenberg Editor.
The Row / Layout block is a versatile tool that can be used to create a variety of different layouts within the Gutenberg Editor. With this block, you have the ability to choose from some different pre-defined layouts, or you can create your custom layout. This block provides the foundation for creating more advanced editing experiences and options within Gutenberg. It is an essential tool for anyone who wants to create sophisticated layouts within their content.
With the Row / Layout block, you have the power to control the way your content looks and feels, and you can create truly unique experiences for your readers.
Post Layouts
Display a neat grid of posts on any part of your website significant for your home page where you can tease new blog posts
Advanced Heading Block
Our system can take your headings and make them advanced headings that are customized to meet your needs for font family (including google fonts), size, style, and word-highlighting
Table Of Contents
An effective way to navigate through long posts is using the Table of Contents Block. You can choose which heading levels to take into account. Smooth scrolling to anchor is an option. An excellent feature of this Block is that it can be added to a sticky sidebar and has a scroll spy so that you can see to which heading you are currently scrolling. The Block does not have to be part of the post content but can move in a sticky or modal area.
Advanced Gallery
Make stunning WordPress photo galleries, carousels, and sliders! Various caption location options are available, including font, background, etc. Each gallery style has settings for image filters, border radius, box shadows, and more! It's easy to create custom links to other pages or websites and an integrated lightbox. Furthermore, you can choose which image size to use for your thumbnail and lightbox images for optimal performance. It is the best Gallery Block for WordPress that I have ever come across.
Advanced Buttons
Gutenberg provides a powerful way to create buttons. Multiple buttons per line can be easily styled with text size, padding, border radius, border width, color, background, border, and hover styles for the color, background, and border.
Countdown
With this countdown block, you can decorate your banner by adding a countdown timer. You can use it to boost your marketing sales or display the time left for an event.
Testimonials
Show off beautiful, unique testimonials to build your brand or product trust. Grids and carousels are both options. A total of four built-in preset styles are available. Then you can edit the fonts, colors, border, shadow, etc. It is straightforward to use and very versatile.
Spacing Controls – Spacer/Divider Block
A simple Block with optional divider options and height adjustment can set the divider's color, size, and width. Depending on the screen size, you can assign customized heights to your design to be perfectly responsive.
Info Box
Kadence Info Box Block is the perfect way to display text and media content on your pages and posts within the block editor. You can configure it in many different ways, from creating a simple menu with icons and text to an entire staff grid. The Info Box block is highly flexible and customizable, making it easy to create the perfect look for your site. It is also responsive and adapts to any screen size or device.
Other features in the Kadence Plugin Free version
Responsive Controls
When it comes to responsive design, one size does not fit all. That's why it's important to consider different screen sizes when creating a scalable design. With the responsive controls in the Gutenberg editor, you can preview your design on tablet and mobile devices and make sure it looks just right. This way, you can be confident that your design will look great no matter what device it's viewed on.
So if you're working on a responsive design, don't forget to test it out on all devices to ensure it looks perfect.
Intelligent Loads
When you need CSS or JavaScript for your blocks, Kadence Blocks loads it.
Configurable Defaults
It's a breeze to develop. When you set the default settings for a block, they will automatically be applied each time you add a new block.
1500+ SVG icons
It is possible to adjust everything, from size to color to stroke width. Additionally, icons load fast because no font family is loaded!
Fonts, color, and background controls
Make your site look its best with Google fonts. Choose from 900+ options. The following type of background color is available: gradients, overlays, blends, parallax backgrounds, borders, etc. You have total control over the design!
Premium Blocks by Kadence Pro (paid version only)
Image overlay
It lets you easily create links and hover settings for a cover image using the Image Overlay. This Block provides a great alternative to image overlays inside the columns and a full width and wide.
Post Grid / Carousel
You'll get all the flexibility you need when displaying your blog posts beautifully with the Post Grid/Carousel. Besides the layout, you can customize the excerpt title and footer. By individually selecting particular posts, you can design a blog grid specifically for you.
This article will talk about the Kadence theme and why it's an excellent option for WordPress users. We'll be talking about what makes it so great, some of the features that make it stand out from other themes, and my overall opinion on whether or not this is the right one for you.
You've heard of the "Kadence Elements," right? But you are not sure what it is. Is it a theme or plugin?
Kadence Conversion is a new WordPress plugin designed to help you convert more leads into sales. It's simple to install and configure. Kadence Conversion is part of the Kadence family. The Plugin was released in November 2021. It's the ideal addition to Kadence Theme and Kadence Blocks. 
Portfolio Grid / Carousel
When it comes to beautifully displaying your posts in a portfolio (image-focused) style, the Portfolio Grid/Carousel gives you all the flexibility you could ever need. You can customize the design to get the exact portfolio look you want.
Video Popup

Display an overlaying video thumbnail with hovering effects and a link to the video on click. It works with local or external videos!
Advanced Slider
Make beautiful sliders with features such as overlay layers and animation right in the block editor. This slider is lightweight and ideal as an alternative to a separate slider plugin.
Form
You can create simple contact or marketing forms using the Kadence form in the editor.
Split Content
You can use this Block to create beautiful feature columns on your website. Using two columns, you can create a two-column row that features an image or video in one column, drag to adjust the media column width, and input any desired content in the second column.
Modal Block
A modal Block is a powerful tool that allows you to control the placement and content of your popup. Modal Block offers a wide range of features to help you manage your popup easily and efficiently. You can add any content you wish to the Modal Block, including text, images, videos, and anything else you can think of. Modal Block is also fully customizable, so you can change the layout, colors, and fonts to match your website's branding.
A modal Block is an essential tool for anyone looking to add a popup to their website. With its easy-to-use interface and wide range of features, Modal Block is the perfect solution for all your popup needs.
Wireframing / NEW
Assume you need to create a new page design for your client. A new set of WordPress blocks called Wireframing gives you prebuilt, clean sections for building your site from within your native WordPress editor. You no longer need to use a separate app or tool by providing a wireframe mockup directly within WordPress. Maybe you'd like to add an FAQ section to your page. By importing a FAQ wireframe directly from the Wireframing tab, you will not need to create a row layout or experiment with different blocks to find out how best to structure this.

Kadence WordPress Premium features in PRO (paid)
Animate on Scroll
Create a beautiful experience for your visitors by adding on-scroll animation to help them find your content.
More custom Icons
Easily create your custom icon or a set of icons with custom icons.
Dynamic Content
Powerful site control with dynamically populated custom fields. Especially useful for hooked elements.
Design Library
The starter sites and items in the design library will speed up your development process.
Specify scripts
Now you can add a tracking script to a single post or page right in the editor tools.
A comparison table Kadence Free vs. Pro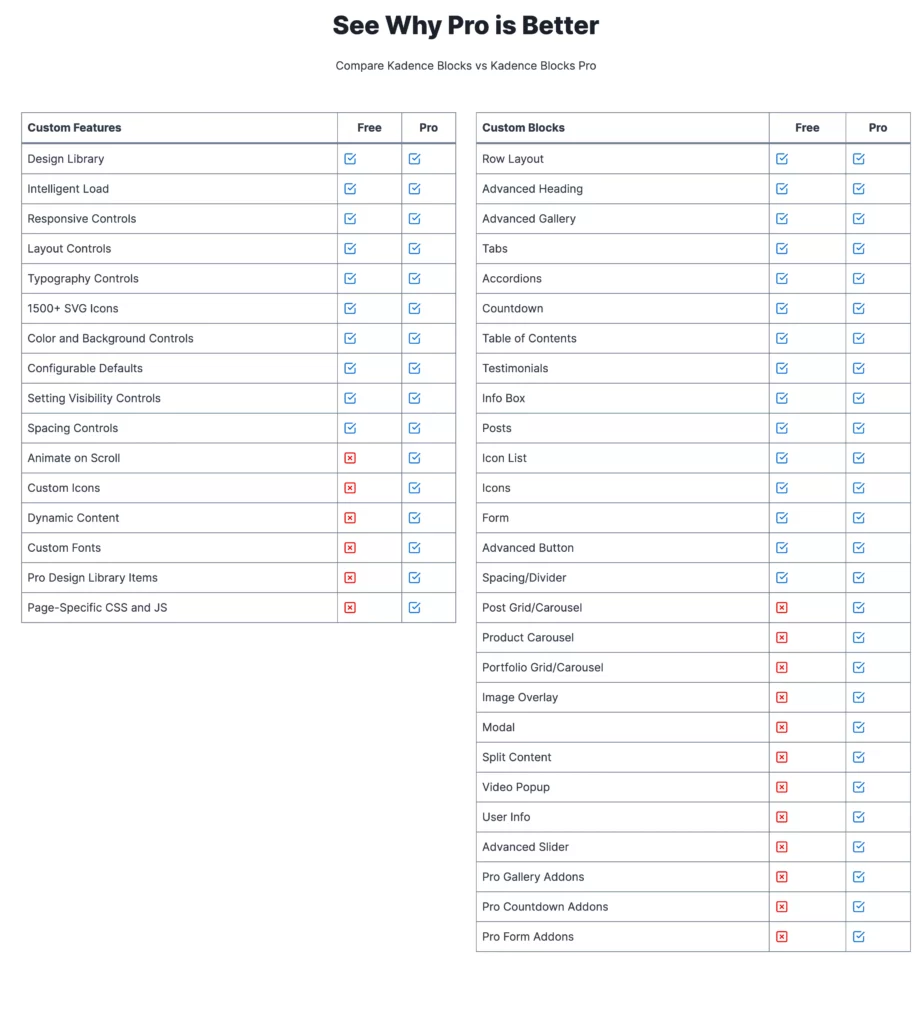 Kadence Blocks Pro- Pricing
The yearly price is $69 for an unlimited website
However, I recommend getting the Pro version in a bundle with the Kadence Theme Pro. The Essential Bundle is $129/year, or there is even a Full Bundle for $199/year
If you're planning to buy Kadence Blocks Pro, please use my affiliate link to purchase it. Absolutely no additional cost for you (I would earn a commission from the seller), but definitely a huge help for me, as your gesture will contribute to covering the costs of maintaining this website and adding more great articles. Thanks in advance for your support!
What can we expect in the future of Kadence Blocks Pro?
Kadence Blocks Pro 3.0 is currently in beta. Kadence Blocks is set to have a huge update with its next release, Kadence Blocks 3.0. This update includes a complete reworking of settings, new blocks such as the Row Layout block and the Advanced Form block, and easier-to-use block defaults.
Global Styles are also planned but won't come with the next release.
A list of often-asked questions
Is Kadence WP good?
Yes, Kadence WP is a great WordPress plugin because it gives you complete control of your posts and pages. You can customize the appearance and functionality of your site without having to learn complicated coding.
Is Kadence free?
Yes, and No, Gutenberg Blocks by Kadence has a Free version, which you find in the WordPress repository. Later you have the option to upgrade to the Pro version.
How to rearrange individual blocks?
You have two choices for rearranging blocks. When hovering over a block, you can use the Up or Down arrow to move it.u003cbru003eYou can drag blocks. You have to hover your mouse over the six dots between the up and down arrows to use drag and drop.
Do Blocks change the way readers see content on my side?
Not at all. The presence of blocks will not affect the content of your posts or pages. All content blocks are transparent on your website. Visitors cannot see them. As a WordPress user, you can only use them to edit posts and pages in the WordPress Admin area.
What if I want to work with the old Classic Editor?
Install a plugin aptly named Classic Editor. After activating it, go into Settings → Writing and select your preferred settings: You can still get the old editor back, although it's not a particularly recommended method. You can choose the old classic or the new block editor per post if you select 'Allow users to switch editors: Yes.'
What are the benefits of using the Block editor interface?
I've already mentioned many of these benefits above. Overall they are portable, making them super-easy to insert and rearrange any content. You can create a complex layout without using a page builder like Elementor or Divi. Therefore, you will get the most out of it using a WordPress theme with editor styles compatible with the block plugin. This way, you can see the same design on your site's front end as you do in the editor working on a post.
Conclusion
The Kadence blocks plugin for WordPress feels like a visual editor, making it easy and fun to build your website. You'll get all the design controls you need: in-depth typography control, background overlays or parallax backgrounds, color schemes from 900+ Google fonts, SVG icons with size, stroke widths, colors, etc. You can also choose from post layouts and customize them any way you wish.
And if these features are not enough – there's more!
With premium Blocks by Kadence (paid version only), animated on-scroll animation functionality will be added to create an engaging visitor experience when scrolling through web content. More custom Icons feature allows you to create your own custom icon sets easily. Dynamic content will allow you to dynamically populate custom fields in the WordPress editor with content such as article metadata, date of publication, or even a specific hook triggered on page load.
Another product in the Kadence portfolio is the Kadence theme. Learn more here.
Kadence offers more plugins like Kadence Shop Kit. A must-have plugin if you have a Woocommerce store.
Honestly, with the free version of Kadence Blocks, you can already do a lot, and probably for a personal website, it is all you need. Pro is required for Dynamic fields with ACF or hooks. In the Kadence world, hooks are elements.
Kadence has some great products. The complete bundle is the best option when it decides what to buy. The Full Bundle includes all future plugins too. Kadence Conversion is another great plugin.
Was my article helpful? What do you think about Gutenberg Blocks? Please leave a comment below or contact me by email at info@edywerder.ch