Keeping yourself apart from the crowd in today's digital space is imperative for success. Imagine yourself as a passionate entrepreneur, tirelessly working on your WordPress website, pouring your heart and soul into its content.
However, you can't shake the feeling that something is missing, that your website lacks the personality and uniqueness that truly represents your brand. The predefined themes offered by WordPress don't capture the essence of your vision.
A significant challenge here is breaking free from generic themes and embarking on a transformational journey.
You can craft an immersive online experience that resonates with your audience, embodies your brand, and sets you apart from your competitors when you learn how to change a theme in WordPress.
So guys, are you ready to paint your digital masterpiece? Let's begin!
Why Should You Change Your Theme
Before moving toward the process of changing your WordPress theme without losing any content, let me explain the reasons for doing so. Well, there are plenty of reasons, and I'll list them all. Buckle up!
1. To Refresh the Look of Your Website
First of all, changing the WordPress theme can give your website a brand-new appearance. Even if something was cool earlier, it may occasionally appear a little outdated.
Therefore, by switching up your theme, you may keep up with the most recent trends and leave a fantastic first impression on your visitors. It's similar to redesigning your website.
2. To Improve User Experience
By changing the WordPress theme, you can enhance the user experience of your website. Visitors will have no trouble navigating your website when your theme is well-designed. Simple menus, clear layouts, and improved readability can make a huge difference.
When visitors have a positive experience navigating your site, they're more likely to stay longer, interact with your content, and lead to more conversions.
3. Better Design Capabilities
Several WordPress themes come with awesome design capabilities, allowing you to customize your site to make it look exactly how you want it to. You can add cool pictures, use special widgets, and play with different fonts. It's like having your own artistic playground.
By doing so, you can establish an online presence representing your brand and catching the reader's attention. Standing out from the crowd is key.
4. Making Your Website Responsive for Tablets and Mobile
Everyone knows that search engines prefer responsive websites. Also, most people use their smartphones these days. So by changing your website theme, you can make your website look fantastic on all screen sizes.
New themes are clever like that. The theme automatically adjusts to different devices so visitors can browse smoothly regardless of their device. It's all about keeping them engaged and happy.
Looking for a tool to help you create content that ranks?
Create Content that Drives More Traffic and Revenue to your Website
5. To Improve Search Engine Optimization
Everyone wants his website to appear high in search results, but how can it be possible with a poorly optimized theme? Several themes come with clean code and fast loading speed, which search engines absolutely love.
They have features to make it easier for search engines to understand the context of your website and index it. They also allow you to add unique tags to your content, making the images more searchable.
All of this provides an opportunity for your website to rank higher in search engine result pages and get more organic traffic.
So, changing the website's theme can bring so many benefits. It's like opening up a brand-new world of opportunities. Consider switching the WordPress theme if you want to take your website to a new level. You won't regret it, I promise.
What to Consider When Switching Themes in WordPress
Now you know about the benefits of changing themes in WordPress. It's like giving your website a fabulous makeover with new looks and features. But hold on; you must be careful and think things through to ensure everything goes smoothly.
So, I'm going to mention six crucial things. Considering them, you'll be ready to switch themes like a pro!
1. Theme Options and Settings
Before switching themes, check out all the cool options and settings of the new theme you want to use. See if it has the customization options and features you want for your website.
Look at things like different layouts, colors, fonts, and particular areas for widgets, headers, and footers. Make sure the new theme has everything you need to create the ideal appearance for your website.
2. Plugins Compatibility
Plugins are fantastic since they enhance your WordPress website with additional cool features. Make sure your plugins are compatible with the new theme before switching themes.
Check if the theme supports the essential plugins you use. You can read the theme's instructions or ask the people who made the theme to be sure. You don't want surprises or lose important features when you switch themes.
3. Content and Images
When you change your WordPress themes, you might worry about your content and pictures. Most themes manage this nicely, but creating a backup of your website's content is a good idea. Afterward, you'll have a fallback strategy in case something goes wrong.
Check out how the new theme displays your posts, images, and other information. You may need to make changes to ensure everything looks perfect with the new theme.
4. Functionality
Think for a moment about what you want your website to accomplish. Then, check to see if your new theme can handle such things. Look for features that meet your requirements, such as contact forms, e-commerce stores, cool designs, and multiple blog post formats.
Don't worry if the new theme doesn't include all you want. To add those features, you can see if any other plugins are available or seek a developer for specialized assistance. Ensuring the new theme meets your website's needs is crucial so the visitors will be pleased.
5. Site Performance
It's crucial to have a website that operates quickly and efficiently. Consider how a new theme might affect your website's functionality while selecting.
Look for themes that are fast, well-designed, and lightweight. Slow themes can make visitors unhappy and quit your site.
Before you use a theme, you can test its speed using special tools. In this way, the visitors will have a great experience on your website, and search engines will also appreciate it.
6. Possibility of Content Loss
Changing themes typically results in no content loss. But it's always better to be on the safe side.
Create a backup of the information and files on your website to safely change WordPress themes. You can use a special plugin or ask your hosting provider for help.
Also, read the instructions for the new theme carefully or ask the theme's creators for advice on switching themes correctly. By following these steps, you can avoid any accidental content loss during the switch.
How to Change a Theme in WordPress
So, now you are prepared to give your website a brand-new look with excellent features. Below is my step-by-step guide to changing a WordPress theme without losing content. Let's start now!
Step 1: Set Up a Staging Website
The best way to change WordPress themes is to use a staging site before making any changes to your main website. This way, you can play with the new theme without going live on your main website.
Several plugins allow you to create a staging site, or you may use special features offered by your hosting provider.
Step 2: Deactivate Plugins: Backup, SEO, Analytics Code
The most important thing before switching your WordPress themes is deactivating some plugins, like cache plugins, that might cause problems. I think taking a complete backup of your website is even better.
And if you have any plugins for things like search engine optimization (SEO) or tracking analytics, turn them off too. This will make the theme switch smoother without losing any existing content.
Step 3: Install New WordPress Theme
Now you are ready to install the new WordPress theme. From the WordPress Dashboard, navigate to "Appearance" and "Themes." Click on "Add New."
You will find a vast list of WordPress themes available right there. You can install the one based on your requirements or upload a theme manually that you already have.
Step 4: Activate New WordPress Theme
Once you've installed the new theme, click "Activate" to activate your new theme on your testing site. That means your previous theme is no more active and the newly installed theme will be now the active theme.
Step 5: Preview the Website on the Frontend
Now it's time to push your staging site live with the new theme. Preview your website in a web browser and explore different pages and posts. Check out how everything looks and works.
Pay close attention to details like colors, fonts, and the overall design layout. Make sure everything looks decent.
Step 6: Adapt Global Settings: Color, Fonts
Most themes let you safely change things like colors and fonts. Return to the WordPress Dashboard, navigate to "Appearance," and click "Customize." Look for options for changing fonts and colors to match your style and brand.
Step 7: Adapt the Layout for Pages and Posts
Now it's time to make your pages and posts shine. When editing a page or post, use the theme's special tools or elements to change how they look. This will make your content super awesome and unique to your premium theme.
Step 8: Modify the Navigation Menu
Now, analyze the navigation menu and see if any changes are required. Go to "Appearance" from the WordPress Dashboard and then "Menus." You can edit your current menu or make a new one.
You may also rearrange the menu items; don't forget to save the changes when done.
Step 9: Customize the Header and Footer in the Customizer
Go back to the theme customization settings and find options for your header and footer. Now you can set your site logo, social media icons, and copyright information. Make sure to use a perfect combination of colors in the header and footer to make them stand out.
Step 10: Test Page Speed Score: Old Theme and New Theme
Everyone wants their website to load up quickly. So, it's time to test your new theme for speed. Use tools like Google PageSpeed Insights or GTmetrix to check how fast your old and new themes load. These tools will tell you if there is anything you can improve.
Step 11: Test and Make Your Changes Live
Once you're happy with the theme on the testing site, it's time to make the changes go live. Depending on how you've set things up, you can use a plugin or manually transfer your changes from the testing site to your main website. Always remember to have backups ready, just in case anything goes wrong.
Great job! You have successfully changed a theme in WordPress.
Selecting the Perfect WordPress Theme: My Recommendation
Now you know how to switch WordPress themes, but which theme is best for your website? Let me break down the four lightweight and customizable WordPress themes that will make your website look fantastic and work smoothly.
1. Kadence Theme
Kadence is my favorite theme and is like a superhero that can do everything. It has an excellent and modern design, and you can make it look just the way you want. You can change the colors, fonts, and layout to match your style.
Kadence is also super fast, so your website will load lightning quickly. Moreover, it also has a page builder Kadence Blocks and plays really well with other page builders like Elementor. That's like having superpowers for building your dream website.
2. Blocksy Theme
Blocksy is like a ninja theme, light and quick on its feet. It's great for performance and gives you much control over your website's design. You can choose different headers, footers, layouts, and colors to make it your own.
Blocksy loves the new Gutenberg editor in WordPress, but it's also buddies with Elementor and Beaver Builder. With Blocksy, you'll have a fast and smooth website like a ninja.
3. Elementor Page Builder with Hello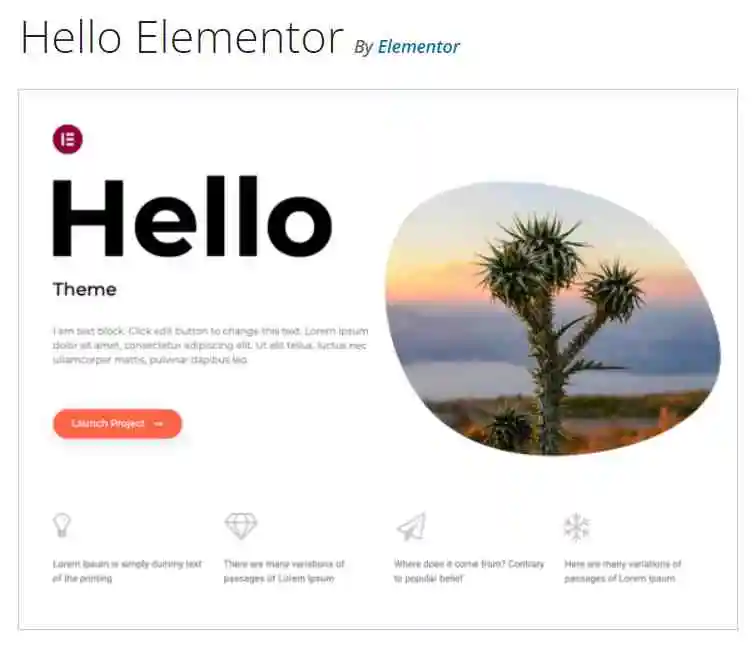 Elementor is like a magic wand that lets you create your website without any coding. It's so easy, and when you pair it with the Hello Theme, it's like a match made in heaven.
Hello Theme is designed to work perfectly with Elementor so that you can build amazing websites with just a few clicks. You'll have access to lots of cool templates and widgets to make your website sparkle like magic.
4. Divi Theme
Divi is like a superstar theme that can do it all. It's super popular because it gives you total control over your website's design. You can create custom layouts and designs without knowing any fancy coding stuff.
Divi comes with lots of pre-designed templates to help you get started. It's like having a personal website-building assistant that makes everything look stunning.
Does Elementor Work with Any Theme?
Elementor is like a friendly wizard that can work with most WordPress themes. It has its own Hello Theme, which is lightweight and works great. But you can use Elementor with other themes too.
Just make sure the theme you choose is compatible with the version of Elementor you want to use. Some themes might not get along well with certain Elementor features. It's always a good idea to check with the theme developer to be sure.
FAQ
What is the best way to back up my WordPress website before changing the theme?
A reliable backup plugin is recommended when backing up your WordPress site before changing the theme.
One popular option is UpdraftPlus, which takes care of all your backup needs. Another well-regarded backup plugin is BackupBuddy. It does everything UpdraftPlus does but in its own unique way.
Are there any compatibility issues I should consider before changing a WordPress theme?
Yes, there are some compatibility issues to consider before changing a WordPress theme. Let's check out some key factors:
First, check if the plugins installed on the current theme will work with the new one.
If you have special stuff on your current theme, like custom post types, custom fields, or custom templates, make sure your new theme can handle them too.
If you're using a page builder like Elementor, Beaver Builder, or Divi Builder, check if the new theme works nicely with your chosen page builder.
Ensure the new theme has a responsive design that looks good on different devices like laptops, tablets, and smartphones.
How do I customize the WordPress theme I choose?
You can customize your WordPress theme using the WordPress Theme Customizer. It's an awesome tool that gives you the power to make your website look just how you want it to.
To start customizing your theme:
Log in to your WordPress dashboard.
Go to "Appearance" and click on "Customize."
Boom! The Customizer will open up and show you a live preview of your website.
You'll also find a bunch of fantastic options to play around with.
What are the best WordPress themes for my website?
The best WordPress theme loads fast, offers complete customization, and is compatible with different page builders. Most WordPress experts recommend the following themes based on their versatility, features, and user-friendliness.
Kadence
Blocksy
Hello Elementor
Divi
GeneratePress
Astra
What plugins can I use to help with changing a WordPress theme?
There are no specific plugins dedicated to changing a WordPress theme. However, backup plugins like UpdraftPlus or Duplicator Pro can help create backups before making theme changes.
Additionally, a plugin like Theme Check can assist in ensuring theme compatibility and adherence to WordPress coding standards.
Conclusion
Changing a theme in WordPress opens up a world of possibilities for your website's design and user experience. Don't hesitate to explore the wide range of themes available and find the perfect fit for your needs.
So why wait? Take the plunge and start transforming your website today! Follow the step-by-step guide I've provided, and remember to back up your website content before making any changes. Safety first!
I hope this guide has been helpful in your journey to change WordPress themes. Enjoy every moment of the process, and let your website's new look shine bright to amaze and captivate your audience like never before. Happy theming!