How to backup your WordPress website – A Comprehensive Guide to 4 Essential Methods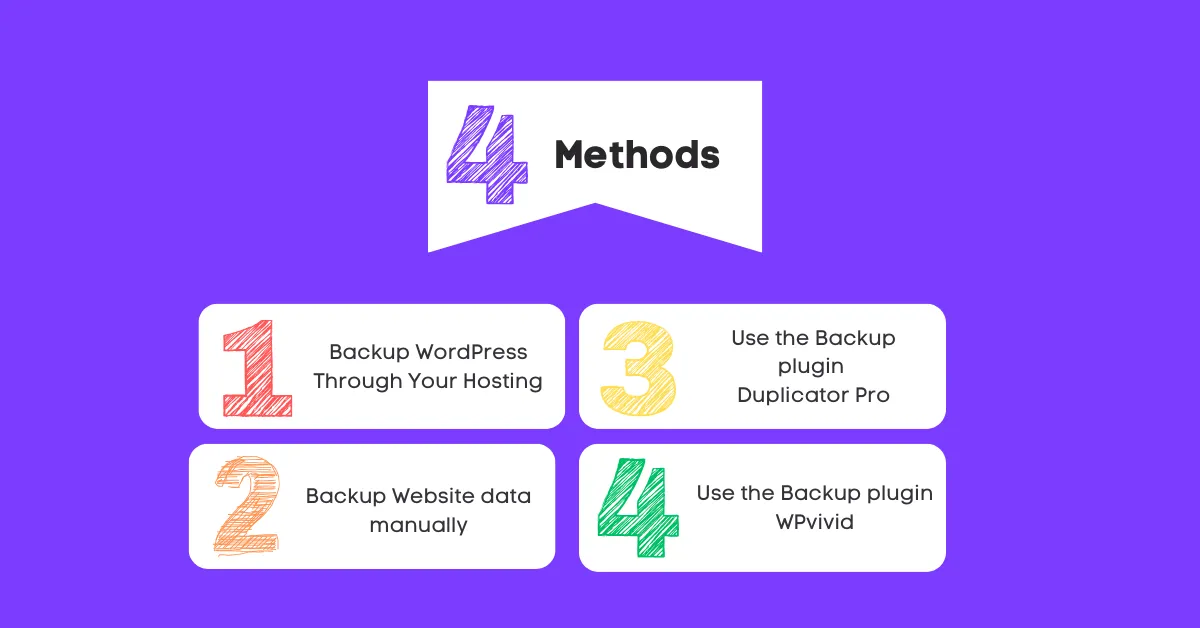 Introduction to WordPress Backup
Backing up your WordPress website is an essential measure every website owner must take, akin to safeguarding your house by installing a security system. A backup makes use of a robust backup system to create a saved copy of your website's vital information – everything from your content, settings, themes, and plugins to images and videos. So, your cloud backups are ready for restoration in the unfortunate events of data loss due to malware attacks, human errors, server issues, or even a clash between different plugins and themes. This preventive approach greatly reduces the risk of server failures, ensuring your site experiences minimal downtime.
Did you know? According to a report by Sucuri, WordPress remains the most vulnerable CMS. "In 2017, 83% of hacked CMS-based websites used WordPress. This underscores the gravity of potential server failures and server issues that could jeopardize your WordPress website." Source Sucuri: Website Hacked Trend Report – 2017
Why is a WordPress website backup essential?
Imagine a small e-commerce business reliant on its WordPress website for sales. A hacker infiltrates the system, changes product prices, or misappropriates customer data. Restoring the website to its original state without a dependable backup system could stretch into a lengthy, expensive process.
Regular backups ensure protection against data loss from several sources, such as hacks or server issues. While WordPress itself does not provide an automated backup option, there are WordPress backup plugins available that offer ease and control. Backups are essential in these scenarios and for tasks such as relocating your WordPress site to a new host or updating to a newer WordPress version. The importance of backups cannot be overstated, considering the predicaments like your hosting company suddenly seizing operation. A server failure of that sort might sound daunting, but with a ready backup, your website can be up and running with a new host in mere minutes or hours using a reliable backup plugin.
In the following discussion on this website blog, I'll introduce some methods to set up backups for your site. I'll highlight my experiences with Duplicator Pro and WPvivid backup services, which have served me well. UpdraftPlus plugin is another apt solution for frequent, automatic backups, freeing up valuable server resources while offering a safety net against unexpected incidents.
What do WordPress Site backups include?
A WordPress site backup is a lifesaver that includes essential components like databases, themes, plugins, media files, and other crucial files. By utilizing a smart backup system such as the one offered by WordPress, you're able to store dynamic and searchable data displayed on your site, from user account data to customer orders in an organized way. This system also takes into account the themes, which dictate your site's layout and aesthetics, and the plugins that enhance its functionalities.
Similarly, media files like images, videos, or documents are swept into these backups as they usually comprise a significant portion of your site's content. Further, we must highlight the WordPress core files that compose the site's fundamental structure. Hence, if a mishap like data loss or site corruption— possibly due to a server issue or human error—occurs, these backups enable you to restore your website exactly as it was, safeguarding against any potential disaster.
In summary, WordPress site backups powered by reliable backup services encompass the following components:
WordPress core
All the content folders (plugins, themes) with media files form the backbone of the website.
MySQL database tables that house all your page and post contents and comments. WordPress, with its built-in backup system, securely stocks all admin options in the database. Moreover, the use of cloud backups, such as Dropbox or S3 services, adds an extra layer of protection for your data.
Method 1: Backup WordPress Through Your Hosting
The first way to back up WordPress is through your hosting account. This method employs a backup system that enables you to save a copy of your website as it exists on the server. This comprehensive backup can include all of your files and your database. You'll need to access the admin panel of your hosting account and look for the backup tool. The process of creating a backup will vary based on your host, but most have simple, guided processes.
Web host backups are an essential feature offered by any good hosting company. If your hosting company integrates with a control panel like CPanel, you'll have easy access to the backup option. For instance, Siteground employs its own Site tools with a backup feature. Furthermore, all hosting companies provide multiple backups, which means you can restore from an older backup if required.
The backup system can range from automatic, daily backups to manual-only backups. The optimal scenario is having the option of daily automatic backups stored for several days, with the capability to make a manual backup before any significant changes.
Here's a glimpse of the SiteGround Site Tools, where the backup section falls under security. They safeguard backups for 30 days and offer the option to initiate a backup manually.
NameHero, a leading web hosting provider, amalgamates a CPanel interface with the sophisticated JetBackup system. Incorporating automated backups running nightly and weekly, in essence, NameHero maintains just two automatic WordPress backups for each site, which may be considered insufficient by some. There are additional options to manually create a backup or download it to your cloud server. On the other hand, SiteGround does not offer the facility to download a backup.
It's important to note that backup configurations may differ among different web hosting companies, so understanding your host's server resources and policies can help mitigate any potential server issues.
Method 2:Backup Website data manually
To back up WordPress manually, you must download all your files and database from your WordPress site. You can save these files on your computer or an external hard drive.
Looking for a tool to help you create content that ranks?
Create Content that Drives More Traffic and Revenue to your Website
Download Website Files to a backup location
The WordPress directory contains:
Sub-folders wp-admin
Wp-content
Wp-includes files starting with wp-(wp_config. php) required by your WordPress site
The wp-content folder houses all your themes, plugins, cache, and uploads, to name a few, among other things. The wp-admin incorporates all of the files needed for your WordPress administration area, whereas WordPress's core files reside in the wp-includes folder, which stores all of WordPress's pivotal code.
To get the crucial backup package for your site, there are two conventional methods to download WordPress files:
Venture into CPanel or Site Tools (Siteground), click on File Manager and locate the WordPress directory, typically termed as public_html or home. The directory's name will differ if you have more than one WordPress installed. With CPanel, direct download of folders and files isn't feasible. You first need to create a compression file. Simply select the directory you desire as your backup, and click on `compress.` This will lead to generating a ZIP file in the chosen folder. After this, download the compressed ZIP file to your local hard drive.
Use an FTP client like FileZilla (compatible with Windows or MAC) or WinSCP (exclusive to Windows). Log into your hosting account, remembering that an FTP login account is a requirement. You can then copy all your desired files to the secure backup location of your local hard drive.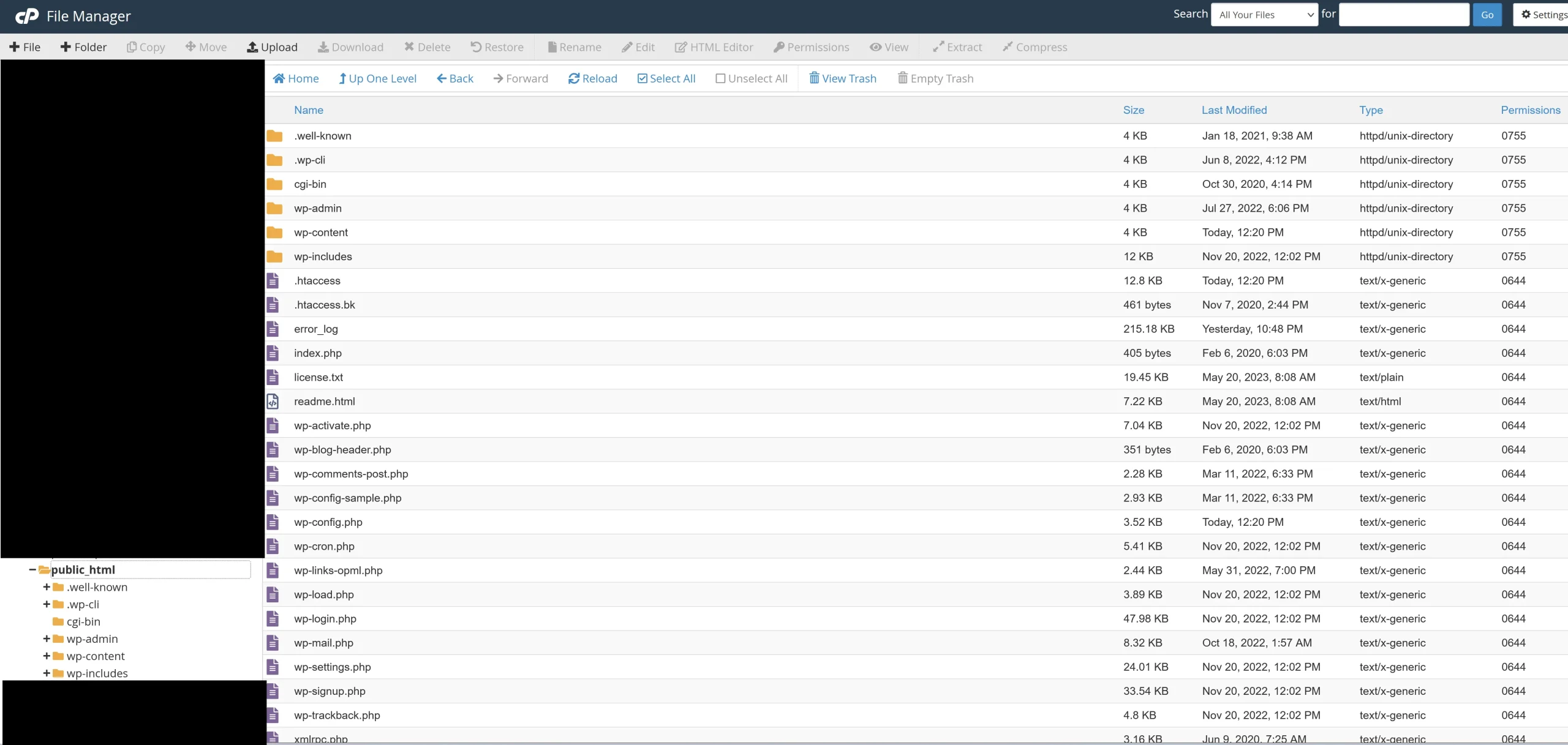 Tip: Create a Structured Folder System:
When you download your WordPress files manually, it's easy for things to get messy. To avoid confusion later, create a well-structured folder system on your local computer before you start the download.
Download Database
Go to PHPMyAdmin (under the Database section in CPanel). On the left side of PHPMyAdmin, you see all the databases available.
Identifying which one belongs to which WordPress installation can be tricky. For this, consider opening the WP-config.php file housed in the root directory of your WordPress.
In PHPMyAdmin, select the required database on the left side, then look for the 'Export' tab on the top bar. Select 'SQL' as the format, save it as an 'SQL file, and click the export button to save it locally.
Method 3: Use the Backup plugin Duplicator Pro
You can use a WordPress plugin if you don't want to back up WordPress through your hosting account or manually. It is an excellent option if you want more control over the backup process or need to include specific files in your backup. Many different WordPress plugins are available, so be sure to choose one that fits your needs.
In your WordPress dashboard, go to Plugins, Add new, and type in the search box 'backup.' You will notice there are a lot of backup plugins available.
Duplicator Pro is one of the most popular. I use Duplicator Pro on all of my websites. It has two versions: free and paid (PRO). The Pro version includes backup scheduling, Cloud Storage (AWS, DropBox, GoogleDrive, FTP, and OneDrive), and support for bigger sites with more than 1GB of data.
Duplicator creates two files during the backup process: a PHP and an archive file. The archive file contains everything in it (All files and database). In addition, Duplicator also includes the WordPress core files in the archive file.
PROs:
schedule automatic backup
lots of export methods/integration with cloud storage providers DropBox, Google Drive, OneDrive, Amazon S3, FTP/SFTP.
back up WordPress core files
simple package (two files)
reliable
Cons:
The interface is not easy to understand
knowledge necessary how to upload files for restoring
A quote from Capterra about the cons.
"Scheduled backups usually fail, and it is necessary to perform them manually."
I cannot share this – in my experience, automatic backups in Duplicator Pro work very reliably. I seldom see failed scheduled backups.
Duplicator Pro: Price and support options
I find the pricing plans for all WordPress backup plugins are more or less in the same range. This is generally true, with plugins like the BackWPup, showcased in the range. The pricing/subscription plans are distinctive between the websites one can back up, using the website name as a reference.
The basic plan, $49/year, allows one to back up two websites, or the Plus plan, allows a backup of five websites for $99/year. In comparison, UpdraftPlus Premium isn't as generous as Duplicator, with the lowest tier.
When it comes to their support quality, I don't have much information. However, when using my credentials, I found their email support to be satisfactory. Also, their website documentation, complete with a backup services log report and a WordPress XML export tutorial, is highly beneficial. The plugin, much like BackWPup, is updated regularly, which is a positive sign.
You can find Duplicator Free in the WordPress repository. The Free version doesn't have a scheduling feature which is crucial for backing up WordPress websites, much like BackWPup's notable backup scheduling feature. Nevertheless, the Free version can be useful for migrating a website to a different hosting service. In this process, the WordPress core files are included in a Duplicator package; this implies that there's no need to install WordPress on the target site.
Duplicator, originally from Snap Creek, joined the Awesome Motive team In May 2023. Some members associated with the website on Twitter made negative comments suggesting that the Awesome Motive team doesn't have the best reputation with WordPress plugins.
Method 4: Use the Backup plugin WPvivid
The WPvivid backup plugin has garnered significant attention for its user-friendly approach and ability to cater to everyone from site owners to freelancers and agencies, making it a resounding choice for a wide range of users. The plugin comes with a built-in learning mode, meaning you don't need to grapple with intricate parameters to successfully back up on shared hosting, as the plugin takes care of it automatically. This sheer ease of use makes the process of backup and restore a hassle-free experience.
The flexibility of WPvivid becomes evident in its powerful custom feature – you have the complete freedom to customize the backup content; whether it's about including or excluding files or folders or handling databases, the plugin does it all. Moreover, it comes with an 'Advanced Backup Engine' designed for those who manage multiple websites, making WPvivid a cost-effective solution.
Furthermore, WPvivid's compatibility is another cherry on top. It seamlessly fits in with a variety of themes and page builders. What strengthens its credibility is the positive echoes it has received from its users, with over 17,000+ happy customers and high user ratings. Its popularity also extends to the whopping 5M+ downloads, and the ever-available 24/7 ticket support shows its commitment to ensuring smooth user experiences, which is another significant advantage.
In terms of reviews and testimonials, WPvivid boasted much positive feedback. A collection of users highlighted its easy setup, stellar support, and strong functionality, all they needed from a WordPress backup plugin. As such, WPvivid is a beneficial tool that makes backing up your WordPress site a walk in the park.
Pros
clean and easy-to-understand interface
rich feature set with staging, image optimization, URL replacement
Lifetime plan, pay once and use forever
competent and friendly email support
Cons
with some hosts backup fails
documentation on the website seems old,
WPvivid: Price and support options
WPvivid offers comprehensive, affordable options for WordPress users who value data security. The WPvivid backup plugin, much like the equally dependable backup, proffers different pricing models: Blogger, Freelancer, Small Business, and Ultimate. All tiers embody a spectrum of features, including 24/7 ticket support, a no-questions-asked 30-day money-back guarantee, multisite support – another trait that backup is popular for – and unlimited image optimization.
The Blogger plan, a one-pay $99 option, supports two website names. If you are looking for a cheaper alternative, a $79.2 one-time payment includes unlimited image optimization for three days. Creators managing more websites, the Freelancer and Small Business, plans support up to 10 and 50 domains—much like other robust backup services—each priced at a one-time of $139 and $199. Both give unlimited domain changes. Their Ultimate plan ticks the affordability box at $299 as a single payment, offering support for unlimited domains and domain changes just as in a tutorial.
Just as you stay abreast with updates via Twitter, WPvivid customer service is top-rated, offering 24/7 ticket support, ensuring the resolution of your issues promptly. Interesting add-ons include the Staging Pro, Image Optim Pro, White Label, and Roles & Capabilities, designed to customize the user experience.
WPvivid offers a tempting 40% off deal for users keen on merging databases, which is a separate purchase and plugin. It is valuable for an e-commerce store that wants to renovate the website on a staging site and later go live. The plugin helps you to merge the new orders to the refreshed website.
What to look for when choosing a WordPress plugin
When selecting a WordPress backup plugin or tool, you'll want to consider several factors to ensure you're making the best choice for your needs. Here's a breakdown:
Ease of Use
Explanation

: A user-friendly interface is essential, especially if you're not tech-savvy. The last thing you want is to struggle with complicated settings when you need to restore your site quickly.

Example

: Look for plugins that offer step-by-step guides, FAQs, or even video tutorials. A plugin like UpdraftPlus, for instance, has an intuitive dashboard and extensive documentation to help you navigate the backup process.
Backup Frequency
Explanation

: The frequency with which the plugin backs up your data can be a game-changer. Infrequent backups mean you risk losing more data if something goes wrong.

Example

: Some plugins offer real-time backups, ensuring that every change you make is immediately saved. This is particularly useful for e-commerce sites where transactions happen around the clock.
File Format
Explanation

: The format in which the backup files are saved can impact how easily you can restore your site.

Example

: Plugins that save backups in universal formats like .zip or .tar.gz are generally easier to work with. These formats are widely supported and can be opened with various software.
Storage Options
Explanation

: Where your backups are stored is equally important. On-site storage is risky because if your server fails, you lose both your website and your backups.

Example

: Opt for plugins that offer cloud storage options like Google Drive or Dropbox. Duplicator Pro, for example, allows you to automatically upload your backups to multiple cloud storage services, providing an extra layer of security.
I believe Duplicator Pro and WPvivid meet all these factors.
Case Study: Restoring "Jane's Travel Blog" After a Malware Attack
The Situation:
Jane is an avid traveler and runs a popular travel blog on WordPress. She had invested years into creating valuable content, building an audience, and optimizing her site for SEO. One unfortunate day, she discovered that her website was redirecting visitors to spammy websites. Her site had fallen victim to a malware attack.
The Challenge:
Google flagged Jane's website as "unsafe," and her web hosting provider temporarily suspended her account. She was at risk of losing years of hard work, not to mention the trust of her audience and the potential SEO penalties.
The Solution:
Fortunately, Jane had been using a WordPress backup plugin that automatically backed up her entire website daily and stored it in a secure off-site location. She contacted her hosting provider and was able to clean her hosting environment. Then, she used her backup to restore her website to a version from just before the malware attack.
The Outcome:
Within hours, Jane's website was back online, functioning as if nothing had happened. She submitted a review to Google to remove the "unsafe" flag, which was done promptly. Her quick recovery minimized the SEO impact, and she sent out a newsletter to her audience explaining the brief downtime and assuring them that the site was now secure.
Lessons Learned:
This incident was a wake-up call for Jane. She realized the invaluable role that regular backups played in her digital life. She now also invests in a security plugin to add an extra layer of protection to her website.
Restoring From a Backup
A backup is then a good backup when the restore process is successful. Test your backups before something happens and lose all your content! Depending on which method (1,2,3, or 4) you're using to back WordPress up, restoring your WordPress site may be easier or more difficult.
If you're using a WordPress backup plugin, restoring your WordPress site is as simple as clicking a button to download and restore your site.
Restoring WordPress Backups Using Duplicator
I'll show you how simple it is to recover a WordPress website from a backup with the Duplicator Pro plugin. In tandem with a reliable cloud server like SiteGround, this recovery process becomes seamless. As we previously discussed, the backup files are composed of a PHP and an archive files (ZIP), both integral parts of the backup package.
The PHP file ends with an extension .PHP and includes the word installer in it, typically bearing a lengthy file name. The same applies to the archive file.
Suppose you're considering switching your hosting company. In that case, you might use a backup from your current host to restore your WordPress website to the new host. Transfer both files to the new hosting company, contingent on the backup location. To upload both files, there are two avenues you can use; either through the Cpanel's file manager or FTP. Once transferred, navigate to your browser and key in the domain followed by a / and the PHP file name.
Once you initiate the installation of Duplicator Pro, a wizard will guide you through the process. You must input your database name, SQL file-based user, and password (see screenshot in yellow highlighted). Click the 'verify' button, and Duplicator Pro will quickly check your inputs.
Should everything be in order, you may proceed, and Duplicator Pro will install WordPress from the backup. Remember, as you aim to restore directly from a backup, you must first create the MySQL database and user before beginning the restoration process.
A screenshot of how it looks after the validation process
Now I click next, and Duplicator starts to install the complete WordPress website.
If necessary, the backup plugin will also update all URLs to match the new domain or subdomain.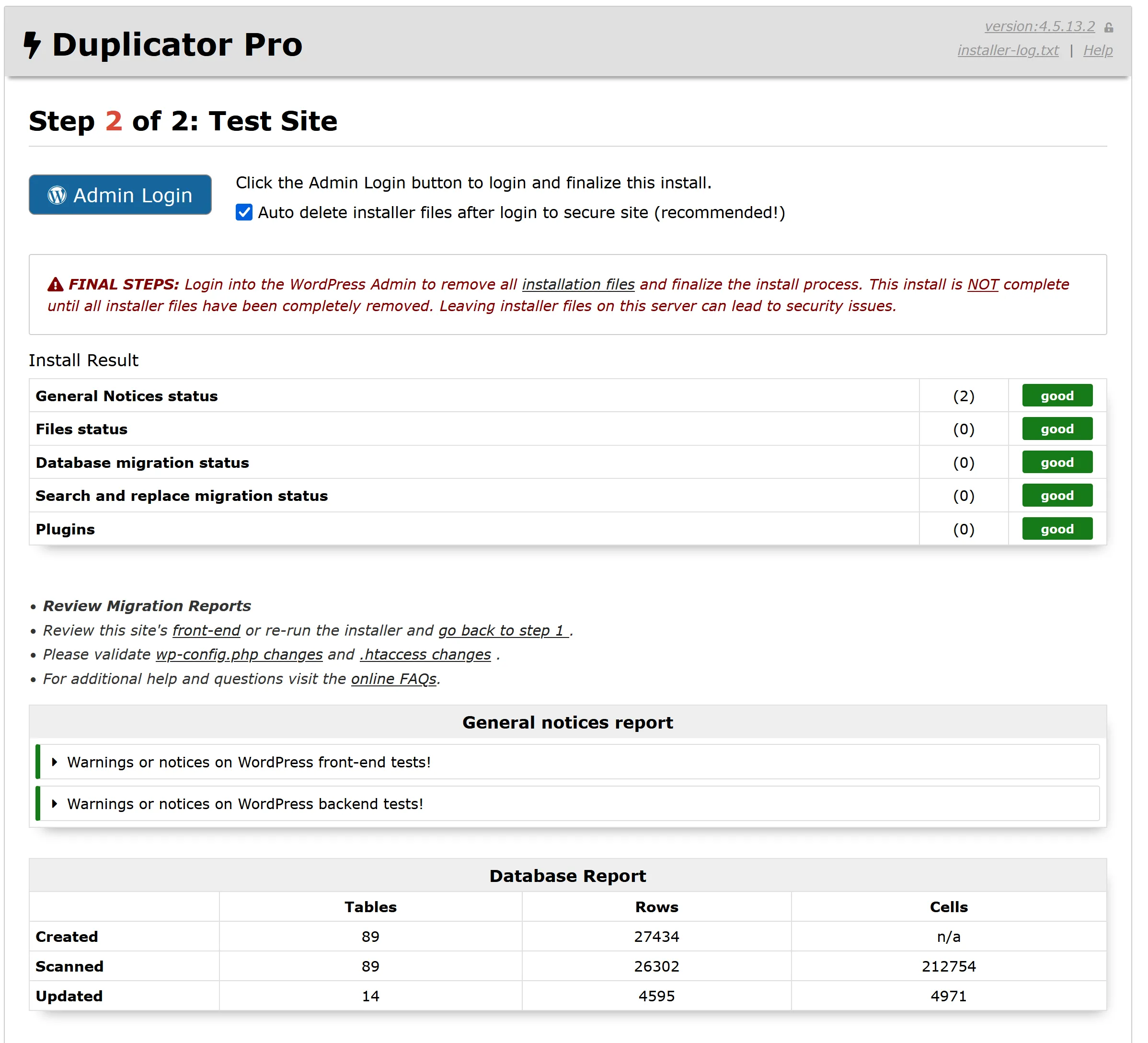 I can now log in to the restored WordPress website with the same credentials and WordPress will greet me with this notice.
Why do I find Duplicator Pro is a better backup plugin than WPvivid?
Duplicator Pro stands out among backup plugins as it offers a distinct advantage – it doesn't need a WordPress installation for restoring. Unlike other popular plugins such as UpdraftPlus or WPvivid, Duplicator Pro eliminates the need to install WordPress and the backup software as a prerequisite for recovering your backup. This streamlines the process and saves valuable time, making it a preferred choice for users seeking a hassle-free backup solution.
Even default plugins like BackWPup require installing WordPress and the backup software before initiating the recovery process. By offering this unique feature, Duplicator Pro provides convenience and efficiency to its users.
From happy Duplicator users.
Which WordPress backup method is best?
Better safe than sorry. I recommend combining Method 1 and Method 3 or 4 for cloud backups. Opt for a hosting company that incorporates daily backups in their plan, such as SiteGround, which provides daily backups and offers server management for seamless server issues resolution. Use a backup plugin like Duplicator Pro or WPvivid to back your website to a cloud server. If you have a NAS locally, back up to the NAS using FTP. With this approach, you have copies locally, too. No prior WordPress installation is required when using Duplicator Pro, and you can quickly restore to another host via migration.
Maintaining at least three copies for an efficient backup system as part of your disaster recovery plan. One copy is your production website, kept up-to-date by the smart backup system of your hosting company. The second copy is the regular backup from your backup services provider, and the third copy is on a separate device locally or remotely on a NAS, Google Drive, or OneDrive. This way, you enhance protection against data loss due to server issues, human errors, or malevolent attacks.
Before you go…
I've got another gem for you! If you found this guide on backing up your WordPress website helpful, I'm pretty sure you'll love my review on the Kadence Theme. It's a detailed look at both the free and Pro versions, and it just might be exactly what you need for a blazing-fast website in 2023. So, why not give it a read? Here's the link to "Kadence Theme Review 2023: Free and Pro Version – Exactly what you need for a blazing-fast Website". Catch you on the other side!
Related articles