Hello Elementor Theme Review: Fast and Clean WordPress Theme With Minimal Styling
As a business owner, your website is often the first impression potential customers have of your brand. It's crucial that it not only looks professional but also functions smoothly. I was excited to try out the Elementor Hello Theme for my website.
This Theme features a clean and contemporary look that is ideal for any website and is built to function with the popular page builder plugin, Elementor, without a hitch. But does it live up to the hype?
In this review, I'll take an in-depth look at the features and functionality of the Elementor Hello Theme and how it helped us to improve our online presence and drive more conversions. So, keep reading to find out if the Hello Elementor Theme is the solution you've been looking for.
What is the Elementor Hello theme?
Elementor Hello is a vanilla theme created and developed by Elementor, a renowned WordPress page builder company. This site builder elementor theme style was crafted to help users easily create stunning, professional-looking websites without coding knowledge. Its minimalistic design allows for an effortless user experience when building the site while still providing all the essential features required.
The intuitive interface makes working with the theme a breeze, allowing even complete beginners to set up their website in no time. Additionally, its "out of the box" functionality makes it easy to customize and expand upon as needed. With its simple yet powerful design, Elementor Hello is perfect for businesses looking for a stylish and modern website template that can be quickly launched without hiring developers or designers.
Overview of the Elementor Hello theme
Elementor Hello comes with a wide range of features and customization options. It allows you to easily customize the look and feel of your website with a few clicks. It also offers a wide range of widgets that can be used to enhance the website's functionality.
The Hello theme has several pre-made templates, from basic to more advanced. These templates allow you to create a WordPress website quickly and easily.
Should you use Hello Elementor Theme or not? So let's explore the positives and negatives of this Theme.
Pros of the Elementor Hello theme
The Elementor Hello theme has several pros, such as:
1. Works Seamlessly with Elementor theme style
Looking for a tool to help you create content that ranks?
Create Content that Drives More Traffic and Revenue to your Website
It's a perfect theme that works efficiently with the popular Elementor page builder plugin, making it easy to create custom designs and layouts for your website without any coding knowledge.
2. Clean and Modern Design
This Theme has a clean design that is perfect for any website. So if you're looking to make a simple yet professional website, this Theme is worth considering.
3. Default Customization Options of the site builder
You will find several customization options in this Theme that allow you to tailor the look and feel of your website to your specific needs. You can change colors, fonts, and other design elements to match your brand.
4. Lightweight and Fast-loading
Nobody likes a website that loads slowly, but this is not the case with Hello Elementor. This Theme is exceptionally lightweight and loads fast, making it beneficial for both users and search engines.
5. Compatible with Most WordPress Plugins
It is compatible with most major WordPress plugins, making it easy to add additional functionality to your site, such as contact forms, pricing tables, and more.
6. Regularly Updated
This Theme is regularly updated to ensure compatibility with the latest version of WordPress and to fix any bugs or issues that may arise.
7. Easy to Use
Finally, the Theme is easy to use, even for beginners, and its user-friendly interface makes it simple to navigate and customize.
Cons of the Elementor Hello theme
Like any other theme, the Elementor Hello theme also has some cons, such as:
1. Requires Elementor
To use the Theme, you'll need to have the Elementor page builder plugin installed, so if you're not planning to use Elementor, this Theme may not be the best option for you.
2. Limited Theme Support
While the Theme has good documentation, the support options are limited. If you're new to website building, you may have some difficulty troubleshooting issues on your own.
3. Limited Pre-designed Templates
This Theme comes with a limited number of pre-designed templates, so you may have to design your site from scratch.
Before moving toward the installation process of Hello Elementor, let me quickly explore the features of this Theme.
What are the main features of the Hello Elementor Theme?
Some of the main features are:
Easy Customization Options with the Elementor Page Builder Plugin
The Hello Elementor theme works effectively with the Elementor page builder plugin. This allows easy website layout, design, and content customization without coding knowledge.
Flexibility
The Theme is flexible, and you can use it for any type of website, including blogs, portfolios, and business sites. It offers various customization options and widgets that can be used to add functionality to your site.
Header and Footer Options
Like other WordPress themes, you will get header and footer options in Hello Elementor, which allows you to create a unique and personalized look for your website. You can customize the background color, add a logo, and more.
Responsive Design
Almost every search engine prefers a mobile-first design. This Theme is designed to be fully responsive to fulfill this requirement, which means it adapts to any screen size, making it accessible to users on any device.
Google Fonts
Elementor Hello also has a wide selection of web fonts, Google fonts, and other typography options so that you can customize the website's font to your liking.
Designed for Theme Speed
It might not be the fastest WordPress theme, but it is lightweight and fast-loading. It helps improve the overall performance of your website and provides a better user experience.
Excellent Page Speed Score
Website speed plays a vital role in higher rankings. But using this Theme, you don't need expensive speed optimization plugins because this Theme is optimized for speed. It helps get a good page speed score on tools like Google PageSpeed Insights.
Below is the speed score using Astra Theme: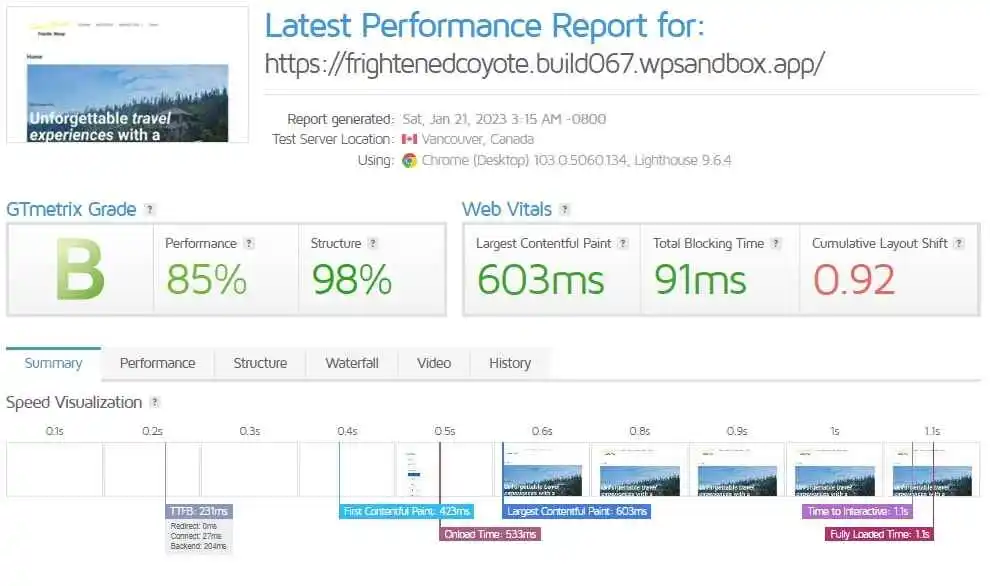 Now let's see the page speed score using Hello Elementor Theme: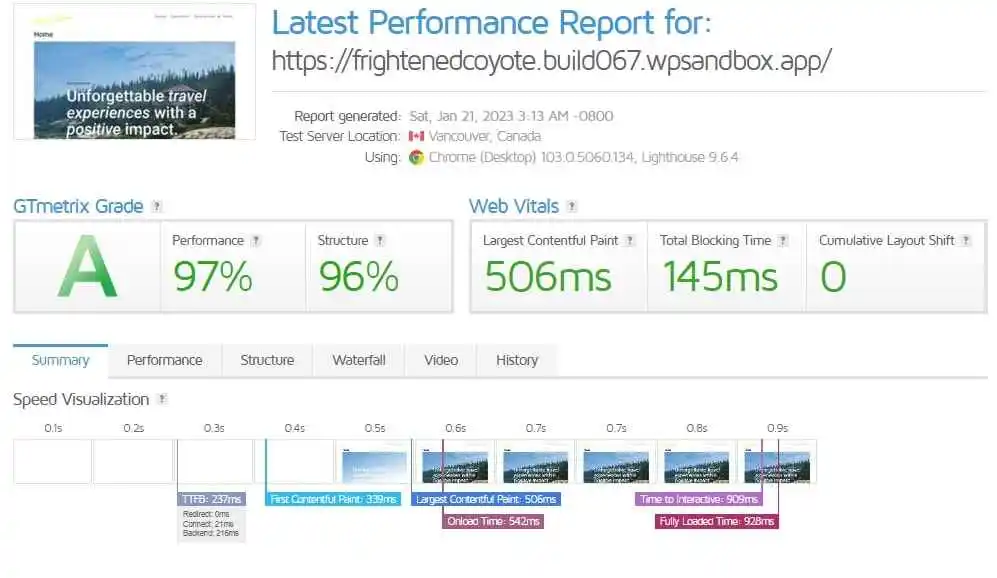 How to Install and Set up the Hello Elementor Website Theme?
The installation process of this Theme is pretty straightforward. There is no premium version, so you can get this Theme from the WordPress repository. To make things simpler, I have mentioned the exact steps to install and set up this Theme on your website:
Step 1: Download and Install the Hello Theme
First, download the Hello Theme from the official WordPress repository.
Once the download is complete, log in to your WordPress dashboard and navigate to Appearance > Themes.
Click the "Add New" button and select the "Upload Theme" option.
Select the downloaded Hello theme zip file by clicking the "Choose File" button.
Click on the "Install Now" button and wait for the installation process to complete.
Once the installation is complete, click on the "Activate" link to activate the Theme.
Step 2: Set up the Theme
After activating the Theme, you will be prompted to install the Elementor plugin. Click on the "Install Elementor" button to proceed.
Once the plugins are installed and activated, you can import a pre-designed template or start building your site from scratch.
To import a pre-designed template, navigate to Templates > Landing Pages > Add New Landing Page and select the template you want.
Step 3: Customize and Style the Theme
With the Theme installed and set up, you can customize and style it to match your brand and preferences.
Navigate to Appearance > Customize to access the Theme's options and settings. Here you can change the colors, fonts, and other design elements.
Once you're finished customizing, don't forget to save your changes and preview your site before publishing it.
Is the Hello WordPress theme compatible with Gutenberg Block?
The Hello Elementor WordPress theme is designed to work seamlessly with the Elementor page builder plugin, not with the Gutenberg block.
While the Hello Theme does not have built-in support for the Gutenberg block, it does support WordPress's core blocks, so you can use them to create your pages and posts. However, the customization and styling options will be limited compared to using the Elementor page builder.
Additionally, using Elementor and Gutenberg blocks together can cause some compatibility issues, and it may affect the overall performance of your website.
Do I still need a child theme with Hello?
You may wonder if you still need a child theme with Hello Elementor. To answer it, let me first explain the concept of a child theme.
A child theme is a theme that inherits the functionality and styling of another theme, known as the parent theme. Child themes are often used to make customizations to a parent theme without modifying the parent theme's code directly.
When it comes to the Hello theme, it's not necessary to use a child theme, but it's always good to have one. The Hello theme is designed to be easily customizable so that you can make changes to the Theme's settings and options via the WordPress Customizer and the Elementor theme builder.
However, if you want to make more advanced customizations, such as adding custom code or modifying the Theme's template files, you may consider using a Hello Elementor child theme.
Additionally, using a child theme also helps keep the customizations separate from the Hello theme files, making it easier to troubleshoot and maintain your website.
FAQ
What is Hello Elementor?
The Hello Elementor is a free WordPress theme to use with Elementor Page Builder to improve its performance and speed. It allows you to customize your website and easily improve the overall user experience.
Is Hello Theme compatible with Elementor Pro only?
No, Hello Theme is compatible with both the free version of Elementor and Elementor Pro. It is built to work smoothly with the Elementor page builder and its widgets and modules, so it doesn't matter whether you use the free or the pro version; the Theme will work with both.
How is Elementor Hello Theme different from other WordPress themes?
Elementor Hello Theme is a free WordPress theme that differs from other WordPress themes in a few key ways:
Performance and Speed
Minimalistic Design
Integration with Elementor
Accessibility
SEO Friendly
What type of content can be created with Elementor Hello Theme?
Since Hello Elementor Theme is compatible with Elementor Page Builder, it can be used to create a wide variety of different types of content. Some examples of the content that can be created include:
Landing pages
Blog posts
Portfolios
Online stores
Custom headers and footers
Forms
Custom post types
How easy is it to use Elementor Hello Theme?
This Theme for Elementor is user-friendly and intuitive to create custom pages and posts on your WordPress site with minimal effort.
It works well with the Elementor page builder, which provides a drag-and-drop interface that makes it easy to add, edit and customize different elements on a page or post.
Additionally, the Hello Theme is also lightweight and fast, with minimal code and optimized for performance, which makes it easy for users to navigate and use.
How customizable is Elementor Hello Theme?
After using several best themes, I find this Theme to be highly customizable, as it allows you to easily make changes to the design and layout of your website. It can customize the header, footer, font, color, and other design elements.
In short, the combination of Elementor and Hello Theme provides a high level of customization flexibility to create a unique and personalized website.
Are there any compatibility issues with Elementor Hello Theme?
Elementor Hello Theme is compatible with most WordPress plugins, including the Elementor Page Builder, which is widely used and well-supported.
However, there is always a chance that certain plugins may cause compatibility issues. It's always recommended to test them before deploying them to a live website.
Conclusion
The Hello Elementor, a free WordPress theme, is an excellent choice if you're looking for a fast and clean theme explicitly made for the Elementor page builder. However, if you want to get the most out of Elementor, I recommend pairing it with Elementor Pro.
With Elementor Pro, you'll get access to additional widgets, templates, and features that will help take your website to the next level.