Elementor Hosting Review: A new way to Create and Host Your WordPress Sites with Elementor Pro and Built-in Hosting
Are you tired of juggling between different tools and platforms to build and host your WordPress sites? Look no further because I have exciting news for you! Introducing Elementor Hosting – the game-changing solution that seamlessly combines the power of Elementor Pro with an integrated hosting service.
Elementor has significantly improved its hosting offer in 2023 by introducing several new features. Originally, their hosting offer was branded as "Elementor Cloud," but now it is called "Elementor Hosting."
If you're looking for an all-in-one solution to create and host your website, Elementor Hosting might be what you need. With Elementor Hosting, you get access to the Elementor page builder and web hosting, security, backups, and updates – all in one place. This means you can focus on building and managing your website without worrying about anything else.
In February 2023, Eleimentor restructured its Hosting plans. Now you can choose between 4 plans matching the solutions for web creators from beginners to experts. See the prices below in the pricing section.
Why Elementor Hosting
With Elementor Hosting, you can access high-end website hosting from the Google Cloud platform on C2 servers. In addition, Elementor developed an Accelerated plugin to boost the performance even more.
Elementor claims up to 190% better performance by combining the C2 servers and the plugin. Elementor Hosting outperforms the industry average claims Elementor.
Further, Elementor is using the Cloudflare platform to deliver outstanding CDN.
Elementor Hosting: Pros and Cons
Pros:

Cons:
The Elementor Hosting package
Let's have a look a closer look at the feature you get.
Elementor Pro
DDoS & WAFF Protection
Auto & On-Demand Backups
SSL certificate
Site Lock
Staging Tool
Database Access
Site Cloning
SFTP Access
24/7 monitoring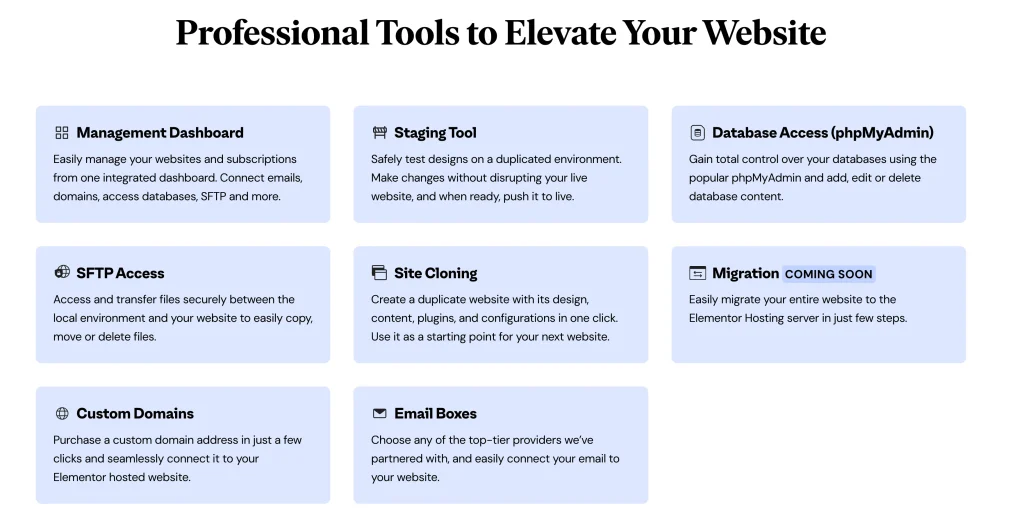 Elementor Pro
The package includes the award-winning WordPress page builder, which saves you the hassle of purchasing an extra license and provides you with a powerful and intuitive tool to create stunning web pages for your website effortlessly.
Drag and Drop Live Editor
no coding required
100+ pre-designed templates
Theme Builder
AI-powered
Looking for a tool to help you create content that ranks?
Create Content that Drives More Traffic and Revenue to your Website
DDoS & WAFF Protection
Comprehensive security measures include integrated DDoS protection and a robust web application firewall, providing a strong defense against malicious cyber attacks.
Auto & On-Demand Backups
Experience peace of mind with the comprehensive backup solution. Take advantage of daily auto-backups, providing reliable data protection for up to 14 days. In addition, you can initiate on-demand restoration whenever you need it. For those who prefer a more hands-on approach, the system also offers the option for manual backups, allowing you to have full control over your data security.
SSL Certificate
SSL certificates are crucial in ensuring secure communication and safeguarding sensitive information through robust encryption mechanisms.
Site Lock
Develop your website with complete freedom, working on it behind the scenes until it's perfected. Unlock its potential whenever you feel ready to unveil it to the world.
Staging Tool (only with higher plans)
Ensure secure testing of designs in a duplicated environment. Modify your live website without interrupting; seamlessly deploy to the live version once prepared.
Database Access (phpMyAdmin)
Experience complete control of your databases with the widely used phpMyAdmin. Seamlessly manage your database content by adding, editing, or deleting data.
Site Cloning
Effortlessly replicate a website with its design, content, plugins, and configurations in just one click. Utilize it as a launchpad for your upcoming website, giving you a head start in the creation process.
SFTP Access
Effortlessly manage files with utmost security by seamlessly accessing and transferring them between your local environment and website. Easily copy, move, or delete files conveniently and safely.
Custom Domains
Acquire a personalized domain address effortlessly with just a few clicks and connect it to your Elementor-hosted website, ensuring a seamless online presence.
Pricing Plans: How Much Does It Cost?
Elementor hosting has a 4-tier pricing plan for their service.
The four tiers are Basic, Business, Grow, and Scale.
The pricing tiers are designed to make it easier for users to select the plan that best meets their needs, allowing them to pay for only what they require.
The plans differ between website, storage, bandwidth, and monthly visits. Furthermore, all plans include backup, SSL, CDN, and premium support.
Of course, each tier includes the award-winning Elementor Pro page builder.
A staging environment is now also part of Elementor Hosting, allowing users to create and test pages without affecting the live website.
Each package is backed with the standard Elementor 30-day money-back guarantee.
How Does It Work? The Sign up process
First, purchase an Elementor hosting plan, complete the checkout process, and pay by credit card or PayPal.
Choose a name for your website. Elementor Hosting will assign a temporary domain as XXX.elementor.cloud, where XXX is your website name. You can assign later a custom domain.
You will be prompted to choose a website kit (starter template); there is also an option to skip it.
Elementor Hosting opens with Elementor website page builder, ready to start your first webpage.

I recommend watching this video from Elementor. It shows how to set up and create a WordPress website with Elementor hosting.
Who is the hosting service?
It is built on the Google Cloud Platform. And all the top-notch websites use it for its high reliability and security.
Where is the hosting infrastructure located?
They're hosted on servers in Belgium. The Elementor Cloud handles all server maintenance so that you may concentrate on developing websites.
What are the support options?
Experience exclusive, Enjoy-the-clock premium support with convenient chat or email options that ensure round-the-clock assistance. Whether you have queries, need guidance, or require technical assistance, you can access Elementor chat support directly from the hosting dashboard. Simplify your experience with prompt and reliable support whenever you need it!
From my personal experience, I have found that Elementor chat is quite responsive and usually provides a response within a few hours. However, it is important to note that the initial response is typically a standard, first-level support answer that aims to gather some basic information. It may refer you to relevant knowledge base articles for further assistance.
Nonetheless, if you reply to the initial email, you can request second-level support, wherein a dedicated support analyst will address your queries. This additional level of support ensures a more thorough and comprehensive resolution to any issues you may face.
All in all, I would say that the support provided by Elementor is generally quite good. However, it may sometimes require engaging in a second round of support interactions to address all concerns to achieve complete satisfaction.
Who are Elementor Hosting websites for?
Elementor Hosting websites are for anyone who wants to create a WordPress website. Plus, it's perfect for those who want to use Elementor Pro without worrying about hosting, security, backups, and updates.

If you're a beginner looking to dive into WordPress, Elementor hosting is an incredibly enticing option. With Elementor hosting, you won't have the hassle of searching for a separate hosting company to get started. It's an all-in-one package that allows you to launch your website without any additional steps.
While WordPress.com also offers hosting services, I recommend Elementor hosting for beginners due to its user-friendly interface and extensive customization options. However, it's worth noting that the service has some limitations, so consider your specific needs before making a decision.
Are there hidden fees?
Absolutely not! The fixed subscription must be paid annually, offering a comprehensive range of bundles within their plan.
Elementor Hosting: Adding a Custom Domain
You can quickly add a custom domain connection for your cloud website. It is done under the My Elementor dashboard. And here's how you can do it.
So firstly, from the dashboard, go to websites and click the "manage this website" button. It displays on your website's card; you can open the site details.
Now, tap "add custom domain" in the "manage domains."
Next, you've to sign in to your registrar's website account.
And there, you've to edit your DNS records by adding the A or CNAME record. I recommend adding the A record. It is easier. Also, please read your registrar's documentation for locating DNS tools.
After that, remove the parked domain status. Parked means that once you buy a domain, it'll appear in the list as parked.
Next, you've to add an 'A' record. Directing a domain to point to your elementor cloud website is usual.
So, the 'A' record will assign a URL to your domain as a specific IP address.
Now, wait for the DNS changes to appear. It'll normally take 72 hours, but it can happen within a few hours or minutes.
Next, return to your website dashboard and add your domain name without www, so it'll be like, e.g., "anothercoolwebsite.com."
Then, wait for the Elementor hosting to link your domain.
And lastly, you can set the custom domain name as primary.
Furthermore, you'll get an SSL certificate for your website. Elementor Cloud will automatically assign it to your domain name.
And at the end, when your custom domain is ready, you'll receive an email.
How to Back Up Your WordPress Site
Yes, you can back up your website. Just follow these steps, and you are all good to go.
Firstly, click on the card of your Elementor cloud website, 'manage this website', so that it can access your details.
Now, you'll see a new screen with your website details.
Click on the backup left side.
Tap on the "create new backup" button to start a manual backup of your website.
Next, you can enter a name for the backup and hit on the "create new backup" button to get started.
Also, the Elementor will automatically back up your site every 24 hours. The automatic backups are listed.
Transfer your website to the Elementor Cloud platform
Elementor offers import and export tools so you can migrate your website quickly. And here is how you can do it.
Exporting the Website
Firstly, use the export kit functions to export your site easily.
It'll save you time in exporting the entire content.
So, to use this function, activate the export or import option in the settings.
Once you activate it, you'll find the options located in the tools.
Next, you've to choose whatever component you like to add to your export file. It can be site settings, pages, headers, etc.
Then, all your components will automatically be checked for export.
Click on the export button to automatically start exporting with a local zip file.
So, you will now need to switch to the new hosted account.
Importing Content to Elementor Cloud Website
You'll now import your packaged export kit from another site with the import kit feature.
And to use this function, activate the export or import option in the settings.
Then click on the start import button. And you'll now see an import kit page.
So drop your export kit zip file to the given area.
Now, you can choose whatever items you want to import.
And it will automatically check all items to import.
Also, it depends on the file size and how long the process can take, a few minutes or seconds to complete.
And when it's all done, it directs to your website dashboard. And that's it; you've just migrated your Elementor website to the Elementor cloud.
What is the difference between the Elementor Cloud-hosted environment and the Elementor page builder editor?
An Elementor hosting website, on the other hand, provides a comprehensive solution that combines all the features of Elementor Pro with WordPress installation and hosting. With this integrated package, you can set up your website effortlessly, saving valuable time and effort.
In contrast, an Elementor plugin only grants access to Elementor's exceptional features, requiring separate WordPress hosting and installation. While it offers flexibility, it does not include the seamless setup convenience of the Elementor hosting website.
When choosing Elementor Hosting, you benefit from the preinstalled Hello Theme from Elementor, designed to deliver a clean, lean, fast website, optimizing SEO and enhancing user experiences. This out-of-the-box theme can be fully customized to suit your desired aesthetic, ensuring maximum design freedom.
However, if you prefer to use Elementor Pro with other themes, I highly recommend considering the Kadence, Blocksy, or Astra themes. These options provide excellent compatibility and offer diverse features to elevate your website's performance.
The Kadence theme, paired with Elementor Pro, offers an exceptional solution for those seeking advanced blocks and functionalities to enrich their website. Additionally, Blocksy and Astra's themes are worth considering as alternative options, each providing unique benefits and customization possibilities.
Kadence offers a comprehensive package of top-notch WordPress plugins, ensuring a feature-rich and robust website. The Blocksy theme, on the other hand, impresses with its solid and sturdy foundation. Kadence and Blocksy offer Free and Pro versions, catering to different budgetary requirements. To delve deeper into the capabilities of these themes, refer to my detailed reviews of Kadence and Blocksy themes, providing valuable insights for your decision-making process.
Elementor Cloud Performance / Advanced Caching features
Elementor offers new advanced caching features, allowing you to improve user experience and search ranking with lightning-fast loading time.
Advanced Caching enabled, the latest HTML content and static files (JS, CSS, images, and videos) can be cached and delivered from Cloudflare's 285+ worldwide locations. In addition, you have complete control over which pages should or should not be cached. For instance, if you want the homepage and product pages to load faster but don't need blog posts, those pages can be excluded from caching.
This feature is easily managed through Elementor users' WordPress dashboard under Hosting > Advanced caching, where all cache settings can be enabled/ disabled or modified. So what are you waiting for? Get ready to boost your website performance with Advanced Caching!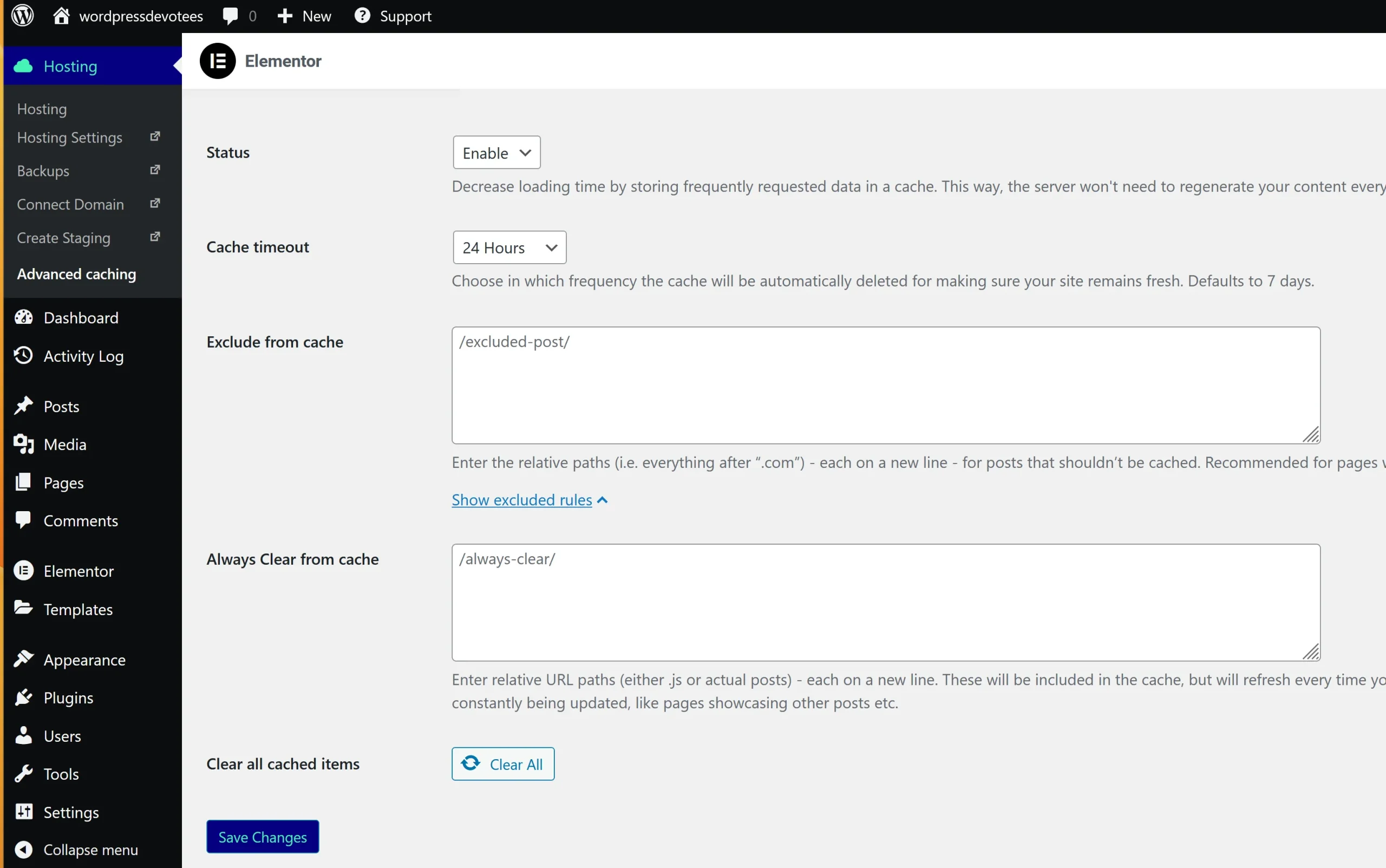 What Elementor Hosting Means For the Future of Elementor
Elementor Cloud is a fantastic alternative for web agencies who want to concentrate on creating a superior site for their clients. Selecting a hosting firm for the website is less challenging once you've determined your options. It makes it much easier for the customer to take possession of the project after it's finished.

Elementor Hosting will allow Elementor to expand its user base with this comprehensive solution. It will aid in strengthening its market position, mainly because
WordPress is adding more and more Gutenberg Blocks with Full-Site Editing (FSE). FSE can potentially replace page builders like Elementor and Div in the future. It seems like Elementor's clever way of staying ahead of the curve, integrating CMS tools and popup and design functions.
I think it is Elementor's way of staying ahead of the curve.
Elementor Hosting is an exciting development, and I am curious how it will evolve.

I think it has the potential to become a one-stop solution for website creation, including hosting, domain registration, email, and more.
Incompatible Plugins with Elementor Hosting
Elementor has a list of plugins currently not working with Elementor Cloud. Here is a list of a few of them.
Beaver Builder
Divi Builder
Brizy
Duplicator
JetPack
Oxygen Builder
Updraft Plus
WP Reset
WP Vivid Backup
Visit this page to see the complete and updated list.
What features can you expect in the following months?
Domain purchase
Kit to Website
Migration

Elementor confirmed these features at a webinar for the product launch to developers in the coming months.
Should you consider Elementor Hosting?
Elementor Hosting with the Elementor Pro page builder is undoubtedly an excellent choice, especially for beginners looking to create stunning websites. With Elementor Hosting, you get the benefits of a normal WordPress website and the flexibility to install and customize other themes beyond Hello Theme. By leveraging the power of Google Cloud, this hosting solution ensures optimal performance, providing a seamless user experience surpassing low-priced alternatives. Experience the smoothness and reliability that only Elementor Hosting can offer!
Element Pro, the leading WordPress website builder, provides an incredible user experience with its intuitive drag-and-drop editing tool. It also offers a suite of powerful features, including workflow optimization, a vast collection of Pro widgets, a selection of over 300 templates, and theme builders. With Elementor Pro, you have all the tools to bring your dream WordPress website to life and make it truly outstanding.
The Elementor Hosting is unsuitable for websites with over 100,000 monthly visitors, as all hosting plans have visitor limits.
Is Elementor Hosting a good deal?

Yes, Elementor Cloud is an excellent deal. You get all the Elementor Pro features, hosting, security, backups, and updates in one place. Plus, it's built on the reliable and secure Google Cloud Platform with CDN (Content Delivery Network) from Cloudflare.
While the price may appear to be on the higher side, consider this perspective: if you were to purchase Elementor Pro, the license alone would amount to $59 per year. And that's without factoring in expenses for web hosting or a domain name.
My thoughts: What was the purpose of developing Elementor Hosting?
Elementor Hosting is an exciting development, and I am curious to see how it will evolve. I think it has the potential to become a one-stop solution for website creation, including hosting, domain registration, email, and more. Elementor Cloud offers solid hosting and a complete website for just 99 dollars. That's a pretty good deal.

Elementor may see the field of page builders as eroding. It's because WordPress' block editor is gaining ground in full-site editing. Elementor Cloud is a way to attract new customers, and Elementor is trying to stay ahead of the curve with new revenue streams.

For those who want a quick and simple website to create and utilize, the Elementor Cloud may be worth considering. Premium support with chat support is already outstanding. I'm sure Elementor will add more features in the coming months.
Before you go …
I hope you found my Elementor Hosting review insightful and that it helped you make an informed decision. As we continue to explore the world of WordPress, I'd like to recommend another one of my blog posts that might interest you.
If you've ever been curious about the ins and outs of hosting Google Fonts locally on your server, my post "How to Host Google Fonts Locally" is just for you.