Elementor 3.8 Released – Here's What's New (Free and Pro)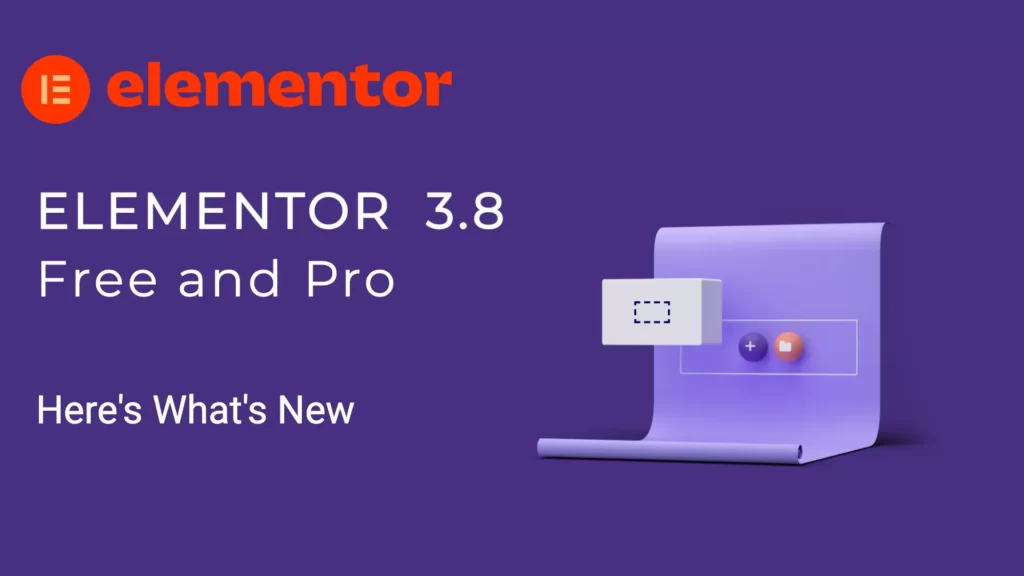 Elementor has just introduced new versions of Elementor 3.8 and Elementor Pro 3.8, which include some highly anticipated features. In addition, Elementor is introducing a new release mechanism, which will make future releases much more predictable and reliable.
I've been using Elementor for a while now. For those unfamiliar with Elementor, it is a WordPress plugin that allows you to create beautiful websites without coding. Elementor Free is the free version of Elementor, and Elementor Pro is the premium version includes additional features and templates.
New features in Version 3.8 are
Loop Builder (Pro)
Flexbox Container – Marked as Stable
Remove Kit – Revert kits to their previous condition
The Loop Builder (Pro)
Elementor 3.8 will be introducing the first phase of the Loop Builder. The Loop Builder enables you to create and design the main item for repeating content (i.e., loops), such as listings, and customize its layout on the page. Elementor Free already has a Posts widget that allows you to display your blog posts in a grid or list layout, with some customization options for the look and feel of the items. However, by creating a main item template yourself, you gain much more design and dynamic content flexibility than the Posts widget allows you to achieve.
The Loop Builder's first phase includes creating the main item for posts and custom post types. Future updates will include full WooCommerce support and additional capabilities to enhance your website. Elementor Pro users can take advantage of these features as soon as they are released. 
The Loop Builder requires the Flexbox Container, and please also make sure that you activate the Loop Builder in the experiment settings to use the feature.
Flexbox Containers beta – Now Marked as Stable
Flexbox Containers now moved from Alpha status to Beta Status with Version 3.8.
Extensive testing has been done on this feature under various use cases and integrations, so it's now considered stable and ready for use on your website. Elementor users can take advantage of the extra flexibility that Flexbox Containers provide.
I'm not sure why the Flexbox Container still has the Beta status when it is considered stable. It is the right direction since the Container widget improves loading performance for all devices. I would still not use Flexbox Container on complex websites.
New: Remove Kit – Revert your Website to its Previous Condition
Elementor Free and Elementor Pro users can now easily remove any downloaded website kit without restoring their entire website to a previous version. No more manually undoing all the global styles applied by the kit or deleting the pages it came from with.
To remove a kit, Elementor users need to go to the Import/Export tab under Elementor Settings → Tools section (from the WordPress dashboard) and click on the 'Remove Kit' button. This button will only appear if users have downloaded a kit after updating to this version of Elementor. The kit will be successfully removed from the Elementor user's website once clicked.
If you're planning to buy Elementor Pro, please use my affiliate link to purchase it. Absolutely no additional cost for you (I would earn a commission from the seller), but a huge help for me, as your gesture will contribute to covering the costs of maintaining this website and adding more great articles. Thanks in advance for your support!
Looking for a tool to help you create content that ranks?
Create Content that Drives More Traffic and Revenue to your Website
New Release Mechanism
Elementor decided to release major releases for the Free and Pro Version simultaneously. For example, Version 3.9 for the Free and Pro Version will launch simultaneously. Elementor also announced that the Cloud (Elementor Cloud) would receive new releases a few weeks earlier than the no Cloud Version.
If you are using Elementor Cloud, you may have noticed that you are already on the final Elementor 3.8 release. If you don't have the Cloud Version, you can opt for the Beta.
How to become a beta tester? In WordPress backend, go to Elementor, Tools, Version Control Tab
For a depth review of Elementor, please visit my parent website, edywerder.ch.
Conclusion
Flexbox Containers are currently in Beta and considered stable, meaning they can be used on websites with more complex layouts. With Elementor 3.8, users now have access to the Loop Builder (Pro), which allows for more design and dynamic content flexibility than the Posts widget.
Finally, a new release mechanism has been implemented to allow users to update their websites simultaneously across both the Free and Pro versions of Elementor.