How to get the best Divi Support/Help for your WordPress website
Divi is a powerful WordPress theme that allows you to build any website you desire. But it can also be quite tricky to configure.
If you're looking for Divi support, you come to the right place.
Here I will take you through the steps to get the best Divi support.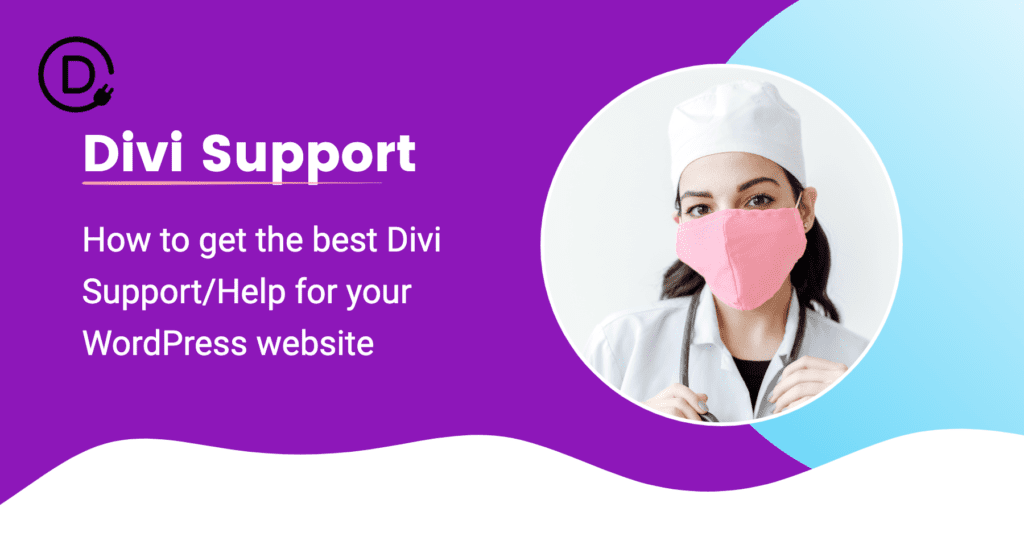 Introduction: Elegant Themes Divi Builder
The maker of Divi Theme is Elegant Themes. Divi is a popular WordPress theme that comes with the Divi Builder. The Divi Builder is a powerful drag and drops page builder that lets you create custom pages and layouts for your website. It is easy to use and allows you quickly build beautiful pages. If you need help using the Divi Builder or have any questions, there are various places where you can get help.
Divi Members Area
The Divi Members Area is an excellent resource for anyone using the Divi theme or plugin. The support team is available to help with any issues you are having, and they can provide access and troubleshooting assistance remotely if needed.
The Members Area has excellent documentation with tutorials, videos, and screenshots. It is grouped into easy-to-understand categories. Of course, a full-text search bar is available too.
I absolutely like Divi Support because the chat support features are not hidden on the website. It is right there when you log in to the member's area. Just click and start a chat.
Divi VIP Support
Divi VIP offers excellent support with response times under 30 minutes 24/7 and additional discounts of 10% on purchases from the Divi Marketplace. Team members, including clients, also benefit from VIP Support for free. This membership benefits Divi agencies and freelancers, as it can easily pay for itself in savings.
Moreover, Divi VIP members have access to many plugins and modules, such as Divi Blog Extras, Divi Den Pro, Divi Shop Builder, Divi Pixel, Divi Toolbox, DiviFlash, Phoenix Super Theme, Divi Carousel Module, and Divi Plus.
Divi Cloud offers free storage for up to 50 items, with an option to purchase unlimited storage. The Elegant Themes membership includes support, but the Divi VIP membership provides faster support with a bigger team for a higher subscription rate.
Divi's Support Center in WordPress
In WordPress, there is a Support Center entry under the Divi menu.
Looking for a tool to help you create content that ranks?
Create Content that Drives More Traffic and Revenue to your Website
System Status
At the top, you see System Status. Divi checks your WordPress settings and makes suggestions.
In the screenshot below, Divi suggests increasing the PHP_max_execution_ time to 120.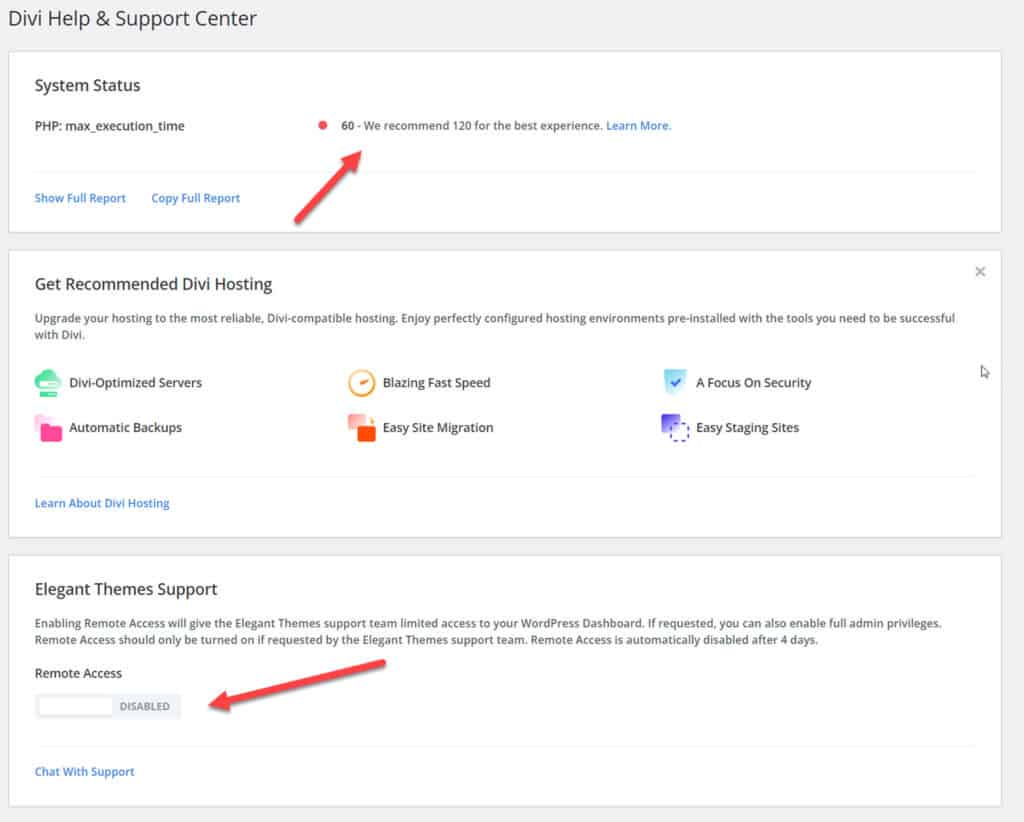 You perform PHP changes in the Cpanel of your hosting company. In the following screenshot, I successfully changed it to 120.
Elegant Themes Support
Further, it is also possible to give the Divi Support theme access to your WordPress website; for that, Divi introduced the API key. It's an excellent way to provide them with easy access without creating first a user in WordPress with administrator rights.
You find your API key in the Divi member area.
Enter the API key in WordPress, Theme Options, and click the button 'Updates with your username. Don't forget to save it. 🙂
I would enter the API key right after you installed Divi Theme Builder.
Back to the Support Center under Divi in WordPress Dashboard, a toggle button enables 'Remote Access.' Toggle this button on when you request support from a Divi engineer. All you need to tell Divi Support is your username. Conveniently there is a link to 'Chat with Support.'
Divi Documentation & Help
In addition, on the same page, you see links for the documentation and an intro video.
Safe Mode
In case something is not working, Divi introduced the safe mode option. Quickly enable safe mode and deactivate all installed plugins. The installed plugins are listed.
LOGS
Lastly, you see the logs if you enabled the debug mode. I recommend turning on debugging only when Divi Support requests it.
I love Divi Theme Builder. It's so easy to get started. Check it out today! Use my link and get a 10% discount.
Divi's module Help System
Divi offers a great help system for each module with video explanations. It is available for sections, rows, and modules. When you work with Divi's visual builder and need some help with the module, click the 'gear' icon, scroll down, and see the help button. In most cases, there is a short video too.
A lot of help is available to learn the visual builder at your own pace.
Bottom line
Divi is an amazing plugin to help you create stunning, responsive websites. However, like any theme or plugin, it can sometimes have issues. If you're having trouble with Divi and need help troubleshooting the issue, the Divi team are experts and are here to help. You cannot go wrong opting for the Divi theme builder. Support is top-class.
Check out all my blogs